Turkmenistan Boosts Ties With Georgia in Anticipation of Strategic Transit Corridor
Publication: Eurasia Daily Monitor Volume: 12 Issue: 137
By: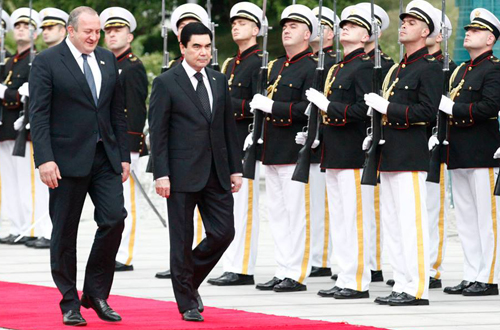 Turkmenistan's President Gurbanguly Berdimuhamedov paid his first official visit to Georgia on July 2–3. The most important topics of the meeting between Berdimuhamedov and his Georgian counterpart, Giorgi Margvelashvili, included cooperation in the energy and transportation spheres. During the visit, President Berdimuhamedov reaffirmed that Turkmenistan is seeking access to European markets via the South Caucasus and stated that a transit route from Turkmenistan through Azerbaijan and Georgia to Turkey has great potential. The details of the planned cooperation were not revealed, but recent developments around the implementation of the proposed Trans-Caspian Pipeline (TCP) and the Afghanistan-Turkmenistan-Azerbaijan-Georgia-Turkey transportation corridor suggest that these specific issues were major items of discussion during this month's visit (Civil Georgia, July 2; Vestnik Kavkaza, July 3).
The Trans-Caspian Pipeline, with its envisaged annual capacity of 30 billion cubic meters (bcm), is designed to supply natural gas from Turkmenistan to the Azerbaijani Caspian Sea port of Baku. From there, the gas would be pumped further onward, via Georgia and Turkey, to Europe. Prior to late 2014, the TCP was a rather hazy project, and its implementation was considerably slowed down by chronic political and legal issues. However, in the past few months, positive political shifts have laid a formal foundation for the pipeline's eventual construction.
During his last trip to Turkmenistan, Turkish President Recep Tayyip Erdoğan underscored the importance of Turkmenistani gas deliveries westward via the Trans-Anatolian Pipeline (TANAP). TANAP, which is expected to be completed by 2018 or 2019, is a vital part of the Southern Gas Corridor, designed to initially carry Azerbaijani gas volumes to Europe. Following Erdoğan's visit, Turkmenistan's national gas company Turkmengas and private Turkish gas company Atagas signed an agreement of cooperation for the purchase and sale of Turkmenistani gas to TANAP (Today's Zaman, March 3). Furthermore, earlier this year, Azerbaijan, Turkey and Turkmenistan established a trilateral mechanism on energy cooperation, which aims to enhance cooperation in energy issues and facilitate the eventual transfer of Turkmenistani gas to Europe (see EDM, March 11).
Energy cooperation between Azerbaijan, Turkey, Turkmenistan and the European Union was reaffirmed by the Ashgabat Declaration, signed on May 1, 2015. During the quadripartite meeting in Turkmenistan, high-ranking energy representatives from the aforementioned countries as well as the EU underscored the importance of supplying Europe with Turkmenistani and Caspian-region gas. In addition, the participating parties established an intergovernmental committee to work on the legal, technical and commercial aspects of the new energy infrastructure project needed to make these plans a reality (Trend.az, Azernews.az, May 1). Though not formally a part of the energy consultations on the Trans-Caspian Pipeline project, Georgia—as an important transit country—was nevertheless invited to a later working group on the TCP (Civil Georgia, June 2).
Enhanced regional cooperation on energy issues is possible due to several political and economic developments affecting the natural gas markets in Eurasia and Europe. Various factors have influenced Turkmenistan's decision to reorient its natural gas exports routes. In February 2015, Russian Gazprom announced that this year it will decrease gas purchases from Turkmenistan, from 11 bcm to 4 bcm per year, because Russia decided to start supplying its southern regions with domestically produced gas (Vedomosti, July 8). And despite being locked into contractual obligations, Gazprom might soon decide to entirely stop buying natural gas from Turkmenistan and Uzbekistan (Chrono-tm.org, October 7, 2014). Furthermore, from a medium-term perspective, Turkmenistan could reconsider its dependency on exports to China because Russia's looming gas export shift to the Chinese market may cause prices to drop.
The reorientation of Turkmenistan's gas export capacity to Europe will be facilitated by the East-West pipeline, the construction of which has been accelerated this year (Avesta.tj, April 1). The East-West pipeline is envisaged to carry natural gas from fields located in eastern Turkmenistan to the Caspian Sea coast—these volumes could then be transported to Baku (via the TCP) and onward (via the Southern Gas Corridor) to Europe.
Baku will certainly welcome long-sought additional suppliers to the Southern Gas Corridor, which will upgrade this project's commercial feasibility and geostrategic significance. Meanwhile, given booming demand for natural gas on the Turkish market, Ankara is trying to ensure its energy security with additional supplies from Caspian-basin sources. Moreover, the construction of the TCP and Turkmenistan's participation in TANAP might serve as a first step for Turkey to realize its strategy of becoming a regional gas hub. Finally, the EU's interest in the TCP stems from the need to ensure energy security for its Central and Southeastern European member states, which, as a whole, are overly dependent on Russian supplies and thus most vulnerable to natural gas shortages following Russian-Ukrainian gas disputes.
Cooperation between Turkmenistan and Georgia is not limited to energy issues, however. Both countries are also part of the Afghanistan-Turkmenistan-Azerbaijan-Georgia-Turkey transportation corridor, aimed at enhancing commercial ties, facilitating cross-border trade and reducing transit costs between the participating countries. The formal foundation for this transportation link project was laid in Ashgabat in November 2014, when the participants signed a draft agreement on establishing this corridor (Azernews.az, July 3). This large-scale transit project will enhance already close economic ties between Georgia, Turkey and Azerbaijan. Georgia is predicted to benefit immensely from such energy and transportation cooperation. Apart from receiving additional transit fees, these regional projects will boost the local economy and tie Georgia closer to its neighbors as well as Europe. Additionally, Georgia's energy and regional security will be further enhanced. At the same time, the new transportation corridor will allow Turkmenistan and Afghanistan to reach the Black Sea and, consequently, European markets, thus boosting interregional cooperation.
President Berdimuhamedov's visit to Georgia, the first by a leader of Turkmenistan to this country, suggests that multilateral cooperation in the transportation and energy spheres is gaining impetus, and Georgia is seen as a vital part of these projects. Nevertheless, several difficulties remain that could hinder the process. The construction of the Trans-Caspian Pipeline is closely tied to issues over the uncertain legal status of the Caspian Sea. Moreover, Azerbaijan and Turkmenistan are still locked in a conflict over the Kapaz (Serdar) oil field, which, coupled with Russia and Iran's persistent opposition toward the TCP, could seriously slow down the realization of this gas pipeline. Furthermore, it is not clear how the project will be financed, and none of the interested parties have made specific commitments so far. Finally, security risks associated with the protracted conflicts in the South Caucasus as well as Afghanistan's political and economic challenges may hider the realization of the planned east-west transit corridor, thus making it less commercially viable. Though the regional partners have lately made substantial steps forward in the energy and transit spheres, much work remains.