Turkmenistan Seeks Expanded Cooperation with Qatar
Publication: Eurasia Daily Monitor Volume: 7 Issue: 196
By: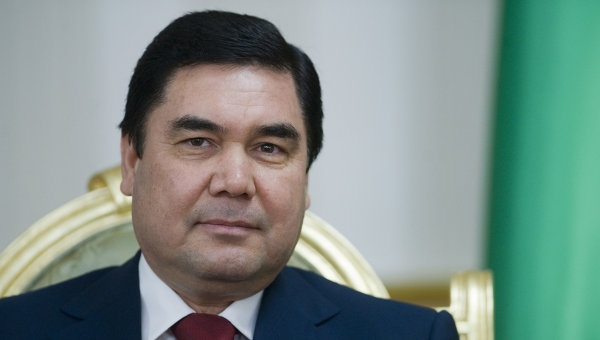 On October 11, Turkmen President, Gurbanguly Berdimuhamedov, visited Qatar and met with the country's Emir, Sheikh Tamim bin Khamad al-Tani, concluding a series of agreements in the energy, trade, and economic sphere (ITAR-TASS, October 11). The visit marks intensified efforts by Turkmenistan to diversify its foreign energy relations and encourage foreign investment in its fuel and energy complex as a way of boosting the country's economic growth and development.
During their meeting in Qatar's capital, Doha, Berdimuhamedov and al-Tani explored the possibility of establishing direct air communication between the two countries and cooperating as part of the ongoing North-South railway project that connects Europe, Asia, and the Far East with the Persian Gulf (www.turkmenistan.gov, October 15). They also agreed to form a joint inter-governmental energy commission that could be used as a platform to develop initiatives in other areas. "Qatar is interested in implementing joint projects, which can be promoted through establishing a special unit that will facilitate bilateral relations in the oil and gas sector," said al-Tani (ITAR-TASS, October 12).
Qatar and Turkmenistan are home to some of the largest gas deposits in the world. They are also leading gas exporters. In 2009, Turkmenistan's proven gas reserves were estimated at 8.1 trillion cubic meters (tcm), making it fourth after Russia, Iran and Qatar in terms of the largest gas reserves. Turkmenistan exports energy-related products to Qatar, while the latter supplies it with machinery, home appliances, and steel (www.ferghana.ru, October 12; www.inosmi.ru, October 20; ITAR-TASS, October 12).
An explosion on a gas pipeline delivering Turkmen gas to Russia in 2009 and the reduced European demand for its gas following the global financial crisis served as a wakeup call for the Turkmen leadership, forcing it to pursue relations in the energy field with other countries, including Qatar (EDM, May 12). Today, Ashgabat sells 10 billion cubic meters (bcm) of gas to Russia annually –a substantial decline from 2008 levels of 30 bcm. It also exports about 10-12 bcm of gas to China per year via the world's largest and newly constructed gas pipeline, putting an end to Russia's domination over Turkmen gas. With its annual capacity of 40 bcm, the pipeline stretches over about 7,000 kilometers (km) from Turkmenistan across Uzbekistan and Kazakhstan to China. Turkmenistan also sells 14 bcm to Iran, while actively promoting the Turkmenistan-Afghanistan-Pakistan-India (TAPI) gas pipeline project that could deliver Turkmen gas as far as India (www.inosmi.ru, October 20).
Ashkhabad has additionally pushed the idea of developing an international mechanism within the UN to ensure stable energy supplies across borders as a step toward strengthening energy security –an initiative Qatar appears to support fully. "Qatar supports constructive approaches by Turkmenistan aimed at developing mutually beneficial partnership in the global energy space," stated al-Tani (www.en.rian.ru, September 29).
Turkmenistan has thus embarked on an ambitious all-round energy export routes diversification policy. This policy is an extension of the country's recently launched large-scale fuel and energy complex development program focused on the modernization of energy infrastructure and the diversification of energy export routes (www.ru.trend.az, October 12). As one of the largest gas exporters, Qatar has a lot to offer Turkmenistan in terms of foreign direct investment, technology, management practices, as well as cooperation in energy and transport industry-related schemes, potentially strengthening Ashkhabad's capacity to pursue large-scale national and even transnational infrastructure projects.
It is no coincidence that Berdimuhamedov visited Doha's "Education City" –one of the largest in the Middle East– which boasts one of the region's research and education centers. Qatar could also serve as a "bridge" for Turkmenistan's energy, trade, and transportation projects requiring cooperation with Middle Eastern countries that have access to the Persian Gulf and Arabian Sea. During their meeting, Berdimuhamedov and al-Tani discussed the exchange of practices and technologies in the gas industry, the training of cadres, the development of gas fields, the transit of gas and development of overseas transport, as well as the construction of gas processing plants and terminals (ITAR-TASS, October 12). Qatar recently invested approximately $30 billion in the energy infrastructure focused on liquefaction, transportation, and degasification (www.voanews.com/russian, October 18). Turkmenistan views this cooperation with Qatar as very beneficial.
The intensified efforts of Ashkhabad to diversify the country's energy relations with Qatar –among other countries– could well facilitate an opening of Turkmenistan's opaque economic and political system, which could in turn further facilitate the country's economic and political development. Yet, skepticism persists about Turkmenistan's economic reforms and energy export routes diversification policy. Some experts, for example, dispute the estimates of the country's gas reserves, while questioning the ability of Turkmenistan to supply gas simultaneously to numerous partners, currently including Russia, China, Iran, and potentially involving European and South Asian countries that seek gas imports via NABUCCO and TAPI respectively (www.inosmi.ru, October 20).
Turkmenistan further faces a serious problem of falling into the "resource curse" trap due to its seemingly heavy reliance on energy resources to facilitate economic growth. It remains to be seen whether the country's energy sector is up to the task of ensuring sustainable economic development and strong sovereignty as it seeks to meet the interests of its partners, including Qatar, through stepped up energy initiatives.