Tymoshenko Arrested, Ukrainian Foreign Policy Moves Toward a Crisis
Publication: Eurasia Daily Monitor Volume: 8 Issue: 151
By: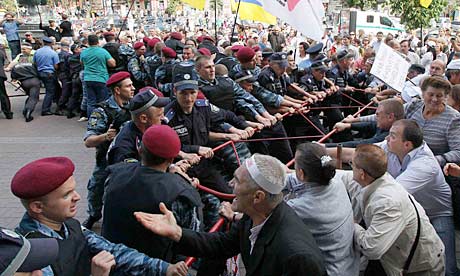 The arrest of opposition leader Yulia Tymoshenko on August 5 derails Ukraine's integration into Europe at the same time as its relations with Russia are poor (video of arrest here: https://www.pravda.com.ua/photo-video/2011/08/5/6454611/).
The disunited opposition has rallied to Tymoshenko's side with Arseniy Yatseniuk's Front for Change issuing a press release "The rubicon has been crossed. Democracy has come to an end. The authorities have become a regime" and warned "no regime ever wins a war against its own people" (https://frontzmin.org/). European Parliament President Jerzy Buzek condemned the arrest while Western diplomats in Kyiv warned that "this is serious" and would have serious ramifications on the free trade negotiations (Ukrayinska Pravda, Financial Times, August 5). Up to her arrest, the flood of articles in the West on political trials in Ukraine had argued that the Yulia Tymoshenko case and other trials are a "selective use of justice" (Kyiv Post, July 28; Frankfurter Allgemeine Zeitung July 18; Der Tagesspiegel July 12). The scale of this Western criticism is unprecedented in Ukraine's twenty years of independence.
Much of the disbelief rests on charges relating to the January 2009 gas contract where Tymoshenko's policies are put on trial (there are no allegations of corruption). Michael Emerson, a Senior Associate Research Fellow at the Brussels-based Centre European Policy Studies, points out that "While Tymoshenko is indicted for taking a procedural shortcut, President Yanukovych shows himself to be a champion of executive shortcuts even on matters of such strategic significance as the long-term lease of the Sebastopol naval base to Russia" (www.ceps.eu/system/files/book/2011/07/July%20ME%20on%20Timoshenko.pdf).
Criticism of the "selective use of justice" is mounting from Western governments. French Ambassador to Ukraine, Jacques Faure, described Tymoshenko's trial as "political" and asked "where are the European values often mentioned by the Ukrainian authorities, especially in discussions between the EU and Ukraine?" (Ukrayinska Pravda, July 28).
Western experts also point out that the trials are a no-win situation for the Viktor Yanukovych administration as his "credibility and commitment to democracy are in the dock alongside her" (Economist, July 25; EDM, July 22). Freedom House President David Kramer and US Atlantic Council Executive Vice President Damon Wilson advised Yanukovych "Mr. President, time to stop digging yourself into a hole" (Kyiv Post, July 14).
If Tymoshenko is released, Yanukovych will face a reinvigorated and formidable opponent against whom he won a narrow three percent election victory in 2010 and, if he loses to her in the 2015 elections, he could face criminal charges. Meanwhile, if Tymoshenko is imprisoned he will have an image in the West of a "neo-Soviet autocrat" (Economist, July 25). Yanukovych has shown already that he is "in essence a post-Soviet authoritarian leader" and he is establishing a "Putin-lite system" (EDM, July 22, Financial Times, July 19).
A highly critical editorial in the Financial Times (July 19) is a sign of the mounting criticism and appeared in a newspaper that endorsed Yanukovych in last year's election. The editorial compared the Tymoshenko trial to that of Russian oligarch Mikhail Khodorokovsky and argued that the EU should suspend negotiations for a Deep Comprehensive Free Trade Agreement (DCFTA) if the Tymoshenko trial continues. "Trade privileges should be linked to values" the Financial Times (July 19) argued.
In letters to the Financial Times (July 20, 21) Amanda Paul, a Policy Analyst at the European Policy Center, argued that the Tymoshenko trial should not obstruct the signing of the DCFTA. Ukrainian Ambassador to Great Britain, Volodymyr Khandogiy, rejected any comparison of Khodorokovsky and Tymoshenko by claiming there was no executive interference in the courts, itself a highly dubious claim.
The Council of Europe's Venice Commission outlined 28 criticisms of Ukraine's July 2010 judicial reform that increased political interference in the courts and marginalized the Supreme Court (www.venice.coe.int/docs/2010/CDL-AD%282010%29026-e.pdf). The Ukrainian media have also uncovered how the presidential administration is directly interfering in the Tymoshenko and other political trials by instructing witnesses (see Serhiy Leshchenko in Ukrayinska Pravda, July 28).
The most dramatic aspect of growing Western criticism rests upon how the trials will impact on Ukraine's integration into Europe, and specifically the DCFTA. Former US Ambassador to Ukraine, Steven Pifer, stated that senior European leaders will not "want to meet with a Ukrainian leader whose domestic policies appear to have less and less in common with those of an aspiring EU state," while his policies "have already reduced to near zero the prospects of an invitation for Yanukovych to visit Washington" (Kyiv Post, July 28).
Pifer warned that there is a growing clamor for negotiations for a DCFTA to be slowed down while "Others ask whether it is time to apply visa sanctions against selected Ukrainian officials" (Kyiv Post, July 28).
The European Commission issued a statement explaining that politically motivated trials will not impact upon the DCFTA negotiations but did state they will have an impact on the DCFTA's ratification (Ukrayinska Pravda, July 25). It took EU members four years from 1994 to ratify the Partnership and Cooperation Agreement with a then democratically inclined Ukraine. Emerson has explained that the DCFTA has to be ratified by the European Parliament and all 27 member states parliaments (www.ceps.eu/system/files/book/2011/07/July%20ME%20on%20Timoshenko.pdf).
Emerson added: "Moreover, all such agreements now include a so-called 'human rights clause,' which generally uses language like 'respect for democratic principles and fundamental human rights constitute an essential element of this agreement.' This means that if this clause is not respected, there are grounds for a very serious response, such as suspension of the agreement." In addition, Emerson pointed out the European Parliament is "capable legally of stopping the Agreement from entering into force, if the criticisms of the case mount in volume and credibility."
The center-right Peoples Party (EPP) with 264 MEPs is the largest political group within the European Parliament. Tymoshenko's Bakivshchina (Fatherland) party is an associate member of the EPP which has therefore been very vocal in its criticism of her trial and democratic regression in Ukraine. The Liberals and Greens have supported the EPP's criticism and together the three political groups have a combined 405 out of 736 MEPs (https://www.europarl.europa.eu/members/expert/groupAndCountry.do). The European Conservatives and Reformers Group have an additional 56 MEPs. Together the four political groups control two thirds of MEP's and would be therefore able to stall or oppose the ratification of the DCFTA with Ukraine. The Socialists are the only political group with whom the Party of Regions has an alliance but they only control a quarter of the MEPs. EPP member parties control the heads of states of 17 out of 27 EU member states and they will also be in a position to block the ratification of the DCFTA with Ukraine. Another six associate members of the EPP are heads of states in countries such as Croatia which seek EU membership (www.epp.eu/eppHeadsOfStateGov.asp).
Relations are increasingly poor with Russia as Yanukovych has rejected Russian attempts to take control of strategic sectors of the Ukrainian economy while opting for the DCFTA over the CIS Customs Union (see EDM, July 26, 2010). At the same time, democratic regression in Ukraine and political trials and arrests of the opposition are derailing integration into the EU. The signing of the DCFTA is put into doubt by Tymoshenko's arrest but even if it is signed could be suspended and was always not going to be ratified by the European Parliament and the majority of EU members.
By 2012, the year of the Euro-2012 soccer championship that Ukraine and Poland are hosting, Kyiv could find it has no friends in Moscow or Washington and Brussels.