TYMOSHENKO VOTE SHOWS COALITION'S LIMITATIONS
Publication: Eurasia Daily Monitor Volume: 4 Issue: 231
By: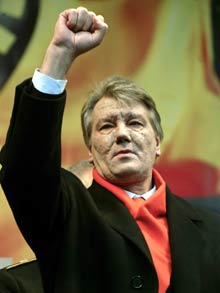 The coalition of President Viktor Yushchenko's Our Ukraine-People's Self-Defense bloc (NUNS) and the Yulia Tymoshenko Bloc (BYuT) has failed to ensure Tymoshenko's return to the post of prime minister, from which Yushchenko fired her in fall 2005. This time it is not disagreements within the coalition that stand in her way, but what looks like a glitch of the "Rada" electronic voting system and the opposition's determination to capitalize on it. Tymoshenko's bid for prime minister was supported by exactly half of parliament – but not a majority.
The voting on Tymoshenko on December 11 demonstrated that the BYuT-NUNS coalition will have to fight for every important issue in the newly elected parliament, as it numbers 227 members, just one vote more than the simple majority needed to pass laws in the 450-seat legislature. The opposition – the Party of Regions (PRU), the Communists, and the Lytvyn Bloc – refused to cast a single vote for Tymoshenko, so all members of NUNS – even those who happened to be seriously ill – had to come to parliament.
Their turnout was in vain. Tymoshenko mustered 225 votes, just one short of her premiership. Two coalition members complained that, for some reason, their votes "in favor" were not counted by the electronic voting system. Rada Speaker Arseny Yatsenyuk, despite loud protests from the opposition, ruled to re-vote. At that point, PRU deputy Vladyslav Lukyanov snatched the speaker's voting card. Without Yatsenyuk's vote, the Rada displayed the figure 225 again. In addition, another coalition member claimed that his vote was not counted.
The opposition did not allow a re-vote. Furious, NUNS and BYuT claimed that the opposition had tampered with the Rada system and threatened Lukyanov with criminal prosecution. The PRU, however, defended Lukyanov, saying that he had only prevented a procedural violation. Technical experts interviewed by Channel 5 said that the Rada system could not possibly be tampered with. They suggested that the incident during the voting was an unfortunate coincidence. After checking the voting system the Security Service reported that nothing suspicious was found.
Yesterday, December 12, Yushchenko again submitted Tymoshenko's nomination to parliament. The opposition, however, blocked the session hall. The PRU said that the December 11 voting was just a one-off concession to the coalition, and now they want parliament to continue working according to the usual procedure, which stipulates that the parliament speaker and deputy speakers should be elected and standing committees should be formed before voting on a new prime minister. Only the speaker has been elected so far. It is not clear when parliament will vote on Tymoshenko's bid again if the opposition does not drop their demand.
The composition of Tymoshenko's future cabinet has already been made public. It is not ruled out, however, that some changes may be made to the list by the time of Tymoshenko's appointment. Her proposed cabinet will include representatives of the BYuT and NUNS in equal proportion. The foreign and defense ministers are picked by the president, as this is his privilege according to the constitution.
The four deputy prime ministers designated by Tymoshenko are: Oleksandr Turchynov, her key ally since the late 1990s, when both were on the team of former prime minister Pavlo Lazarenko, who was later imprisoned in the United States for graft; Ivan Vasyunyk, a former deputy head of Yushchenko's office; Yosyp Vinskyy, a former number two in the Socialist Party, who left the Socialists when they abandoned Yushchenko and Tymoshenko and joined Yanukovych's camp in 2006; and Hryhory Nemyrya, a foreign relations expert who has accompanied Tymoshenko on foreign trips.
Yushchenko's choice for defense minister was a surprise for many, as it had been expected that Anatoly Hrytsenko, who survived several cabinets in this position since 2005, would stay. Instead, Yushchenko picked Yuriy Yekhanurov, who succeeded Tymoshenko as prime minister in 2005-2006. Yekhanurov opposed the alliance with Tymoshenko, preferring a "grand" coalition with the PRU. Vadym Karasyov, an analyst close to Yushchenko's team, told Channel 5 (5 Kanal) that Yekhanurov would be a counterbalance to Tymoshenko in the cabinet. He also suggested that Hrytsenko might be promoted to secretary of the National Security and Defense Council.
Yushchenko's choice for foreign minister is Volodymyr Ohryzko, a pro-Western diplomat who served as deputy foreign minister in several cabinets. Ohryzko's appointment may not play well in Moscow, as he has been a tough negotiator on border issues and the Black Sea Fleet for many years. Ohryzko does not miss opportunities to challenge Russians even in matters of secondary importance. He once sparked a scandal by refusing to speak Russian at a meeting with Russian experts who complained that their poor understanding of Ukrainian hindered normal dialogue.
Yuriy Lutsenko, who spearheaded the anti-corruption drive immediately after the December 2004 Orange Revolution, is slated to return to the post of interior minister. Viktor Pynzenyk, who has served in many Ukrainian cabinets since the early 1990s, should return to the chair of finance minister. Vasyl Kremin, who was education minister for many years under former president Leonid Kuchma, should be education minister again.
(Ukrayinska pravda, Channel 5, December 11-12)