U.S. Missiles Target Suspect in Transatlantic Airliner Plot
Publication: Terrorism Focus Volume: 5 Issue: 41
By: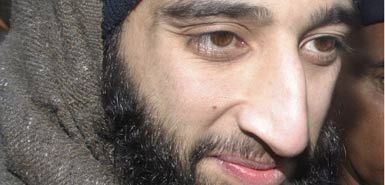 Late in the evening of November 21, a U.S. operated Predator drone struck a house in North Waziristan owned by local warlord Khaliq Noor. Among those allegedly killed were British-Pakistani militant Rashid Rauf and senior al-Qaeda leader Abu Zubair al-Masri (Dawn [Karachi], November 22; BBC, November 22). It was not immediately clear whether Rauf, wanted by British and American security services for his alleged role in masterminding the August 2006 transatlantic airlines plot, was the target of the attack, though Pakistani authorities later confirmed that Rauf was the main target. His location was determined after communications between Rauf and other militants in the area were intercepted (Times, November 24).
There was some confusion whether Rauf was actually killed in the attack. One report from Pakistani intelligence claimed they overheard radio chatter that he was amongst the casualties, while his family lawyer, Hashmat Malik, claimed that they were sure he was not amongst the dead (Observer, November 23; BBC, November 25). At the time of writing it remained unclear whether Rauf was alive, with British Foreign Secretary David Miliband formally asking the Pakistani government for confirmation of his death (BBC, November 26). According to one theory making the rounds in Pakistan's North-West Frontier Province (NWFP), Rauf was deported to Britain with the news of his death providing a cover for this action (Frontier Post [Peshawar], November 27).
Like his alleged death, Rashid Rauf's history remains something of an enigma. It appears he was born in the Mirpur region of Pakistan (where the majority of Britain's Pakistani immigrants come from) to a family that moved to the United Kingdom when he was very young, though other sources claim he was born in Birmingham (Independent, November 23; BBC, November 22). The family settled down in Birmingham and Abdul Rauf, Rashid's father, established a bakery for which Rashid helped make deliveries. According to Amardeep Bassey, a British investigative journalist, the family had a lineage of religious preachers and Rashid was likely being groomed to take on a similar role, while other reports claim that Abdul Rauf was a pious man who had been a religious judge back home (BBC, November 22; Independent, November 23). Little is known of Rashid's early life, with some reports stating that he was a "normal" young man with no particular radical tendencies (Independent, November 23). His family refuses to talk to the press, no doubt because of the fact that other family members have been targeted previously by the security services. Rashid's brother, Tayib Rauf, was amongst those initially arrested in connection with the airliner plot in August 2006, though he was subsequently released and cleared on all charges. Some rumors in the wake of the arrests alluded to a role played by Rashid Rauf's father in terrorist activity, but these proved unfounded and resulted in media apologies (Birmingham Post, February 26, 2007).
What is known, however, is that on April 24, 2002, Mohammed Saeed, Rashid Rauf's uncle, was stabbed to death in Birmingham in a "frenzied attack" (Sunday Mercury, November 22). The reasons behind this murder remain unclear, though it appears as though a family feud, possibly connected to an arranged marriage, may have been the cause (Independent, November 23). Whatever the case, West Midlands police sought Rauf and childhood friend Mohammed Gulzar for questioning (Gulzar was arrested in 2006 and charged in connection with the airliner plot, though he was subsequently cleared on all charges. He remains in custody on unrelated charges). Sensing trouble, the young Rauf fled the UK, travelling to Pakistan and seeking refuge amongst extended family and friends in the Bahawalpur region of Pakistan. There he met and married into the family of Maulana Masood Azhar, founder of the Islamist Jaysh-e-Muhammad (Army of Muhammad – JeM). At this point he apparently came under the influence of Abu Zubair al-Masri, one of al-Qaeda's top explosives experts (Times, November 23). There are conflicting reports about when Rauf was radicalized, with some reports suggesting he had already become an extremist before he left Birmingham (Independent, November 23).
This is not an insignificant detail, as it demonstrates the root counter-terrorism problem that the UK faces when looking at the threat through the prism of its domestic British-Pakistani population. The official Pakistani line is that some Britons are radicalized in the U.K., while others arrive in Pakistan "pre-cooked" (Observer, November 23). The reality would seem to indicate that a more complex blend of home-grown factors and familial connections back to Pakistan is in fact closer to the correct mix. In many ways Rauf encapsulated this trend, and his strong connections with radicals in the UK and high ranking access to al-Qaeda's core in Pakistan undoubtedly made him an important connection.
Whether he was more than a crucial connection and was in fact the terrorist "mastermind" that he is often referred to in the press in unclear, but it was his arrest in 2006 that suddenly accelerated the process of closing down the cell in the UK, codenamed "Overt" by the British police. Questions remain unanswered about who pushed Pakistan to make this arrest and whether there was consensus on both sides of the Atlantic about its timing. In his controversial book, The Way of the World, Ron Suskind claims that the U.S. government pushed for the arrest in an attempt to accelerate Britain's shutdown of the plot to ensure that terrorism was high on the agenda during U.S. mid-term elections. U.S. Department of Homeland Security Secretary Michael Chertoff told the BBC's Panorama program that there was intelligence suggesting Rauf was about to go off the radar into parts of Pakistan where he would be unreachable (BBC Panorama, September 9). Whatever the case, as then head of Counter-terrorism Command Peter Clarke put it, Rauf's sudden arrest "was not good news" for the investigation and some have blamed the subsequent problems with the case against the transatlantic airline plotters on this action (Times, November 23; see also Terrorism Focus, September 18). Rauf subsequently escaped from Pakistani custody under suspicious circumstances, something that further strengthened the mythology around him, and gave rise to further rumors about his involvement with Pakistan's security services.
It remains to be seen whether Philip Mudd, Deputy Director of the National Security Branch of the FBI, has gotten his wish to see Rauf "go down," but what is clear is that a small cadre of individuals like Rauf remain at the core of the problems that the UK faces with terrorism from Pakistan (BBC Panorama, September 9). Their strong familial connections in Pakistan and the UK, their dual nationalities and their links to Pakistani extremist groups make them excellent facilitators for groups seeking to target the West.