U.S. Withdrawal or Disengagement from Somalia? Assessing Somalia's and Kenya's Concerns
Publication: Terrorism Monitor Volume: 19 Issue: 5
By: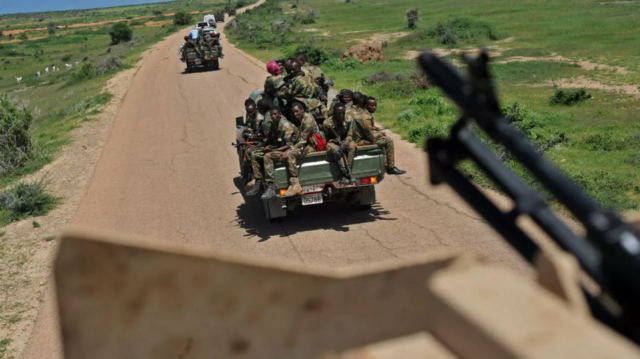 The Somali and Kenyan governments fear a resurgence by al-Shabaab as a result of the U.S. withdrawing its forces from Somalia. The exit was completed on January 15 in line with the deadline ordered by former President Donald Trump and involved about 600-800 U.S. soldiers under U.S. Africa Command (AFRICOM). They had been supporting African Union Mission in Somalia (AMISOM) troops and training the Somali National Army (SNA) to battle al-Shabaab (East Africa, October 19, 2020).
AFRICOM's mission in Somalia had more soldiers than any other UN mission in Africa. Its deployment occurred soon after Trump took office and comprised part of the 7,000 U.S. soldiers in Africa. They are deployed in more than ten other African countries ranging from Botswana to Niger, but especially in countries experiencing Islamist militancy (Garowe Online, October, 2020).
In Somalia, U.S. troops' military actions, including drone strikes, had aided in disrupting the activities of al-Shabaab and a growing Islamic State (IS) faction in Galgala Mountains in Bari region in the northern Somali state of Puntland. In December, for example, the U.S. military said it carried out two airstrikes in an al-Shabaab compound of Qunyo Barrow killing three militants. Six buildings were also destroyed in the strike (africom.mil, January 2). In addition, in Southern Somalia, al-Shabaab has lost some of its key leaders and fighters in the air strikes. One of the latest leaders to be killed in such an airstrike was Abdulkadir Osman Yarow a.k.a Abdulkadir Commandos, who was killed in near Saakow in the Middle Juba region of southern Somalia (Militant Leadership Monitor, October 6, 2020). In 2020 alone, AFRICOM carried out over 50 airstrikes against al-Shabaab in Somalia (Nation, September 10, 2020).
Somalia's Concerns About the U.S. Withdrawal
Al-Shabaab remains a lethal militant force, despite the disruptions by AMISOM and U.S. air strikes. Its ability to carry out deadly attacks was demonstrated on January 31, when the group killed at least five people, including a former Somali army commander and two civilians, in an attack on a hotel in Mogadishu. The hotel, which is located near the main airport in Mogadishu, is frequented by Somali government officials, members of the security forces, and community leaders. The militants exploded a vehicle-borne improvised explosive device (VBIED) at the front entrance of the hotel before armed fighters stormed in. It became the deadliest attack in the weeks since the United States removed its forces from Somalia (Africanews, February 1).
The U.S. withdrawal may also embolden al-Shabaab, which has remained resilient since launching its insurgency in 2006. The Somali government fears that without the U.S. troops' aerial surveillance and drone bombardments, AMISOM will be less effective. With Somalia and its neighbors remaining at high risk of attack by the militant group, government officials in both Somalia and Kenya appealed to the U.S to reconsider the decision to remove the troops while Somalia remains unstable (The East Africa, October 19, 2020)
Stressing the U.S. as Somalia's key ally in the fight against al-Shabaab, President Mohammed Abdullahi Mohammed (a.k.a. Farmajo), for example, highlighted that U.S. troops had been instrumental in securing the Horn of Africa after they aided in the removal of al-Shabaab from several strategic locations in country. Al-Shabaab was forced out of the capital Mogadishu in 2011 and strategic port city of Kismayo in 2012, for example. Farmajo indicated that Somalia still needs continued U.S. military and capacity-building support for Somali troops (Garowe Online, October, 2020; FTLSomalia, October 17, 2020).
Kenya's Concerns about the U.S. Withdrawal
Kenya is also concerned about the U.S. withdrawal. Kenyan Foreign Affairs Principal Secretary Macharia Kamau warned the U.S. troop withdrawal would create a space that would aid the resurgence of al-Shabaab and cautioned that the withdrawal would be a costly mistake. His concern was that the gains made against the militant group over the past several years could be lost, especially with al-Shabaab gaining ground in regions where it had been retreating (Garowe Online, October, 2020).
Meanwhile, the U.S. troops are now likely to be stationed in other countries in Africa, such as Kenya itself and Djibouti, where the United States maintains a permanent military base. A Pentagon statement explaining the changes in Somalia indicated that the U.S. was not disengaging from Somalia. Instead, it would retain the capability to conduct targeted counter-terrorism operations and collect early warning indicators on threats to the United States from bases outside Somalia (AfricaNews, December 5, 2020).
The U.S military in Kenya trains security forces and helps in the fight against al-Shabaab. Camp Simba and Manda Bay airfield, which are located in the coastal county of Lamu, Kenya, are used for such activities and host both U.S. troops and the Kenya Defense Forces. On January 5, 2020, al-Shabaab raided the camp, killing three Americans, including a U.S. service member and two Department of Defense pilot contractors, when al-Shabaab's fighters struck a U.S. surveillance plane with rocked propelled grenades. They also destroyed a fuel storage area, making a nearby airstrip unusable (KTNnews, January 15, 2020; The East African, January 22, 2020).
Conclusion
Although U.S. troops have withdrawn from Somalia, the United States has not disengaged from Somalia. That fact provides sufficient confidence to Somalia and Kenya. The much-needed support to the African troops and Somali army through surveillance and airstrikes against al-Shabaab will likely continue under the Biden administration.