UDAR – Our Ukraine Pragmatists in a Radical Opposition Era
Publication: Eurasia Daily Monitor Volume: 9 Issue: 197
By: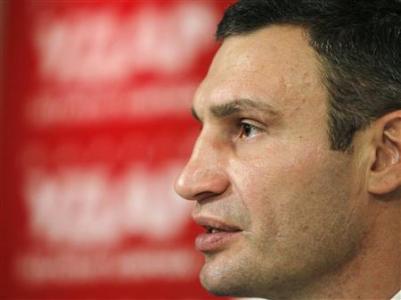 Six exit polls at the closing of the October 28 parliamentary election gave the Ukrainian Democratic Alliance for Reforms (UDAR), led by boxing champion Vitaliy Klychko, between 13–15 percent of the vote. Together with 23–25 percent for jailed former Prime Minister Yulia Tymoshenko's Batkivshchina (Fatherland) party and 11–13 percent for Svoboda (Freedom), the three opposition parties likely received 47–53 percent of the proportional vote compared to 40–45 percent for the Party of Regions and Communist Party (KPU) (Kyiv Times, October 28).
Under the previous 2004 full proportional election law, these results would have ensured the opposition a parliamentary majority. But the 2012 election law returned Ukraine to a mixed system last used in 1998 and 2002, whereby 225 of the parliament's 450 deputies are elected in first-past-the-post districts, available for rent or purchase—in this case by the ruling Party of Regions which will in this way obtain a majority in the legislature, but not a constitutional majority.
A big winner in the elections was UDAR—a reincarnation of one wing of former President Viktor Yushchenko's Our Ukraine party—which avoided formally allying with the United Opposition prior to the election. Ukrainian investigative reporter Serhiy Leshchenko points to three factors explaining Klychko's party's success after his two failed bids to be elected Kyiv city Mayor (Ukrayinska Pravda, October 28). Firstly, Ukrainians want change and are fed up with "Vitya versus Yulia [referring to the ongoing political fighting between Viktor Yanukovych and Yulia Tymoshenko]." In 2010, Sergei Tigipko captured the vote for change and received third place with 13 percent of the electorate as UDAR similarly did this year. Secondly, Klychko is a "legendary figure" with greater charisma and more approachability than Fatherland's Arseniy Yatseniuk who failed to convince Ukrainians he is "Tymoshenko-2."
Thirdly, UDAR was promoted by television channels controlled by the presidential administration in a similar strategy to the television promotion of Yatseniuk in the 2010 elections. In both cases Ukrainian oligarchs viewed Yatseniuk and Klychko as the non-Tymoshenko, acceptable opposition.
Klychko refused to join Fatherland-Front for Change United Opposition (UO) or sign a pre-election coalition pledge and failed in most cases to agree which of their candidates would stand in first-past-the-post districts to prevent inter-opposition competition (Ukrayinska Pravda, October 16).

UDAR was criticized by both sides but also supported by the authorities. UDAR and Svoboda have no representatives on election commissions that count votes, and a fake UDAR web site as well as fake UDAR billboards aimed to pit them against the UO (Ukrayinska Pravda, October 15 and 21).
In Odessa, leaflets and newspapers accused UDAR of being "aggressive nationalists" and "Nazis" (Ukrayinska Pravda, October 22) in a repeat of similar accusations against Our Ukraine and Viktor Yushchenko in 2002 and 2004, respectfully. Svoboda, meanwhile, distributed newspapers accusing UDAR of including Ukrainophobe candidates (Ukrayinska Pravda, October 21, 25).
The Party of Regions invited UDAR join them and the KPU in a coalition. "I am sure that UDAR and we have many common positions; and their election program in many instances is similar to ours," said Party of Regions deputy Georgiy Smitiukh (UNIAN, October 17). UDAR is a member of a coalition with the Party of Regions in the Kyiv oblast council and voted for Party of Regions member Oleksandr Kachnyy to be council leader.
However, Party of Regions parliamentary faction leader Oleksandr Yefremov backtracked from this possibility, asserting that a Party of Regions–KPU–UDAR coalition represented Smitiukh's personal opinion (www.bbc.co.uk/ukrainian, October 17). Klychko, in turn, ruled out such a coalition: "I want to state that any alliance with those parties who discredited themselves and showed their indifferent attitude toward the people, in other words the Party of Regions and KPU, cannot take place" (Ukrayinska Pravda, October 18).
In addition, both UDAR and Front for Change have withdrawn their first-past-the-post candidates in favor of candidates promoted by oligarchs. UDAR candidate Mykola Buriak, running in Sumy oblast, withdrew in favor of Party of Regions candidate Andriy Derkach, son of disgraced former SBU Chairman Leonid Derkach (Kyiv Weekly, October 18). Derkach was forced to resign by parliament in February 2001 because he ordered surveillance of journalist Georgi Gongadze who was murdered six months earlier.
UDAR candidate Roman Hrapko and UO candidate Vadym Hetman both withdrew in Dnipropetrovsk oblast in favor of Yakov Bezbakh, supported by oligarch Viktor Pinchuk (Ukrayinska Pravda, October 19). Bezbakh is running in Pinchuk's former seat and works as an adviser at Pinchuk's Interpipe Corporation.
Hetman is a local council deputy from Front for Change and his withdrawal reflected Yatseniuk's cynicism (Ukrayinska Pravda, October 19). At the Yalta European Strategy (YES) the month before Yatseniuk, turning to YES organizer Pinchuk, said "Viktor, do not be nervous; you are not an oligarch. You are under the protection of democratic forces" (Ukrayinska Pravda (October 19).
It remains to be seen if UDAR will be as pragmatic as Viktor Yushchenko's Our Ukraine party was in being able to play off both sides and full-time members of the opposition. But, notably, Klychko told a post-election press conference he was concerned about Svoboda's "right-radicalism" (Ukrayinska Pravda, October 28), which points to future disagreements similar to those that plagued the "orange" coalitions under Yushchenko that undermined their unity.
Yanukovych will not be completely pleased by the election results because whichever party came in second will demand the right to be the opposition candidate in the 2015 presidential election. Yanukovych would have preferred to face Klychko, also from Donetsk, than Fatherland's Yatseniuk—assuming Tymoshenko remains jailed (see EDM, November 4, 2011) in 2015.