Ukraine and NATO Partners Conclude Most Ambitious 'Sea Breeze' Black Sea Naval Exercise to Date
Publication: Eurasia Daily Monitor Volume: 14 Issue: 99
By: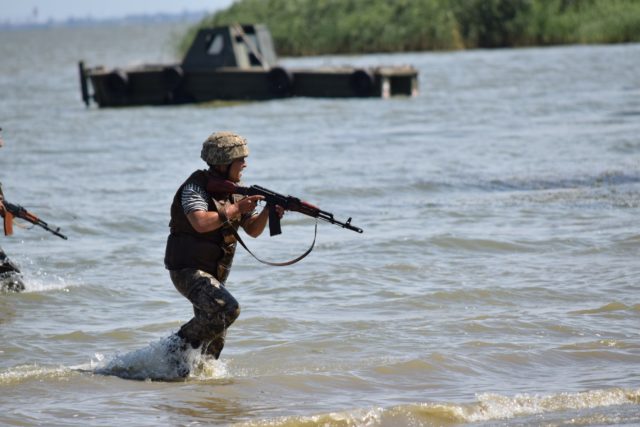 July 22 marked the end of the 12-day Sea Breeze 2017 exercise (UNIAN, July 25), conducted in the Black Sea and on Ukrainian territory with the participation of Belgium, Bulgaria, Canada, France, Georgia, Greece, Italy, Lithuania, Norway, Poland, Romania, Sweden, Turkey, Ukraine, the United Kingdom and the United States. Although in its 20th year, the past few annual Sea Breeze exercises—since the illegal and unrecognized annexation of Crimea by the Russian Federation—have increased in size and complexity. "The key thing about this exercise is, over the last renditions of it, it's becoming far more complex; a very robust sea, air and land component," said Navy Captain Matthew Lehman, the deputy commander of the US 6th Fleet's Task Force 65 and the officer in tactical control of the exercise (Defense.gov, July 19).
"The main difference of this year's exercises was the so-called 'free game mode,' " said Deputy Director of the Ukrainian Center for Army Studies, Conversion and Disarmament Mikhail Samus. The sentiment was echoed by US Navy Captain First Rank Tate Westbrook: "This year, we stepped forward even more and the exercises will be held in a free-game mode, where the main task will be anti-submarine operations in the Black Sea" (Dumskaya, July 20).
To provide a broader overview, a total of 31 ships, 29 aircraft, and more than 3,000 service personnel were involved in a variety of warfare areas, including maritime interdiction operations, air defense, anti-submarine warfare, damage-control tactics, search and rescue, and amphibious warfare with air and land elements occurring in the Odesa, Mykolaiv and Kherson oblasts. US participation included the Ticonderoga-class guided-missile cruiser USS Hue City (CG 66), the Arleigh Burke–class guided-missile destroyer USS Carney (DDG 64), a P-8A Poseidon from the Maritime Patrol Squadron (VP) 16, elements of Naval Special Warfare Unit 2, the US Naval Forces Europe-Africa/US 6th Fleet Maritime Ashore Support Team (MAST), a Fleet Antiterrorism Security Team (FAST), Explosive Ordnance Disposal (EOD) Mobile Unit 8, Naval Mobile Construction Battalion (NMCB) 1, Underwater Construction Team 1, and members of the CNE-CNA/C6F staff. In total, approximately 800 US sailors and marines took part (C6f.navy.mil , accessed July 24).
Due to the sinking of the Russian intelligence ship Liman off the coast of Istanbul, on April 27 (see EDM, May 4), the annual Russian surveillance of Sea Breeze was conducted from a few miles away by the Russian Federation reconnaissance ship CER-201 Priazovye (Sputnik News, July 11).
The exercise was designed to enhance flexibility and interoperability, strengthen combined response capabilities, and demonstrate resolve among allied and partner-country forces to ensure stability in the Black Sea region. Host country Ukraine, and a participant falling outside the North Atlantic Treaty Organization (NATO) alliance, recognizes any membership aspirations are currently over the military and political horizon. It has much left to do internally to reach the standards required prior to any attempts at convincing all NATO members Kyiv should be allowed to join the Alliance. Nevertheless, while membership may be far off, such exercises—together with other on-going NATO training and ceaseless kinetic and non-kinetic Russian aggression—continue to bring Ukraine closer to the Alliance's Article 3 requirements. Article 3 of NATO's founding Washington Treaty states: "In order more effectively to achieve the objectives of this Treaty, the Parties, separately and jointly, by means of continuous and effective self-help and mutual aid, will maintain and develop their individual and collective capacity to resist armed attack" (Nato.int, North Atlantic Treaty, April 4, 1949). Adhering to Article 3 is not only a military endeavor—it requires economic, political, social and infrastructure resilience, too. Crucially, it opens opportunities for "coalitions of the willing."
In many ways, the Ukrainian military leadership has been stuck in a post-Soviet time warp, and the learning curve to reach modern Western standards is steep. Of the five broad areas requiring significant attention, the military management system is a priority. The others—defense and resource planning, capabilities development, logistics, and reserve force systems—are all reliant upon the abilities of the first. The May 2016 program announced by the Ukrainian government to rebuild the depleted Ukrainian Navy by providing 30 new ships by 2020 was ambitious. It was also initially unclear what vision for the Ukrainian Navy it had in mind, beyond immediate threat mitigation (Odessatalk, June 3, 2016).
During Sea Breeze 2017, it appears the governments of the United States and Ukraine have reached a decision to transfer a number of Island-class offshore patrol boats dating back to 1995, which will go some way to meeting such an ambitious target, These boats are primarily employed by the US for surveillance, law enforcement and drug interdiction operations, as well as search-and-rescue work. They have a five-day endurance and a three-ton payload capacity. According to Rear Admiral of the Ukrainian Navy Andrew Tarasov, "The decision to transfer the US military Island patrol boats to the Ukrainian fleet after the Sea Breeze 2017 exercises is actually accepted. Negotiations have already moved to the lower level. In fact, the decision to transfer has been adopted and details are being discussed. I hope that this process will be swift and we will obtain these boats" (Krymr.com, July 17).
Next year's exercise, Sea Breeze 2018, will be of interest to see whether it demonstrates a period of consolidation for the Ukrainian forces following several years of rapid ascent up the learning curve to reach Western military standards. Just as importantly, it remains to be seen whether that upward climb can continue apace.