Ukraine Contemplates Naval Strategies
Publication: Eurasia Daily Monitor Volume: 11 Issue: 155
By: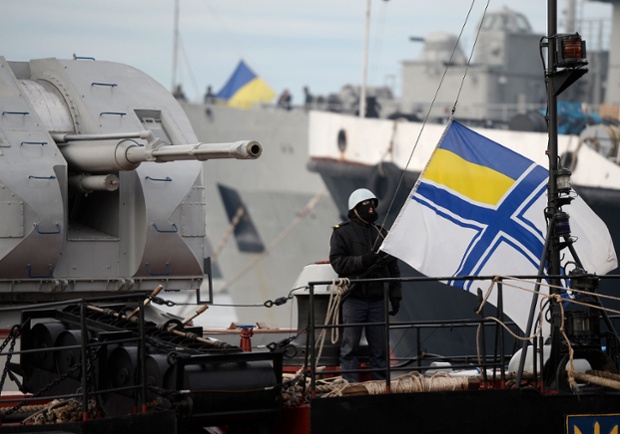 On August 24, Ukrainian President Petro Poroshenko attended a naval parade in the Black Sea port city of Odesa (UNIAN, August 24). In his remarks that day, President Poroshenko argued that "technical re-equipment" as well as "true Ukrainian patriotic morale" were necessary for the Navy's revival (president.gov.ua, August 24). Indeed, both naval weapons and equipment as well as personnel morale were undermined as a result of Russia's annexation of Crimea in February–March 2014 (Military Review, March 30).
To date, Russia still has not returned 17 seized Ukrainian warships and auxiliary vessels, including the modern Grisha-class corvette Ternopil, the aged corvette Lutsk, the Ropucha-class large landing ship Kostyantyn Olshanskiy, as well as Ukraine's Chernihiv and Cherkasy minesweepers. Russia also captured 80-130 marine armored vehicles and two dozen aircraft and helicopters belonging to the Ukrainian Naval Aviation force (Zerkalo Nedeli, July 28). Ukrainian political analyst Oleksandr Polysaiev told Jamestown, on August 7, that according to classical naval tradition, the role of every officer or seaman is often critical as crews are taught to defend or sink their ships, but never surrender them. Yet, alongside the ships, several high commanding officers and over 50 percent of personnel defected to the Russian Navy or resigned from service as the crisis in Crimea unfolded.
The Crimean annexation also terminated the previous governments' limited efforts to reform the Ukrainian Navy. Viktor Yanukovych and, to a great extent, his predecessors relied on the Russian Black Sea Fleet (BSF) as a regional security provider, and the Ukrainian heads of state undertook only incremental improvements to their country's own naval force. The former Chief of General Staff General Volodymyr Zamana cited one example of such improvement under Yanukovych: while Ukraine's Sevastopol Tactical Aviation Brigade had only one flyable aircraft in 2004, it had eight flyable aircraft in 2010 (gordonua.com July 31). Nevertheless, Ukraine had cooperated with the North Atlantic Treaty Organization (NATO) and the European Union in remote area missions and international naval exercises in the Black Sea. Because of this, Ukraine's navy previously boasted several interoperable ships and crews, such as the frigate Hetman Sahaydachniy, the corvette Ternopil and the First Separate Marines Battalion in Feodosiya.
But Ukraine now faces the complex task of rebuilding its navy almost from scratch, raising the question as to what kind of naval strategy the country should have. Presently, Ukraine has moved its remaining force to reserve bases in Odesa, Ochakiv and Mykolaiv, which need to be developed into permanent bases. A Naval Academy was created in Odesa, and marine (Ukrainian Marines Facebook page, accessed September 3) and navy seal units were also re-established, to a great extent supported by volunteers (LB.ua, July 4). Some of the naval infantry currently participates in the Anti-Terrorism Operation (ATO) in eastern Ukraine.
The immediate strategic threat perceived by the Ukrainian Navy is a Russian amphibious landing. Indeed, Russia reportedly concentrated a substantial landing ship force in Crimea, including the large vessel Kaliningrad, which had originally been assigned to the Baltic Fleet (Black Sea News, September 1). Moreover, the Russian media recently stated that the second Mistral-class ship, which Russia is attempting to buy from France, the Sevastopol, may be assigned to the BSF in 2016 (YouTube, July 6). The Mistral, a multi-purpose, expeditionary helicopter carrier, could be instrumental in a successful landing operation and seizure of substantial enemy coastal territory. Besides the Mistral, the Russian BSF will be beefed up in several years with project 11356 frigates and six Improved Kilo-class submarines that have good sea- and land-strike capabilities. The first such submarine is planned to reach the port of Sevastopol after a six-month trial in the Baltic Sea (Nezavisimaya Gazeta, August 25).
The various naval strategy models currently being discussed in Ukraine include having a blue-water navy, employing a "gunboat" strategy, or only concentrating on coastal protection. Ukraine's strategic ambitions, however, are restrained by the country's economy, its non-bloc status and Russian superiority in the Black Sea. Admiral Ihor Kabanenko, a Ukrainian deputy minister of defense, told Jamestown on August 1 that the best option for the country is to develop an asymmetric, focused strategy.
If Kyiv's naval strategy is to account for Ukrainian strategic economic interests, it will have to address the protection of maritime trade and Mediterranean Sea chokepoints as well as the important commercial seaports Illichivsk, Yuzhny and Mariupol on the Sea of Azov. Furthermore, a comprehensive naval strategy will need to account for the protection of liquefied natural gas (LNG) and oil shipments and possibly future LNG terminals.
Ukraine's naval presence in the sea-lake of Azov becomes problematic as Russia effectively controls Crimean littoral waters and the only maritime opening to the Sea of Azov—the Strait of Kerch. Ukraine has several small Border Guard unit boats on the Azov Sea, but recently lost one from insurgent artillery fire on August 31 (YouTube, September 1).
The Ukrainian Navy needs new ships, and one possible solution is the resumption of its program to build four Project 58250 corvettes. The first, the Volodymyr Velykiy, was supposed to be launched into the water in 2015, but its construction was interrupted by the crisis with Russia (Inpress, January 14). The corvette, however, has a blue-water capability, and if Ukraine chooses to focus on coastal protection, it may need to modify the project, further delaying the ship's development. Ukraine has retained some shipbuilding and repair capabilities in Mykolaiv, including the modern turbine engine manufacturer Zorya Mashproekt. But important Sevastopol and Feodosiya vessel-building and repair companies were seized by Russia after the Crimean peninsula's annexation.
Ukrainian strategic challenges are further multiplied by Russia's resolve to augment its naval power in the Black Sea. But if modernizing the Russian fleet drags on for too long, Moscow may well seek to compensate by shifting tactical and strategic nuclear and conventional missiles to Crimea. In particular, Ukraine's naval defense strategy will have need to take into account Russia's possible regional deployment of nuclear-capable Iskander missile systems and Tu-22M3 Bear strategic bombers capable of carrying Kh-32 anti-ship missiles (MK, August 15). Additionally, Russia could also attempt to use its strategic maritime aviation to close the straits to the Mediterranean Sea. Preparation for such scenarios, coupled with Russia's plans to upgrade its anti-ship and air defense capabilities, will likely make it necessary for Ukraine to seek outside allies and possibly diplomatic agreements to address its Black Sea security environment.