Ukraine, EU Locked in Clash of Cultures and Values
Publication: Eurasia Daily Monitor Volume: 18 Issue: 32
By: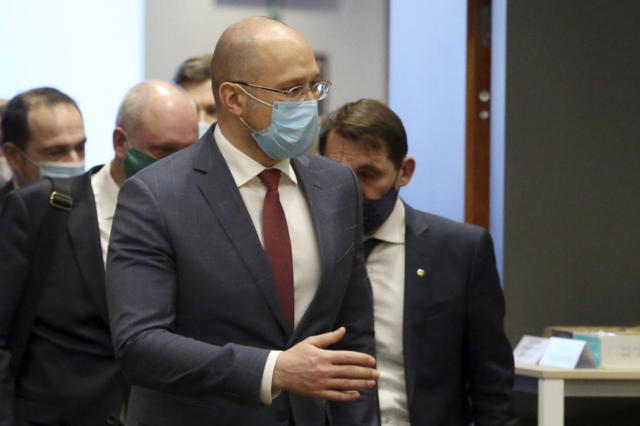 The Ukrainian government concluded a series of agreements and held important discussions with European Union officials during Prime Minister Denys Shmyhal's February 9–11 visit to Brussels, where he co-chaired the seventh meeting of the Ukraine-EU Association Council (UNIAN, February 13). Less progress was reached this time compared to the sixth meeting, around the same time last year, attended by Shmyhal's predecessor, Oleksiy Honcharuk. This downgraded outcome stemmed partly from the fact that the coronavirus crisis had since overshadowed other developments and shifted priorities on both sides. More importantly, not much has changed in Kyiv's attitude after the signing of the EU Association Agreement, including a Deep and Comprehensive Trade Area, in June 2014.
Brussels has done little to penalize Kyiv's failures to meet its earlier commitments, though it continues to insist that Ukraine should accept European values and speed up rule-of-law and justice reforms in order to attain more from the EU. Kyiv, however, is seeking primarily economic benefits and political support in its confrontation with Russia, while largely ignoring those requirements from Brussels that are difficult to grasp, let alone implement, for an immature but practical ruling elite in a country suffering from decades of kleptocracy and weakened by the "hybrid" war waged by Moscow. As a result, neither Kyiv nor Brussels remain fully satisfied.
As on previous occasions, the EU encouraged Ukraine's reform efforts and reiterated its support for Ukrainian sovereignty in the joint statement summing up the Association Council meeting. Additionally, the EU once again put the blame for the lack of progress in the implementation of the 2014 and 2015 Minsk agreements on Russia. Finally, the European side repeated its support for Ukraine's territorial integrity with regard to Crimea, which, as the EU statement pointed out again, Moscow illegally annexed in 2014 (Kmu.gov.ua, February 12). This continued political backing from Brussels is crucial to Kyiv especially with regard to the Crimea problem, which Moscow flatly refuses to even acknowledge as a point for debate (TASS, February 12).
But on domestic matters, the EU had less pleasant words for the Ukrainian government, which largely ignored the concerns expressed at the Association Council meeting a year earlier. The January 28, 2020, joint statement urged Ukraine to respect ethnic minority rights and, in particular, to implement the recommendations of the Venice Commission—the European constitutional law watchdog—regarding language rights in education. This year's statement repeated last year's counsel on the Venice Commission requirements almost word for word. And notably, whereas last year's joint statement mentioned almost in passing the need for Ukraine to "continue strengthening the rule of law" (Consilium.europa.eu, January 28, 2020)—probably because Ukraine had scored an important achievement in that regard in 2019 by launching the anti-corruption court—this time, the EU was more insistent and less complimentary regarding Ukraine's endemic corruption. The year 2020 was notoriously marked by numerous controversial decisions taken by Ukrainian courts, as well as complaints by the independent anti-corruption bodies of pressure from President Volodymyr Zelenskyy's team.
The joint statement this year pointed to the "need for Ukraine to step up efforts on strengthening the rule of law and to ensure the independent and effective operation of the anti-corruption institutions" as well as "the need for credible integrity checks for judges." EU Executive Vice President Valdis Dombrovskis told the European Parliament that "comprehensive judiciary reform [in Ukraine] is long overdue." Dombrovskis noted that the fight against corruption continued to be a key condition for EU assistance to the country (Ec.europa.eu, February 9). Brussels did not conceal its frustration over Kyiv's failure to implement its commitment to fight endemic corruption under both the EU's macro-financial assistance program and Ukraine's program with the International Monetary Fund. The EU "stressed the importance of bringing to justice those responsible for the large-scale fraud at Privatbank"—Ukraine's largest bank, which was bailed out and nationalized in 2016—again repeating a request from a year ago word for word. To date, none of the individuals allegedly involved have been prosecuted.
Ukraine achieved more on economic and trade matters, where much now depends on the European bloc's readiness to open up its markets as well as the dexterity of its bureaucratic machinery. The EU and Ukraine agreed that it would be important this year to conclude the Common Aviation Area Agreement, which should facilitate travel. The EU postponed the signing of the agreement for several years, citing more pressing legal clashes over Gibraltar between the United Kingdom and Spain. But with the UK now out of the EU, there should be no more hurdles. A decisive achievement for Ukraine is the European side's agreement to start consultations to review trade liberalization for goods. Ukraine has been insisting on this for a long time, as the structure of its exports has changed considerably since 2014, when the current bilateral trade rules were agreed. In particular, Ukrainian agricultural exports have been far larger than metal exports over the last several years, and trade with the EU increased, while Russia lost its former significance as an export market for Ukraine. The EU also agreed to assess whether Ukraine is ready for an Agreement on Conformity Assessment and Acceptance of Industrial Goods, dubbed by Ukraine an "industrial free-travel regime," potentially applicable to one-fifth of Ukraine's exports to the EU (Ukrinform.ru, February 17).
In the years since the signing of the EU-Ukraine association deal, it became clear that it is easier to achieve shared policy goals when a common enemy, time constraints, regulations, commercial interests, and negotiating skills loom larger. But when cultural differences and divergent political values clash, interaction becomes more difficult. In this respect, Ukraine under Zelenskyy does not differ significantly from the Ukraine of his predecessors Petro Poroshenko or even Viktor Yanukovych. Progress in bilateral relations was faster when the Maidan revolution and Russian aggression compelled the Europeans to act. But since then, further movement toward closer integration slowed as the EU came to understand that despite all the positive changes in Ukraine, it will still take much time and effort to bridge the civilizational gap.