Ukraine Hopes to Become Arms Exporter to NATO Countries
Publication: Eurasia Daily Monitor Volume: 14 Issue: 77
By: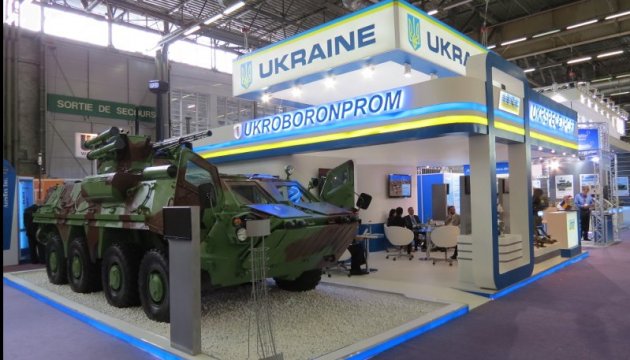 Ukraine's state defense-industry concern Ukroboronprom announced, on May 30, that the North Atlantic Treaty Organization's (NATO) Support and Procurement Agency (NSPA) offered to add Ukrainian defense-industry firms to its list of approved defense-related producers. Ukroboronprom said it may be allowed to participate in tenders to supply goods and services to NATO members and partners. Ukroboronprom CEO Roman Romanov said Ukraine was the first Eastern European partner country to be offered the opportunity to supply arms and equipment to NATO armies. This, said Romanov, was proof of the Ukrainian defense industry's capacity and credibility (Ukroboronprom.com.ua, May 30).
Ukroboronprom's subsidiaries boosted arms sales by 25 percent to $756 million last year, Romanov's deputy Denys Hurak said. Moreover, they concluded contracts worth a total of $1.5 billion last year, and the volume of arms export contracts concluded in 2014–2016 is estimated at $3.8 billion (Zn.ua, January 30). Ukraine, outperforming Israel, was the world's ninth largest arms exporter in 2012–2016, when its sales jumped by half compared to 2007–2011, according to the Stockholm International Peace Research Institute (SIPRI). Among the world's top ten arms exporters, only China's sales grew faster. At the same time, China was also Ukraine's main client, with 28 percent of total exports, followed by Russia with 17 percent and Thailand with 8.5 percent (Sipri.org fact sheet, February 2017).
Because of Crimea's annexation and the hybrid war launched by Russia against Ukraine in 2014, Kyiv has severed ties with the Russian military-industrial complex (see EDM, December 1, 2014). Consequently, Russia will cease to be a key buyer of Ukrainian arms. Given the European vector of Ukraine's current foreign policy and the large size of NATO's arms market, it is natural for Ukraine's defense industry to look for customers in the West; hence, NSPA's offer comes in handy.
Kyiv announced plans to join the North Atlantic Alliance's procurement system in 2015, and by 2020 it plans to fully switch military production to NATO standards. This would facilitate exports to NATO countries, but it will not be easy to achieve for a country whose defense industry for more than two decades depended on component suppliers and buyers in Russia. Over the course of the past 25 years, Ukraine had not developed much of its own military hardware and technologies, continuing instead to exploit the international reputation of the defunct Soviet military-industrial complex.
Until the war with Russia, Kyiv had also neglected its army, which could not afford to modernize its rusting arsenals even with the relatively cheap weapons made in Ukraine. This proved to be a blessing in disguise for local arms manufacturers, which have had to export almost 100 percent of their products, rubbing elbows with international competitors. As a result, Ukraine's defense industry developed a competitive edge. Ukraine has unique facilities in shipbuilding and missile production. It also makes armored vehicles, tanks, radar systems, engines, transport aircraft and military trucks. Domestic military producers have numerous design bureaus inherited from the Soviet Union. The world's largest transport plane, the An-225 Mriya, is a product of the Kyiv-based Antonov Design Bureau. Local firms have also been successfully competing for international orders to repair weaponry.
The biggest potential deal for Ukroboronprom to date, worth $600 million, is for upgrading tanks for Pakistan (Mil.gov.ua, November 23, 2016). Most recently, Ukrainian First Deputy Prime Minister Stepan Kubiv announced that the private Ukrainian manufacturer of helicopter engines, Motor Sich, would make and service Ukrainian-designed engines jointly with China's Skyrizon (Interfax, May 16). Last May, Antonov and Turkey's Aselsan signed a memo to jointly develop components for transport aircraft and to subsequently market them internationally, while Ukroboronprom's subsidiaries Artem and Ukrspetstechnoeksport reached an agreement with the Turkish company MKEK to make ammunition for firearms (Ukroboronprom.com.ua, May 10, 11). Since Turkey is a key NATO member state, these deals may prove to be important steps in Ukraine's strategy to enter Alliance markets.
On the downside, Ukrainian arms manufacturers and exporters face image problems after a botched contract from 2009 to supply BTR-4 armored vehicles to Iraq (see EDM, September 7, 2012). Ukraine delivered only 88 vehicles out of the 420 ordered, and only 34 of them could move; 42 had cracks in their armor, and there were also numerous other defects. Iraq had to send those vehicles that could not be fixed back to Ukraine (Zn.ua, May 19).
NATO membership is not on the immediate agenda for Ukraine at the moment, but Kyiv does not make a secret of its plans to join the North Atlantic Alliance in the future. Last week (June 8), Ukraine's parliament approved a bill according to which the main goal of Ukraine in its cooperation with NATO is eventual membership (Pravda.com.ua, June 8). In the long run, Kyiv seeks protection from NATO. The current lull in the war with Moscow's proxies in eastern Ukraine may end, and Kyiv fears a massive renewed Russian push. Locally produced weaponry may not be sufficient to repel such aggression since a significant share of Ukrainian arms and equipment is obsolete compared to what Russia has. Thus far, the West has not provided lethal weapons to Ukraine in any significant amounts. It would be a boon to the Ukrainian defense industry if it could supply arms to NATO armies through NSPA. But to upgrade the Ukrainian army to modern standards, this relationship may need to become much more reciprocal.