Ukraine Ignores Russia's Invitation To Join Customs Union
Publication: Eurasia Daily Monitor Volume: 8 Issue: 79
By: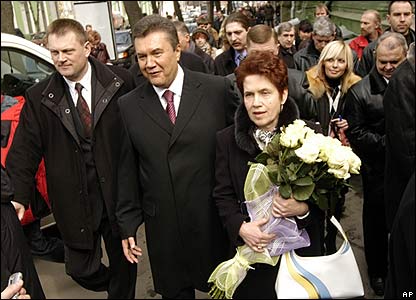 Ukraine's leadership has left Moscow's invitation to join the Russia, Belarus and Kazakhstan Customs Union unanswered even after Russian Prime Minister Vladimir Putin personally traveled to Kyiv to advertise its benefits. Instead, Putin was told once more that the problem of expensive Russian gas is more important for Ukraine. Moreover, Kyiv has chosen a new tactiс in the gas pricing dispute, trying to prove that the January 2009 contract according to which the price of gas for Ukraine is calculated per quarter is illegal.
Putin arrived in Kyiv on April 12 and the Customs Union dominated his agenda. Putin repeated his earlier warnings that Russia would erect trade barriers against Ukraine if Kyiv preferred free trade with the European Union. At the same time, Putin said Ukraine would earn an additional $6.5 billion to $9 billion and up to 2 percent in additional GDP growth per annum if it joined the Customs Union (Interfax, April 12). He did not provide any details on his calculations, but Customs Union Executive Secretary, Sergey Glazyev, explained that the benefits for Ukraine would include lower gas prices, lower oil export duties and more Ukrainian exports to Customs Union countries. Additionally, Ukraine would be compensated for losses resulting from violations of World Trade Organization (WTO) norms which would be inevitable if Ukraine joined the Customs Union (Kommersant-Ukraine, April 18). While Ukraine is a WTO member, Customs Union countries are only negotiating to join it.
Putin's words apparently fell on deaf ears. Ukrainian President, Viktor Yanukovych, and Prime Minister, Mykola Azarov, left his invitations unanswered as Ukraine prefers to continue political association and free trade talks with the EU, which had made clear that the talks would collapse if Ukraine joined the Customs Union. On April 18, Yanukovych and visiting European Commission President, Jose Manuel Barroso, agreed that the talks should be completed by the end of this year (UNIAN, April 18).
Yanukovych reportedly told Putin that political association and free trade with the EU remained the priority for Ukraine while cooperation with the Customs Union should be developed according to a 3+1 format (Kommersant-Ukraine, April 13). The format, which Yanukovych mentioned for the first time in his April 7 state-of-the-nation address, has yet to be explained. It must have been invented to either politely refuse Moscow's invitation to join the Customs Union or to put more pressure on the EU in the free trade talks which are proceeding with difficulty as Ukraine wants to receive more access to European markets than the EU is ready to offer. Putin did not conceal his disappointment and cancelled his briefing for journalists after meeting Yanukovych (UNIAN, April 12).
Rather than discussing the Customs Union, Azarov during his meeting with Putin preferred to focus on gas, telling Putin that the 2009 contract should be revised. The contract was unfair, he repeated –as he did during several previous meetings with Putin (UNIAN, April 12). Speaking in China on April 16, Azarov told Bloomberg that Russian gas should cost Ukraine $200 per 1,000 cubic meters. Ukraine will pay $293 this quarter and the price may reach $340 by the end of 2011. Gazprom insists that Ukraine has to adhere to the price formula stipulated by the January 2009 contract, but Kyiv argues the price paid according to the formula is too high compared to the prices paid by other major importers of Russian gas such as Germany and Poland.
As Gazprom has no intention of lowering the gas price in addition to the discount which was granted to Ukraine one year ago in exchange for extending the basing of the Black Sea Fleet in Sevastopol by 25 years, Kyiv has tried a different tactic. Kyiv indicated that it may turn to the courts in order to cancel the 2009 contract. Hardly by coincidence, ahead of Putin's visit, Ukrainian prosecutors charged former Prime Minister Yulia Tymoshenko with exceeding her authority when she instructed the Naftohaz Ukrainy national oil and gas company to conclude the 10-year contract with Gazprom in January 2009 (Kommersant-Ukraine, April 12). Also, a criminal case over the contract was opened against the then CEO of Naftohaz, Oleg Dubyna (Inter, April 16).
Ukrainian Deputy Prosecutor-General Renat Kuzmin said on a talk show on Inter TV on April 15 that the 2009 gas contract violated Ukrainian laws making it possible to cancel with the help of international courts. It remains to be seen whether Yanukovych and Azarov will try to cancel the contract through the courts or whether it is only an element of pressure on Russia. If Kyiv opts to sue Gazprom, this may result in another "gas war" between the two countries ahead of the presidential elections in Russian and parliamentary polls in Ukraine, both scheduled for 2012, with unclear consequences for the ruling elite in Ukraine. Yanukovych, who is usually cautious in dealing with Russia, is unlikely to take such a risk. Yanukovych admitted during a meeting with Barroso in Kyiv that Ukrainian courts had no powers to cancel the contract (ITAR-TASS, April 18).