Ukraine Looks to Turkmenistan to Solve Its Energy Security Challenges
Publication: Eurasia Daily Monitor Volume: 10 Issue: 50
By: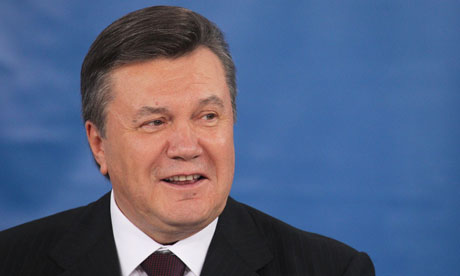 On February 12, Ukrainian President Victor Yanukovych paid a three-day visit to gas-rich Turkmenistan to sign a memorandum of understanding on energy cooperation and reiterate Kyiv's interest in resuming direct imports of the Central Asian country's natural gas, which were suspended in 2006 (Interfax-Ukraine, February 14). The visit revealed Kyiv and Ashgabat's strong desire to reduce their dependence on Russia, which supplies Ukraine with most of its gas and controls Turkmenistan's gas deliveries to Europe. But it has also drawn skepticism from analysts who argue that any direct Turkmenistani gas deliveries to Ukraine in the immediate future will still have to transit Russia, thus allowing Moscow to exercise leverage over Kyiv. Many fail to realize, however, that Kyiv and Ashgabat approach their energy cooperation from a long term perspective and are eager to deepen their energy ties despite and because of geopolitical constrains.
During last month's visit, the parties discussed the possibility of Turkmenistan resuming direct gas exports to Ukraine and signed an agreement on the exploration of Turkmenistan's gas deposits. The visit came roughly one month after Russia's gas monopoly Gazprom billed Ukraine's state company Naftogas for $7 billion for unused gas supplies, raising concerns that Kyiv would have to cater to Moscow's increasingly active geopolitical agenda in Eurasia in order to have this huge debt disappear from its balance sheets (www.pravda.ru, February 23).
The future direction of Ukraine and its foreign policy is a crucial factor shaping Eurasian geopolitics. Moscow wants to see Ukraine within the Russia-Belarus-Kazakhstan Customs Union (CU) and later Eurasian Union comprising other post-Soviet states. Russia had recently promised price cuts for its gas to Ukraine if Kyiv agrees to join the CU. Brussels, however, wants to see Ukraine gravitate to the European Union through a process of political and economic reforms. Kyiv, in turn, is torn between the two poles, coveting the benefits of both. "You cannot be a little bit pregnant," a Russian foreign ministry official recently said referring to Ukraine's interest to benefit, on its terms, from both the EU and the CU (www.enta-ua.net, January 2).
Ukraine buys Russian gas under a ten-year deal concluded in 2009 that links the price of gas to the price of oil. According to the contract, Ukraine is obligated to buy about 40 billion cubic meters (bcm) of Russian gas annually. Kyiv is unhappy with the deal and perceived high prices, seeking to cut its gas imports to 18–20 bcm this year down from 24 bcm imported in 2012 (www.en.rian.ru, February 13; www.lenta.ru, February 20).
Until 2006, Ukraine had imported up to 40 bcm of Turkmenistani gas via Russia, but disagreements over pricing with Ashgabat halted these gas shipments. Kyiv now hopes to compensate for lost time. In 2013, Naftogas plans to buy up to 10 bcm of Turkmenistani gas, a third of Ukraine's gas consumption needs, though skeptical analysts argue that Kyiv and Ashgabat will first need to reach a transit deal with Moscow. Ukraine already receives about 8 bcm of gas from Turkmenistan via the private, Ukrainian-based Group DF. In what is an interesting but somewhat complicated prospect, Ukraine also intends to import up to 8 bcm of gas annually from Poland, Hungary and Slovakia, which receive Russian gas via Ukraine, by reversing some of these supplies. However, analysts speculate that doing so without undermining Russian gas deliveries to Europe and the 2009 gas deal with Russia is not going to be easy, arguing that Ukraine is likely to import not more than 2 bcm of gas in 2013 instead (www.kyivpost.com, March 3; www.rbc.ru, February 20; www.lenta.ru, February 20; www.zn.ua, February 22; www.pravda.ru, February 23).
Counting on gas imports from Turkmenistan is relevant in this context but not necessarily realistic, despite the reference of the Ukrainian government to a Commonwealth of Independent States (CIS) free trade zone agreement that allegedly allows it access to the Russian pipeline systems to import Caspian-sourced gas. This is not only because of likely resistance from Russia, but also due to the likely increase in gas demand from China (www.zn.ua, February 22). In the longer term, China is projected to import up to 65 bcm of Turkmen gas annually, shielding Ashgabat from perceived Russian attempts to control its energy exports. However, increased gas supplies to China could also translate into Turkmenistan's relatively excessive dependence on the "Middle Kingdom" to the detriment of its ambitions to serve as a major, direct gas supplier to Europe and other players. This would be perceived as a negative prospect for Ukraine, which currently even lacks a dedicated pipeline to tap into the Central Asian republic's gas. Turkmenistan produced 60 bcm of natural gas in 2012, exporting about half of that to China, Russia and Iran (www.kyivpost.com, March 3; www.lenta.ru, February 20; www.minprom.ua, February 21). The "neutral" Turkmenistan may view the development of a European vector as a strategic priority, but the road to Europe currently goes through Moscow, which is interested in maintaining the status quo.
Turkmenistan thus considers energy cooperation with Ukraine as one important key in its long-term strategy of deepening energy ties with the EU, which depends on Russia for about a quarter of its gas supplies. In 2010, Turkmenistan confirmed its readiness to supply Europe with up to 41 bcm of gas via the proposed Nabucco pipeline that seeks to bring Caspian gas to Europe while circumventing Russia. However, Nabucco continues to face operational constrains and Turkmenistan currently lacks a way to link it to Nabucco, even if it is eventually built. Moreover, Turkmenistan may not have the capacity to produce enough gas to simultaneously satisfy the European market and projected increase in gas demand from China. Meanwhile, the rival South Stream gas pipeline project, which will bypass Ukraine, is expected to start bringing gas from southern Russia under the Black Sea to Bulgaria, Greece, Italy and Austria already in 2015. Many experts are concerned that South Stream could enable Russia to re-route EU-bound supplies away from Ukraine, providing Moscow with more influence over Ukraine's energy security and foreign policy orientation (www.minprom.ua, February 21).
Kyiv therefore seeks to use all means to reduce its excessive dependence on Russian energy sources. It plans to switch its natural gas power stations to coal, develop shale gas reserves, build a liquefied natural gas (LNG) terminal to import gas from the Persian Gulf, and even import gas from its current clients in Europe. Furthermore, Ukraine views its pursuit of energy cooperation in bi- and multi-lateral frameworks with Turkmenistan—the world's fourth largest holder of gas reserves—as a key to its long-term development and security. Whether Kyiv will succeed remains to be seen; but as Yanukovich said, "there should always be hope."