Ukraine Rejects Criticism of Tymoshenko Arrest: Opposition Struggles to Organize Protests
Publication: Eurasia Daily Monitor Volume: 8 Issue: 155
By: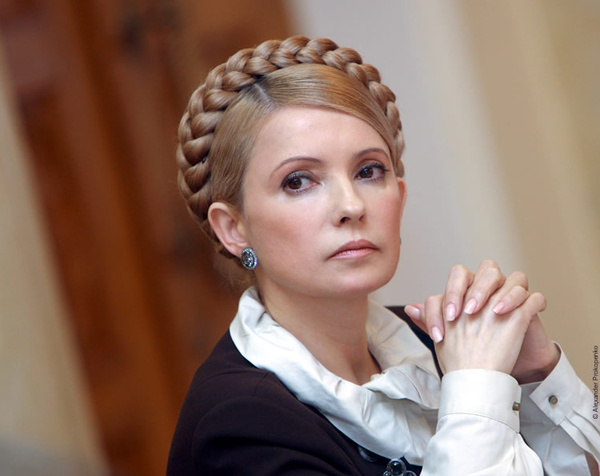 Kyiv has flatly rejected foreign criticism of former Prime Minister Yulia Tymoshenko's August 5 arrest for contempt of court. While the West was told that the executive cannot interfere with court decisions, Russia was reminded ad nauseam that the 2009 gas contract for which Tymoshenko stands trial benefited Gazprom, but was disadvantageous to Ukraine. Foreign pressure on Kyiv for her release remains Tymoshenko's only hope as the opposition is weak and fragmented, her own popularity is probably at the lowest point for many years and popular protests are difficult to organize during a holiday season and without rich sponsors many of whom have left Tymoshenko to join the opposite camp.
The EU renewed its criticism of selective justice in Ukraine within hours of Tymoshenko's arrest, and the US government demanded Tymoshenko's immediate release (Interfax-Ukraine, August 5, 6; see EDM, August 5). In response, the Ukrainian foreign ministry said that everything was in line with local legislation. The ministry said, tongue in cheek given the notorious corruption in Ukrainian courts and their subservience to the executive, that any calls for the Ukrainian leadership to reverse the judge's decision were "groundless" because the courts are independent from the executive. "Ukraine's executive stands aside from the trial of Yulia Tymoshenko and has no intention to get involved therein," the ministry said in a statement (www.mfa.gov.ua, August 6).
While Western reaction was expected, Russia's open support for Tymoshenko was apparently not. Immediately after Tymoshenko's arrest, the Russian foreign ministry called for an impartial investigation of Tymoshenko's case and said that the 2009 gas contract was "concluded in strict accordance with the national legislations of the two states and with international law" (www.mid.ru, August 5). A Kremlin source told the Russian daily Kommersant that Tymoshenko's arrest would "hardly have positive consequences for [Ukrainian President Viktor] Yanukovych" (Kommersant, August 6).
An anonymous Ukrainian government source told the same daily that Moscow's reaction was nervous and ill-considered. The source recalled that Moscow unofficially backed Tymoshenko against Yanukovych in last year's presidential election and said that if the court found the gas contract was illegal, this could provide grounds for its revision – not in Moscow's favor (Kommersant, August 8). Ukrainian Foreign Minister Kostyantyn Hryshchenko who was the ambassador to Russia in 2009 and took part in the contract preparation, commenting on Moscow's reaction said that Russia was defending its national interests at Ukraine's expense (Interfax-Ukraine, August 5). Kyiv apparently has not abandoned the idea of using the case against Tymoshenko as a bargaining chip in the continuing gas talks with Moscow hence Moscow's nervousness (see EDM, April 22). Prime Minister Mykola Azarov speaking at Tymoshenko's trial claimed that the government had considered disputing the contract in court (UNIAN, August 5).
The Ukrainian leadership ostentatiously distanced itself from Tymoshenko's arrest. Yanukovych's spokeswoman, Darka Chepak, told the opposition website Ukrainska Pravda on August 5 that as the judiciary was independent in Ukraine, Yanukovych would not interfere, and will continue his summer vacation. Azarov said Tymoshenko should blame herself as she had mocked the judiciary, adding that the courts were independent from the executive (Interfax-Ukraine, August 6). Hardly by coincidence, Tymoshenko was arrested immediately after Azarov's testimony, during which she made denigrating remarks against him and the court chairman.
Tymoshenko's Fatherland Party announced open-ended protests. However, domestic reaction to Tymoshenko's arrest has thus far been muted. No more than 200 Tymoshenko sympathizers staged pickets, and people's deputies from her party set up 20 tents in central Kyiv over the weekend. Buses with Tymoshenko's supporters arrived in Kyiv from the regions on August 8, but the number of protesters in Kyiv's main street, Khreshchatyk, hardly reached 5,000 even according to Fatherland's own calculations; and some of these traveling from further afield did not have enough to eat. At times, riot police brought to Khreshchatyk almost outnumbered the protesters (Ukrainska Pravda, August 8). This is a far cry from the 2004 Orange Revolution when tens of thousands took to Khreshchatyk and adjacent Independence Square while being fed and warmed in the winter by the numerous businessmen who supported the protests. By contrast, many rich businessmen have left Tymoshenko's camp since her defeat in last year's election, withdrawing financial support.
The holiday season does not favor mass protests in Kyiv. Also, few Ukrainians are inclined to back the opposition. While half the population or more supported the opposition in the Orange Revolution protests in 2004, Tymoshenko is currently even less popular than the government. Support for her personally and her party fell below 10 percent in June, according to GfK. Tymoshenko has not proposed any new ideas as a party leader for a long time, the economic blunders that she committed when she headed the government will not be forgotten soon, and her confrontational style in the courtroom has hardly added many supporters to her party. Meanwhile, Tymoshenko's party alone is too weak to organize serious protests while the opposition in general is disunited. Following Tymoshenko's arrest, numerous small opposition parties have announced plans to unite their efforts against the government, and several of them pledged to stage protests in the main streets of Ukrainian cities on Independence Day August 24 (Ukrainska Pravda, August 8; UNIAN, August 9). It remains to be seen whether they will succeed.