Ukraine Risks Losing IMF Support
Publication: Eurasia Daily Monitor Volume: 8 Issue: 111
By: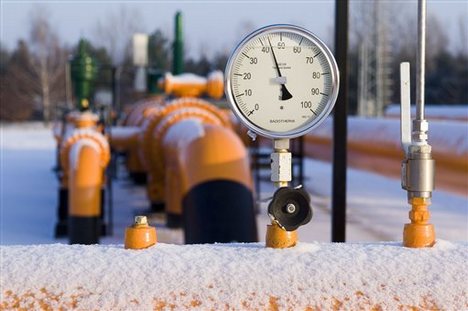 Ukrainian Prime Minister, Mykola Azarov, looks set to sacrifice the economy for electoral considerations. Azarov is reluctant to meet the key conditions set by the International Monetary Fund (IMF) to qualify for the continuation of its $15 billion assistance program: domestic gas price hikes and pension reform. This is because such unpopular measures are sure to spoil the ruling party's campaign for the October 2012 parliamentary elections. As a result, after receiving $3.4 billion from the IMF last year, Ukraine has not received any funds this year. However, Azarov seems convinced that IMF loans are not important when the economy is growing. This is despite warnings that such a policy undermines the country's financial system which is still very weak.
Ukraine expected to receive $1.5 billion each quarter from the IMF this year. However, nothing was received this past spring as Ukraine, contrary to its promise to the IMF, neither increased gas prices for utility companies and households nor passed pension reform increasing retirement age for women from 55 to 60. The governor of the National Bank of Ukraine, Serhy Arbuzov, said in April that if the two conditions were met, Ukraine could receive two tranches totaling $3 billion at once this summer (Ekonomicheskie Izvestia, April 29). However, nothing has changed thus far. IMF envoy to Ukraine, Max Alier, made clear that assistance would not be resumed without reform (Inter TV, May 16).
This prompted Arbuzov to send an angry letter to Azarov on May 19, accusing him of derailing the IMF assistance program. Arbuzov warned that headline inflation could jump to 12 percent to 13 percent year on year by mid-summer. He said the government's forecast of 9 percent inflation for this year was unrealistic, undermining trust in its economic policy. Arbuzov said the government's recent statements "about prices, tariffs etc," contradicted agreements with the IMF. He appeared to refer to the statements by government officials that there were no plans to hike domestic gas prices. Arbuzov warned that if the government failed to meet the IMF conditions, sovereign ratings would be lowered, NBU reserves would shrink and Ukraine would not receive loans totalling $7.7 billion expected from international financial institutions this year (UNIAN, June 2). This is a significant sum for Ukraine given that the NBU's reserves barely reached $38 billion by June.
Azarov's team tried to downplay Arbuzov's concerns. His press service said the text of the letter carried by UNIAN was probably not authentic (www.liga.net, June 2). However, Arbuzov released a video statement later in the day confirming the letter's authenticity (www.bank.gov.ua, June 2). Azarov clearly ignored Arbuzov's concerns telling CIS finance ministers in Kyiv last week that Ukraine has enough resources to meet its obligations without IMF assistance. He said last year's domestic gas price hikes boosted inflation, meaning there will be no more hikes this year (Interfax-Ukraine, June 4). This was confirmed by Yevhen Bakulin, the chief of the national oil and gas giant Naftohaz Ukrainy, who said in a recent interview that no more price hikes were planned (Channel 5, June 6).
Bakulin must have said what Azarov and President Viktor Yanukovych, who is behind Azarov's populist policy, wanted him to say. His Naftohaz is deep in the red because of the government's reluctance to increase domestic gas prices. The Kommersant-Ukraine business daily quoted an unnamed official from the Ukrainian energy ministry on June 6 as saying that gas prices for households and utility companies should be at least doubled. This is particularly important because Russia's Gazprom charges more for gas each quarter as international energy prices continue rising. Azarov's efforts to persuade Russia to lower gas prices have proven useless thus far.
Deputy Prime Minister Serhy Tyhypko, one of the few genuinely pro-market politicians in the government, told Inter TV on June 3 that if cooperation with the IMF were frozen, Ukraine could eventually face a default. This, he explained, is because Ukraine borrowed too much in 2008-2010, and creditors' trust would decline without IMF assistance. Tyhypko also confirmed that he would resign if parliament did not pass his pension reform in June. Parliament is dominated by Azarov's and Yanukovych's Party of Regions (PRU), and it was Yanukovych who advised parliament to reject Tyhypko's earlier pension reform drafts.
The government's reluctance to hike gas prices and streamline pensions is due to the fear that the PRU could lose the October 2012 elections if unpopular reforms were continued. Neither Tyhypko nor Arbuzov are members of the PRU so they can afford being honest about the economy. Azarov is repeating his predecessor Yulia Tymoshenko's mistakes. Her reluctance to reform the economy ahead of the 2010 presidential elections prompted the IMF to freeze its assistance. As a result, the government had to take more expensive loans elsewhere to prevent the collapse of Ukraine's economy which shrank by 15 percent in 2009. Tymoshenko eventually lost the elections to Yanukovych amid accusations of economic incompetence. The PRU is in a better position ahead of the 2012 elections as GDP was up 4.2 percent last year and is expected to rise by another 4.5 percent to 4.7 percent this year on the back of global recovery. However, there is a larger public debt to cope with as it rose from 12 percent of GDP in 2007 to 40 percent last year.