Ukraine-Russia Gas Talks Deadlocked
Publication: Eurasia Daily Monitor Volume: 8 Issue: 165
By: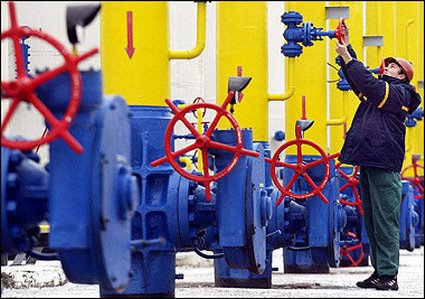 As winter approaches, the Ukraine-Russia gas price talks have been deadlocked, increasing the likelihood of a repetition of the "gas wars" of 2006 and 2009. Ukrainian officials pledged to avoid this but the situation is serious, with both sides firmly standing their ground. Ukraine repeatedly rejected Russian offers to join the Customs Union with Belarus and Kazakhstan or for Russia to buy into Ukraine's oil and gas industry in exchange for lower prices. Kyiv is exerting psychological pressure on Moscow, ranging from plans to radically cut gas imports, to the threat to sue Russia in international courts.
Ukrainian President Viktor Yanukovych discussed gas issues with his Russian counterpart Dmitry Medvedev in Sochi on August 11, but the talks produced no results. On August 12 Russian news agencies cited Kremlin sources as saying that Medvedev insisted on Ukraine's adherence to the existing gas contracts and that he rejected the 3+1 formula for Ukraine's cooperation with the Customs Union, which was offered by Yanukovych to avoid both angering Russia and misunderstanding with the European Union (with which Ukraine hopes to complete free trade talks) (Interfax, August 12).
On August 15, Gazprom's chief Aleksei Miller said that the model of gas trade with Belarus could be used in relations with Ukraine. This means that Gazprom wants full control of Ukraine's gas transit facilities as Gazprom owns 50 percent of Beltransgaz, the Belarusian pipelines operator, and will purchase the remainder by the end of this year. Ukrainian Prime Minister Mykola Azarov on the following day flatly rejected Miller's offer saying that Ukraine would "go its own way" (RIA Novosti, August 16).
On August 22 the Ukrainian Energy Minister, Yury Boyko, announced that Russian gas imports would be cut from 40 billion cubic meters (bcm) this year to as little as 12 bcm within five years. He said Ukraine would increase domestic gas extraction from new deposits, replace gas with domestically extracted coal where possible and cut gas consumption with the help of energy-saving programs (Channel 5, August 22). In response, Miller said that Ukraine has to pay for at least 33 bcm of gas each year according to the 2009 gas contract (www.lb.ua, August 31).
On September 2, Azarov declared that the national oil and gas company Naftohaz Ukrainy would be restructured and ultimately liquidated. This, he said, would entail renegotiation of all contracts with Gazprom. Azarov added that an independent gas extraction company and a gas transit company would be set up to replace Naftohaz (UNIAN, September 2). On the same day, Yanukovych issued a formal request to Azarov to formulate a plan by October 1 to restructure Naftohaz in line with earlier agreements with the European Union (www.president.gov.ua, September 2).
Miller responded by stating that Naftohaz would indeed be liquidated after a merger with Gazprom. However, Azarov's press service specified that Naftohaz's restructuring was Ukraine's domestic affair and does not involve Gazprom (Interfax-Ukraine, September 2). Azarov said he hoped Yanukovych would find a compromise solution on Naftohaz and Russian gas prices during a meeting with Medvedev at the CIS summit in Tajikistan on September 3 (Kommersant-Ukraine, September 5). But there was no proper meeting. Medvedev's press service said the two presidents only had "an exchange of opinions" on the summit's sidelines. Medvedev also warned Ukraine against using Naftohaz's restructuring or liquidation as a pretext to breach the 2009 gas contract (Interfax, September 3).
Yanukovych clarified during the summit that Naftohaz's merger with Gazprom, on which Moscow has been insisting, was not on the agenda. At the same time, Azarov said in a TV interview that Ukraine would adhere to the contracts until they are changed by mutual consent with Russia. He claimed there would be no new "gas war" with Russia (Inter TV, September 4).
Yanukovych made it clear in his September 6 interview with the newspaper Kommersant-Ukraine that Kyiv would stand its ground in the talks with Russia. He said Ukraine was not ready to make concessions to Russia in exchange for lower gas prices. Instead, the 2009 gas contract should be scrapped as it was concluded in violation of earlier bilateral agreements, according to Yanukovych. He said the entire country wants a "fair" price since Ukraine, despite its proximity to Russia, pays more for Russian gas than Germany. Yanukovych said the two countries should return to annual gas contracts instead of the 10-year contract concluded in 2009. He reiterated that Ukraine is ready to sue Russia over the contract in international courts. Russian Foreign Minister Sergey Lavrov suggested on September 5 that Moscow was ready to defend the contract in courts (Interfax, September 5).
Too much is at stake for Yanukovych. If Russia does not lower gas prices, Ukraine will have to raise domestic gas prices. Otherwise, Naftohaz's deficit will spiral out of control, which will ultimately derail loan agreements with the International Monetary Fund. Higher gas prices will spoil the ruling Party of Regions' campaign for the October 2012 parliamentary elections. Polls show that the Party of Regions' ratings are already dangerously low. According to an opinion poll in August conducted by the Razumkov think tank, only 15 percent of Ukrainians were ready to vote for the party, while 14 percent would have cast their votes for former Prime Minister Yulia Tymoshenko's Fatherland Party (www.zn.ua, August 22).