Ukraine Tightens the Screw in Sevastopol
Publication: Eurasia Daily Monitor Volume: 6 Issue: 141
By: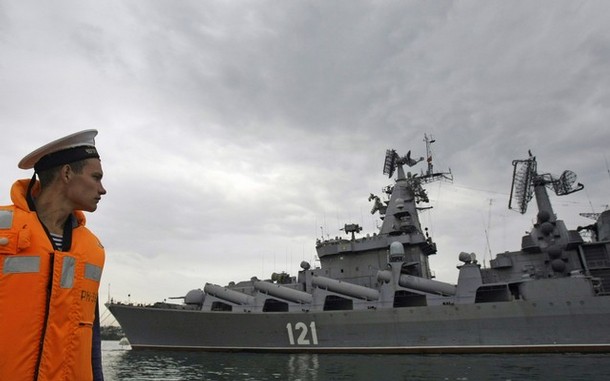 President Viktor Yushchenko announced his bid for a second term on July 18 defying pundits who believed his low popularity of 2-3 percent would deter him (www.president.gov.ua, July 18). Yushchenko used the highest peak in Ukraine – Hoverla in the Carpathians – to declare his bid for re-election, following a tradition set on Hoverla in 2002 (when he launched the Our Ukraine political party) and 2004 (when he announced his presidential candidacy).
Yushchenko's election speech included little concerning everyday realities facing Ukrainians such as the global financial crisis, but it was instead full of references to Ukrainian national identity, the re-writing of history, historical memory, language and the nation. The speech – as reflected in actual presidential policies in the Crimea – points to Yushchenko following Leonid Kravchuk in 1994 in campaigning for re-election on a nationalistic platform.
Yushchenko had targeted the Black Sea Fleet during the August 2008 Russian-Georgian war, passing two decrees that sought to restrict its ability to move in and out of Sevastopol without Ukrainian authorization. The Black Sea Fleet, which sent vessels and marines to the August 2008 war, refused to abide by these decrees, while the Ukrainian president did not seek to enforce them in the face of Russian objections.
Typically, the decrees therefore remained on paper reinforcing the Yulia Tymoshenko government's view that it was pointless issuing them, since it would not have risked a direct confrontation over the Black Sea Fleet. Most Ukrainian politicians have always sought to grudgingly accept its presence, through a temporary twenty year provision in the Ukrainian constitution that bans foreign bases, and hope that Russia will abide by the treaty and withdraw in 2017.
This approach to Sevastopol and the fleet only served to embolden Russia to act with impunity and ignore the 1997 basing agreement and Ukrainian legislation, whether through illegally occupying buildings, such as lighthouses, or transporting missiles through Crimean towns without Ukrainian authorization. In addition, Russia – particularly Moscow Mayor Yuriy Luzhkov – invested large financial sums into Sevastopol while Kyiv ignored the challenge of raising Ukraine's profile in the port by financing socio-economic and educational institutions (Ukrayinsky Tyzhden, June 12). Sevastopol has a large shopping mall named "Moscow" and branches of the Moscow State University provided by the mayor of Moscow.
Yushchenko has ordered law enforcement agencies to investigate Russian activities in Sevastopol (www.pravda.com.ua, July 5). Yushchenko believes that they are "directed not only against the state, but against us all, against our families, and our children. These are those projects that bring instability and squabbles" (www.pravda.com.ua, July 5).
Yushchenko has also lobbied for the idea of removing Sevastopol's Soviet era special status which combined with Kyiv, gives it an all-republican status. His aim is to integrate Sevastopol with the Crimea. In Yushchenko's criticism of Russian projects he in effect called for the Ukrainianization of Sevastopol by tying it closer to Ukraine geographically and through promoting Ukrainian national identity and military traditions. Luzhkov denied Yushchenko's charges that its Sevastopol education and economic projects were "unfriendly" and a "provocation against Ukraine," counter claiming that the Ukrainian authorities have invested little themselves (www.pravda.com.ua, July 6).
Moreover, Yushchenko has also tightened the screws on Sevastopol in other ways. On July 8 a Russian military convoy of three trucks transporting SS-N-2 short and SS-N-9 medium range missiles without permits through Sevastopol was intercepted by Ukrainian Interior Ministry (MVS) Special Forces. The missiles were en route to a technical repair base 30 kilometers outside the port that is used by the fleet.
SS-N-9 missiles, capable of carrying nuclear warheads, were used as conventional weapons during the fleet's intervention in the 2008 Russian-Georgian war. The Russian foreign ministry protested at the Ukrainian intervention claiming that transporting missiles was permitted by the 1997 agreement. "Our sailors were not conducting any new type of action," the statement said (www.pravda.com.ua, July 21). On July 21 another Russian convoy was halted by MVS traffic police that was transporting "Malakhit" missiles without a permit or the required fire engine escort, while three more trucks carrying missiles were stopped on July 23.
Earlier this year Ukraine protested over plans to add a submarine to the Black Sea Fleet, claiming it cannot be enlarged without Ukraine's consent. A separate addendum would have to be agreed to the 1997 basing agreement in order to permit the fleet's expansion. Russia continues to distribute passports to Crimean's thereby infringing Ukrainian legislation, which does not permit dual citizenship. The practice, used extensively in South Ossetia, permitted Russia to claim that it was intervening to protect "Russian citizens" from "Georgian aggression" and could thereby provide a similar pretext for a future Russian intervention in Sevastopol, in the event of a Ukrainian crackdown on separatists.
Another widely used infringement is the violation of Ukrainian immigration laws by the fleet's personnel. Last month it protested against Ukraine's new policy of checking the documentation of Russian naval personnel, claiming it was an "unfriendly move directed against Russian-Ukrainian relations" (www.pravda.com.ua, June 8). The Ukrainian interior ministry, which oversees the issuing of passports and immigration controls, estimated that 10 percent of illegal immigrants in Sevastopol were Russian sailors.
The Black Sea Fleet has positively responded to one Ukrainian demand and requested permission (for the first time in 18 years) to hold its annual parade. A spokesman from the Ukrainian embassy in Moscow said that, "this step will strengthen the practice of providing full respect by the Russian side towards Ukrainian sovereignty, its legislation and the bilateral agreement that regulates the basing of the Russian Black Sea Fleet on Ukrainian territory" (www.pravda.com.ua, July 14).
Equally, Russia is likely to negatively respond to the majority of Ukrainian demands. Although Russia is conducting an ideological campaign against Ukraine (EDM, June 12) and is openly provocative, Yushchenko's nationalist election platform is likely to maintain tense relations with Russia, while deepening Western European suspicions of him as a Russophobe. Consequently, this might reduce Ukraine's prospects to pursue closer European integration. Yushchenko's nationalistic campaign for a second term repeats that of Kravchuk's desperate attempt for re-election in the 1994 pre-term presidential elections. However, Yushchenko's nationalist platform, reminiscent of Kravchuk's, is likely to fail while also undermining the young pretender Arseniy Yatseniuk's campaign -by splitting the Our Ukraine vote between two candidates.