Ukraine's Crisis: Poroshenko's First Lesson
Publication: Eurasia Daily Monitor Volume: 11 Issue: 109
By: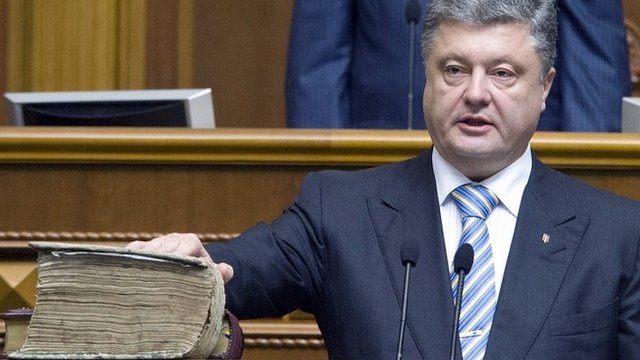 On May 27, Ukrainian First Deputy Prime Minister Vitaliy Yarema promised journalists that the Anti-Terrorist Operation (ATO) being conducted in the country's eastern Donetsk and Luhansk regions (Donbas) would be greatly intensified shortly following Petro Poroshenko's inauguration (Interfax-Ukraine, May 27).
However, during his inauguration speech on June 7, Poroshenko, the fifth president of Ukraine, revealed a peace plan to resolve the situation in the Donbas region. The plan proposes the disarmament of everyone who took up a weapon against the central government, an amnesty for all fighters willing to give up their arms, the arrangement of a corridor for the withdrawal of Russian mercenaries, broad peaceful dialogue and early local elections in Donbas, and a package of economic reforms for eastern Ukraine (president.gov.ua, June 7)
The ATO, which was launched in mid-April of this year, from the very beginning lacked everything, from funding and ammunition to preparation time and forward planning. According to Mykhailo Koval, Ukraine's acting defense minister, the national armed forces had suffered from extreme degeneration under former president Viktor Yanukovych's regime (5.ua, June 1).
But—perhaps even more importantly—Ukrainian troops and law enforcement personnel were not prepared psychologically to fight against their countrymen or even Russian mercenaries. There remained, according to National Defense Council Secretary Andriy Parubiy, a lot of people in both the army and police, who were sure that Russia was not Ukraine's enemy and therefore would never attack it (radiosvoboda.org, May 30). However, a series of particularly bloody assaults by the secessionists (for example the May 21 attack in which 17 soldiers were shot dead in an ambush in Volnovakha, Donetsk region, then the deadliest day for Ukraine's military), hardened many Ukrainians into a more resolute fighting stance.
Having modified their tactics toward greater use of air support, the ATO forces struck back heavily against the insurgents and recaptured the Donetsk international airport on May 26 (uatoday.info, May 26).
Another growing trend has been the formation of mobile volunteer detachments. The Donbas Battalion, for example, which was eventually merged into the Ukrainian National Guard, was instrumental in freeing four districts in western Donetsk region from the insurgents, and it has become a model of informal support to the state by patriotic citizens (see EDM, May 15).
Finally, Ukraine's troops have enjoyed ardent support (including food supplies and monetary donations) from many compatriots, as sincere patriotism has surged all over the country (society.lb.ua, June 16).
Thus, the ATO seemed to have finally gathered momentum. And closing the extremely porous Russian-Ukrainian border in order to cut off the continuous infiltration of armed men and weaponry into the rebelling regions appeared to be at the top of the agenda. The Ukrainian military was simply awaiting their new commander-in-chief's order to tighten the ring round the enemy and finally crack down.
Instead, President Poroshenko instructed Ukraine's Ministry of Foreign Affairs (MFA) to hand his newly announced peace plan to the Russian MFA. Most likely, Poroshenko believes his proposal is the best possible solution considering Moscow's pressure on Kyiv "to listen to Donbas" as well as the threat of a Crimea scenario being repeated in Ukraine's eastern regions.
Moreover, his decision seemed to be encouraged by the Kremlin. Russia's Foreign Minister Sergei Lavrov stated that his country was not going to bring its "peacekeeping contingent" into Ukraine's east, as long as "there is a hope […] to stop the violence and start talks." He added, "We know that the militia in the southeast are ready to cease fire, but it is the Kyiv authorities, who should, by all the rules, take the first step following the inauguration of Petro Poroshenko" (Interfax, June 12).
Although the Ukrainian president stressed he would accept only legitimate partners for dialogue and would not talk to bandits, his stance attracted criticism domestically. Alyona Hetmanchuk, the director of the Kyiv-based Institute of World Policy, warned that any possible talks between the Ukrainian government and secessionists would entail the transformation of Donbas into a second Transnistria. "As soon as Kyiv enters into negotiations with separatists, it will mean its acceptance of Russia's view—that this is an [internal] Ukrainian crisis and that Russia is […] not a conflicting party in it," she wrote in her blog on Ukrayinska Pravda on June 12. "Furthermore, in case of such a scenario, Russia will claim the role of mediator in the negotiating process, the political settlement's guarantor and peacemaker, legitimizing its peacekeeping troops under this or that pretext" (pravda.com.ua, June 12).
But as Kyiv was waiting for Moscow's response to its peace initiative, and as the Ukrainian Border Guard was preparing to seal the border, at least three Russian tanks and two trucks laden with weapons crossed into Ukraine from Russia (novosti.dn.ua, June 12). Furthermore, on the night of June 13–14, a Ukrainian IL-76 military transport plane approaching Luhansk airport was shot down by rebels (mil.gov.ua, June 14), plunging all of Ukraine into national mourning for the 49 killed paratroopers (Kyiv Post, June 14). More recently, Moscow has apparently resumed concentrating its military along the Ukrainian border, despite repeated promises to withdraw its troops. "There are now 16,000 Russian soldiers near Ukraine's eastern frontier, 22,000 in Crimea and 3,500 in Transnistria," National Defense Council Secretary Parubiy stated on June 16 (rnbo.gov.ua, June 16).
Nonetheless, President Poroshenko reiterated his peace initiatives during the June 16 meeting of the National Defense Council, proposing a cease fire as the beginning to a peace process (president.gov.ua, June 16).
Meanwhile many Ukrainian politicians and ordinary citizens object to halting the ATO. Instead, they argue, the government has to impose martial law in the eastern regions, finally close the border, and eliminate the terrorists. Furthermore, Ukraine's defense, law enforcement, and all other government agencies need to be radically reformed. "Ukraine's state machine has become obsolete and cannot withstand foreign aggression anymore. It needs to be rebuilt by resetting all its agencies. And this is the only precondition for a final win. Until then, there will be many months of marking time, victims and blood," believes Donbas Battalion commander Semyon Semenchenko (pravda.com.ua, May 30).
"We will not defeat the enemy in Donbas, without having cleared the Kyiv ruling establishment of [its influence]," agrees Ukrainian parliamentarian Oleg Lyashko, who came in third in the May 25 presidential election and has recently been heading a volunteer detachment fighting secessionists in Mariupol (rpl.kiev.ua, June 15).
Both, these field commanders, as well as much of the public, believe that the process must start with early parliamentary elections. But this will open up a whole new set of challenges in the country as long as Donbas remains unpacified.