Ukraine's New Power Game: Avakov Versus Poroshenko
Publication: Eurasia Daily Monitor Volume: 14 Issue: 6
By: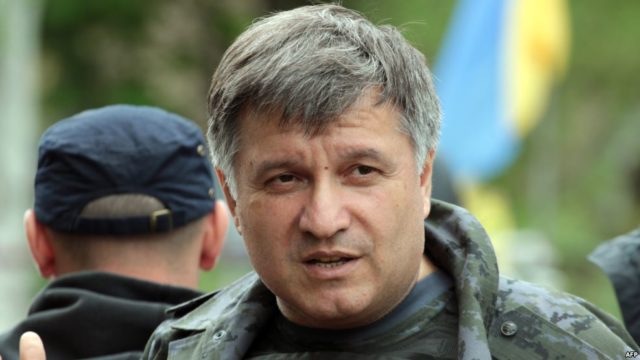 Three years into war and domestic turbulence, Ukraine entered 2017 with news of a high-profile criminal incident. Serhiy Pashynsky, a notorious Ukrainian member of parliament (MP) from the People's Front (PF) party, one of the ruling coalition's two member-factions, shot and wounded Vyacheslav Khimikus, an unarmed local living in the Kyiv region (Facebook.com, January 1). The incident attracted public attention mainly because it called to mind previous examples of violence perpetrated by legally immune Ukrainian top officials that have targeted unarmed ordinary citizens. The most-publicized earlier crime of this sort took place in June 2009, when another MP, Viktor Lozynsky, shot dead 55-year-old villager Valeriy Oliynyk. Still, the latest such event has also highlighted another complicated problem: a disturbing accumulation and distribution of arms inside Ukraine.
The Glock 19 pistol lawmaker Pashynsky's used in the recent shooting was presented to him, in March 2014, by Arsen Avakov, Ukraine's interior minister who also represents PF's parliamentary faction (Pravda.com.ua, January 10). According to Avakov himself, he gave out more than 1,000 guns over the course of 2014–2016, chiefly to law enforcement agents, taking advantage of his "direct authority, which is aligned with no one" (Pravda.com.ua, July 6, 2016). Referring to their own sources in the interior ministry, the local media identified around 400 people, including MPs (some 100 persons), top officials and businessmen, who were awarded "honorary weapons" in 2014 and 2015 (Pravda.com.ua, January 13).
Admitting to handing guns out en masse to his own political and business supporters has apparently not sufficiently tarnished Avakov's reputation to force his ouster. In the face of each new scandal pertaining to him or his ministry over the years, the Ukrainian interior minister has always looked confident, while his position has remained unshaken. For instance, in December of last year, while investigating a local criminal group, five police officers were mistakenly shot dead by members of the interior ministry's newly established security service detachments in the village of Knyazhychi, near Kyiv (Obozrevatel.com, December 4, 2016). For many observers, the tragedy highlighted the lack of training and expertise of the newly hired law enforcement officers and their bosses. Avakov's failure to reform one of the country's most corrupt state-run agencies thus should have resulted in his resignation, they have argued (Obozrevatel.com, December 4, 2016).
Instead, the friendly-fire episode in Knyazhychi only initiated a new political scandal and further exacerbated the already tense relationship between Avakov and Ukrainian President Petro Poroshenko. On the one hand, the latter remains heavily dependent on PF's parliamentary support, and the interior minister's dismissal could have entailed the break-up of the ruling coalition. On the other hand, PF itself is, according to political expert Vadym Karasyov, not capable of replacing Avakov as interior minister with a political figure of equal caliber (UNIAN), December 5, 2016). So keeping Avakov in his office is a principal issue for PF. Avakov's dismissal would be possible only if he himself chooses to resign, commented MP Oleksiy Goncharenko from the Petro Poroshenko Bloc (BPP) parliamentary faction (Obozrevatel.com, December 6, 2016).
It is highly unlikely that Arsen Avakov will voluntarily choose to leave one of the most influential posts in the Ukrainian government. Walking tall and openly defying the predominantly disapproving public opinion of him, the minister mocked a parliamentary draft resolution calling for his resignation: "It has been [registered in the parliament] for the 63rd time. Never mind, let them have another try," he said ironically. "They are biting off more than they can chew" (Ukrinform.ru, December 6, 2016).
So whatever Avakov's lapses or failures, there is virtually no effective instrument of political pressure on the interior minister from either the president or the parliamentary majority. The situation could have been exploited by the parliamentary opposition, for instance by the highly-ambitious Yulia Tymoshenko, but she has demonstrated little or no enthusiasm for attacking the sitting interior minister. That may be explained by Avakov's political past: he headed Kharkiv's regional branch of Yuliya Tymoshenko's Batkivshchyna in 2010, and later entered the party's political council and became one of its MPs in 2012. In 2014, Avakov, along with several of Batkivshchyna's other prominent members, left the party to join the newly formed People's Front. Still, Avakov's potential memory of all the skeletons in his former political party's closet might be guaranteeing him political immunity from the current opposition.
Meanwhile, Anton Gerashchenko, Avakov's advisor and a PF lawmaker, believes that the struggle between the interior minister and the president, as well as their political forces (PF and BPP respectively) within the ruling coalition, will continue. In his opinion, Poroshenko would be pleased to see "anyone in the interior minister's office, provided that his surname was not Avakov." However, Poroshenko would never risk an open confrontation, since the interior minister would be prepared to "throw a glass of water" in the president's face (Gordon, December 27, 2016). Gerashchenko was only partially speaking metaphorically. In fact, Avakov did exactly that last year, during a heated argument with former governor of Odesa Mikheil Saakashvili.
Gerashchenko's words were echoed by Ukrainian political scientist Kostyantyn Matviyenko, who believes that President Poroshenko would hardly dare challenge the powerful minister as long as the latter controls not only the police but also the National Guard's battle-worthy troops (UNIAN, December 5, 2016).
The situation may finally be on the verge of shifting beneath Interior Minister Avakov's feet, however. Andriy Biletsky, an MP and a former commander of the Azov voluntary regiment, which liberated Mariupol (Mariupil) from Russia-backed separatists in 2014 and has been protecting the city since then, this month submitted damaging material to Ukraine's Military Prosecutor General Anatoliy Matios. The documents allegedly provide evidence of corruption and separatism in the National Guard headquarters. According to media reports, Biletsky's documents and criticism of Arsen Avakov are part of the ongoing turf war between the president and the interior minister (Ua1.com.ua, January 18, 2017). It remains to be seen whether this will ultimately push Avakov out of his ministry.