Ukraine's Occupied Donbas Adopts Russia's Youth Militarization Policies
Publication: Eurasia Daily Monitor Volume: 16 Issue: 77
By: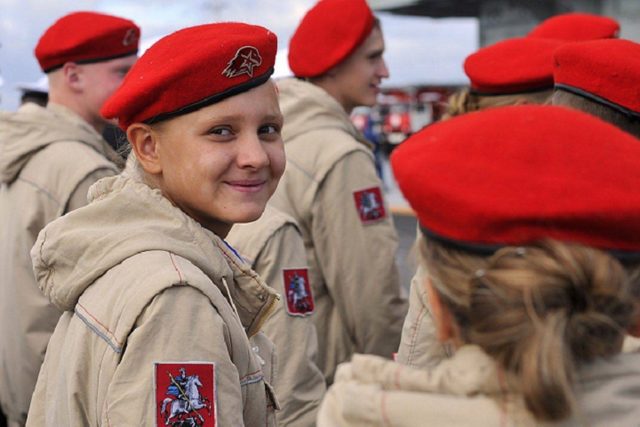 On May 9, a newly formed military-patriotic movement, Young Guard–Yunarmia, opened the Victory Day parade in Donetsk, the largest city in de facto occupied eastern Ukraine (Dan-news.info, May 9). Earlier, members of the movement took part in events dedicated to the 30th anniversary of the withdrawal of Soviet troops from Afghanistan (Dnr-online.ru, April 20). The Young Guard–Yunarmia was officially created on March 29 (launched on April 5) and shares common traits with the Russian military-patriotic organization Yunarmia (see EDM, April 10). The name of this movement is by no means accidental: The "Young Guard" recalls the anti-fascist Komsomol underground organization that operated during World War II in the city of Krasnodon (now Luhansk Oblast), and thus seeks to raise parallels with today's purported struggle against the so-called (according to Russian propaganda) "Ukrainian neo-fascist" government. Whereas, the second part of the name reflects the above-cited Yunarmia—the powerful Russian youth organization, which, only a few years since its founding, supposedly already boasts 501,179 members (Yunarmy.ru, accessed May 14).
Youth members of Young Guard–Yunarmia in Donbas will "regularly take part in para-military sport activities, military history meetings/discussions, field gatherings, volunteer work, carrying out activities related to the memorable dates/events in the history of the Donetsk region, events concerned with the glorification of military traditions, patriotism and prestige of military service" (Komsomolkaya Pravda, April 5). While applications to join only started being accepted on April 29 (Radiosvoboda.org, May 8), by May 4 the first 77 members swore allegiance to the "republic." On May 8, the number of members reportedly reached 200. It is also clear that the organization and its activities are personally supervised by the head of the Moscow-backed Donetsk People's Republic (DPR), Denis Pushilin (Minsport.rus, May 4), and Viktor Pudak, the deputy head of the Department of Military-Patriotic Education of Youth in the DPR's Ministry of Youth, Sports and Tourism. Pudak, in fact, was elected to head the Young Guard–Yunarmia (Mediarepost.ru, May 8).
According to Pudak, the organization is concerned with two key aspects (YouTube, accessed May 14):
1) Military-patriotic upbringing, which is to be promoted via collaboration with the Volunteer Society for Cooperation With the Army, Aviation and Navy (DOSAAF), military lyceums, cadet corps and the an academic institute connected to the DPR's Ministry of Internal Affairs. The main goal is to "educate patriots and future soldiers."
2) Military-historical education, which is to serve as a platform for nurturing "future intellectuals and administrative-political elites."
In both dimensions, "historical education" is a pivotal element, and special emphasis is placed on presenting the "fascist image of Ukraine," glorification of the Great Patriotic War (1941–1945) and the Soviet contribution to the fight against fascism (Ok.ru, accessed May 12). For now, the Young Guard–Yunarmia has gathered under its umbrella 35 separate military-patriotic clubs and organizations in the DPR. Ultimately, the declared goal is to make this entity a "core" of all future youth military-patriotic organizations, expand its outreach and bring in more recruits (YouTube, April 11). Importantly, local "war veterans" (from the hostilities that occurred in 2014 and later) will be in charge of youth military-patriotic upbringing. This was clearly pronounced by the chief of the Directorate of Social Support for Retired Military and Patriotic Education, Vladimir Kononov, who stated that "the retired 'veterans' should be an integral part of the educational process" (Dnr-online.ru, April 5).
What the Donbas de facto authorities are putting in practice now is not a new approach, but rather an offshoot of previous policies in this field. It is worth mentioning that the first "patriotic clubs" (e.g., Patriot) were created in the DPR back in March 2015; while in 2016, more than 2,000 school-age students, along with representatives of the DPR's Ministry of Defense, Ministry of Youth, Sport and Tourism, the Union of the Afghan War Veterans, and local militants (opolchentsy) took part in the Patriot club's meetings. In 2016, young participants also attended a military-patriotic gathering in Artek, in Russian-occupied Crimea (Dan-news.info, March 30, 2016). Later on, Patriot became part of the military-patriotic movement Young Guard, which was established in January 20, 2015, in Horlivka (Gorlovka in Russian), in Donetsk Oblast (Dnr-online.ru, April 20). Children who are members of the group (some as young as five years old) are assigned military ranks. According to the head of this movement, Aleksandr Khvorostya, some of its original members have already joined the local DPR militia forces. Khvorostya also admits receiving help from Russia in the form of military-grade ammunition (coming from both civilian sponsors and churches located in Moscow) (Ok.ru, accessed May 12). Other children from various military-patriotic organizations are also actively involved in shooting drills (Patriot-donetsk.ru, August 5, 2018; Novosti Donbassa, June 29, 2017). These drills take place in, among other venues, a youth military-patriotic camp named "Vympel," where special attention is allocated to "various aspects of military preparation" (Jfp.org.ua, January 17, 2017).
The military-patriotic upbringing of local youth is also one of the key priorities identified by the authorities of the neighboring Moscow-backed Luhansk People's Republic (LPR). On May 6, Leonid Pasechnik, the leader of this self-proclaimed "state," stated that the Russian Yunarmia was considered a model for the development of local youth-patriotic movements (Lugakadet.ru, May 6). Furthermore, the deputy head of the People's Militia of the LPR, Yan Leshchenko, said that the LPR's defense ministry will become a patron of the nascent youth organizations (Minobr.su, May 6).
Ukrainian activists from the Eastern Human Rights Group have urged newly elected President Volodymyr Zelensky to stop the process of militarization of children in the occupied territories of Donetsk and Luhansk. The group has claimed that the authorities of these breakaway territories use financial and organizational support from Russia to rapidly militarize local youth through launching numerous military camps and organizations (Ukranews.com, May 5). Incidentally, the Prosecutor General's Office of Ukraine recently opened a criminal case to look into the Donbas authorities' "preparation of children for war" (Gazeta.ru, May 7).
Growing anti-Ukrainian propaganda and militarization of local youth will seriously challenge any prospect of reintegrating the DPR/LPR into Ukraine at some point in the future. The younger generation of locals is increasingly taught to associate Ukraine with an enemy-state and "fascist aggressor," while Russia is presented as a bastion of justice and compassion. These associations are bound to solidify if Kyiv does nothing to respond to the growing disenchantment.