Ukrainian Former Prime Minister Tymoshenko Faces Murder Accusations
Publication: Eurasia Daily Monitor Volume: 9 Issue: 71
By: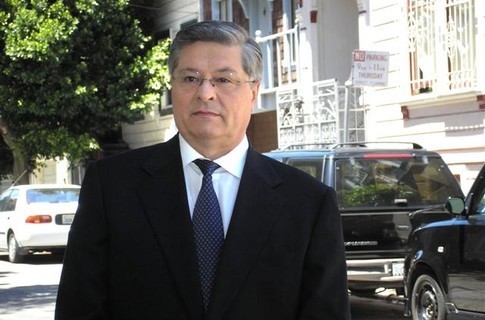 Ukrainian prosecutors announced last week that former Prime Minister Yulia Tymoshenko (2005; 2007-2010) and former Prime Minister Pavlo Lazarenko (1996-1997) were suspected of commissioning several murders in the 1990s. This looks like a last-ditch attempt to influence public opinion – both at home, ahead of the October parliamentary election, and in the West, where opposition leader Tymoshenko is regarded as a political prisoner – that she is a monster who deserves to be in jail. A court in Kyiv last October imprisoned Tymoshenko for seven years for exceeding her authority in preparing the controversial January 2009 contracts with Russia's Gazprom, while Lazarenko, who is Tymoshenko's former ally, is serving a prison sentence for money-laundering in the US.
First Deputy Prosecutor-General Renat Kuzmin spoke last fall about Tymoshenko's possible involvement in the 1998 murder of Yevhen Shcherban, who was an influential people's deputy and businessman from Donetsk. Kuzmin admitted then that the prosecutors lacked evidence (Ukrainska Pravda, October 31). It has since become obvious that public opinion and Western policymakers do not trust Ukrainian prosecutors on Tymoshenko, which has been jeopardizing Ukraine's European integration. The EU has made it clear that the association and free trade agreement with Ukraine will not be signed if Kyiv does not change its attitude to justice in general and Tymoshenko in particular (see EDM, March 28, April 2). What is more, Ukrainian President Viktor Yanukovych himself admitted in Davos this year that Tymoshenko had been indicted under an outdated Soviet law (Ukrainska Pravda, January 27). The ruling team has apparently decided that it is now time for more serious charges against Tymoshenko to influence Western opinion.
Kuzmin has told FT that he had evidence that companies, which were linked to Tymoshenko and Lazarenko, transferred money to Shcherban's killers. Kuzmin also chided the West for defending Tymoshenko: "What is your view in the West of political persecution? Does this mean that the leader of the opposition cannot be prosecuted even for murder?" (FT via inopressa.ru, April 2). Simultaneously, Shcherban's son Ruslan Shcherban, who is a deputy of the Donetsk regional council from the ruling Party of Regions (PRU), wrote a letter to US Ambassador John Tefft saying that European and US politicians should not defend Tymoshenko who, he claimed, had commissioned his father's killing. Ruslan Shcherban alleged that he had heard threats from Tymoshenko and Lazarenko whose businesses, he said, competed with his father's. He also accused Washington of blocking Kyiv's attempts to establish the truth (ostro.org, April 3). The gas trader United Energy Systems, which Tymoshenko headed in the mid-1990s, was a bitter rival of Shcherban's businesses on the energy market when Lazarenko was prime minister.
On April 5, Prosecutor-General Viktor Pshonka announced that his team had re-launched the investigation into Shcherban's murder, which was closed a decade ago. Also, commenting on old embezzlement cases against Tymoshenko, Pshonka claimed that several of them were closed in January 2005 by his predecessor, Svyatoslav Piskun, because then-President Viktor Yushchenko threatened Piskun with dismissal if he did not close the cases (Kommersant-Ukraine, April 6). In the meantime, the person who confessed to killing Shcherban a decade ago, Vadym Bolotskikh, has been reportedly transferred from a distant prison to Kyiv for questioning (UNIAN, April 6).
Kuzmin, asked during a talk show why Ruslan Shcherban had not come up with his accusations earlier, said that he was afraid for his life. What's more, Kuzmin said that his team suspected Tymoshenko and Lazarenko of also commissioning the murders of another Donetsk businessman, Oleksandr Momot, in 1996, and former central bank governor Vadym Hetman in 1998. Kuzmin also said that the prosecutors were targeting the deputy chairman of Tymoshenko's Fatherland party, Oleksandr Turchynov, who de facto heads Fatherland while Tymoshenko is in prison. He said Turchynov was suspected of illegally awarding an apartment to his spokesman when Turchynov headed the security service in the Yushchenko-Tymoshenko government in 2005 (Inter, April 6). Another ally of Tymoshenko, former Interior Minister Yury Lutsenko, was sentenced to four years in jail earlier this year for awarding an apartment to his former driver.
Turchynov has dismissed all the new accusations against his boss and himself as a smear campaign and suggested that the prosecutors' goal was to shock Europe into stopping its defense of Tymoshenko. He also alleged that those who commissioned Yevhen Shcherban's murder must be among the PRU ranks as several influential members of the PRU had built their business empires on the ruins of Shcherban's business (Channel 5, April 7).
Meanwhile, another former minister from Tymoshenko's government has received a prison term. On April 5, a court in Kyiv sentenced former Environment Minister Georgy Filipchuk to three years in jail for exceeding his authority in preparing a ministry contract with a legal company (Ukrinform, April 5). Filipchuk was indicted under the same law under which Tymoshenko was indicted last October and which Yanukovych called "outdated."
Fatherland has claimed that Filipchuk was punished for opposing the US company Vanco's attempts to "snatch the Black Sea shelf from the state" (byut.com.ua, April 6). Tymoshenko's cabinet canceled Vanco's license to develop the Prikerchenskaya oil field in the Black Sea in April 2008 claiming that it had been awarded the license illegally. Vanco planned to develop the field in partnership with Donetsk-based tycoon Rinat Akhmetov, who is a senior member of the PRU.