Ukrainian President Replaces Governor of War-Torn Donetsk Province
Publication: Eurasia Daily Monitor Volume: 12 Issue: 112
By: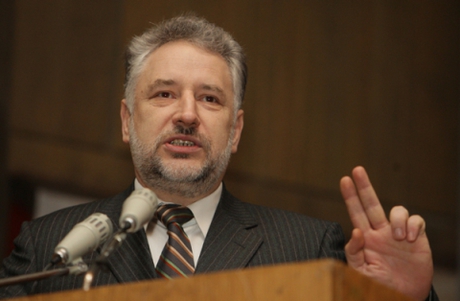 On June 11, Ukrainian President Petro Poroshenko fired General Oleksandr Kikhtenko as governor of Donetsk province, roughly half of which is controlled by Moscow-backed militants. Like his predecessor, local steel tycoon Serhy Taruta, who was ditched last fall and elected to parliament from Mariupol (Mariupil), Kikhtenko apparently proved to be too independent-minded for Kyiv. In particular, he opposed the economic blockade of the rebel-held areas, staged by the central authorities. However, the replacement appointed by Poroshenko, moderate nationalist politician Pavlo Zhebrivsky, said in one of his very first interviews that he would not blindly obey orders either. Zhebrivsky will also have to find a common language with Prime Minister Arseniy Yatsenyuk.
At a press conference on June 5, Poroshenko blamed Kikhtenko and "a relative of one people's deputy"—a thinly veiled reference to Taruta's brother, who runs a construction firm—for slow construction of fortifications against a possible Russian invasion to the east of Mariupol (Channel 5, June 5). Poroshenko said Kikhtenko would be "held to account." Oleksandr Turchynov, the secretary of the Ukrainian National Security and Defense Council (NSDC), confirmed in an interview that Kikhtenko was fired for the failure to erect fortifications on time (Channel 5, June 11).
However, Zhebrivsky contradicted his superiors, speaking in an interview, on June 12, immediately after his appointment. He said that little had depended on Kikhtenko or would depend on him as far as the construction was concerned. He hinted that the rest of Ukraine failed to contribute enough to the project. Zherbrivsky also said that subjective, rather than objective reasons were most probably behind Kikhtenko's dismissal (Zn.ua, June 12).
Kikhtenko failed to find a common language with Yatsenyuk's team, which favors a full economic blockade of the rebel-held areas. Their argument is that Ukraine, which is living through a severe economic crisis, should not support residents and businesses outside its control. There is also an emotional side to this. Many Ukrainian nationalists are not inclined to forgive the locals the fact that they did not oppose the militants or the Russian military when those were establishing control over the area in the spring of 2014. Moreover, they resent that many easterners apparently voted in favor of secession from Ukraine in the internationally unrecognized "referendum" in May 2014.
Former governor Kikhtenko had argued that Ukraine would lose from breaking economic ties with the rebel-held areas. He said the Ukrainian energy system and metal industry would collapse. Kikhtenko also asserted that 80 percent of the industrial firms remaining in the rebel-held area paid taxes to the Ukrainian budget and that the Ukrainian citizens remaining there were refused the right to free movement. People from areas under rebel-Russian control have to apply for passes to government-held areas, and often have to wait for approval for weeks. This provides fertile ground for corruption at the government check-points.
Kikhtenko indirectly accused Kyiv of covering up corruption in the area, saying that kickback rates were growing at the checkpoints because of the economic blockade. Kikhtenko repeated the controversial claim of the local crowds that cheered the rebels last year, that "Ukraine does not hear the Donbas"—i.e., the majority Russian-speaking industrial area in the provinces of Donetsk and Luhansk. He also complained that Yatsenyuk refused to meet either him or fellow Kyiv-appointed governor of Luhansk, Hennady Moskal, to discuss local problems (Zn.ua, June 7).
In response, Interior Minister Arsen Avakov, who is from Yatsenyuk's party, accused Kikhtenko on his Facebook page of collaboration with "the authorities of the occupied territories" and recalled that the cabinet unanimously voted to ask Poroshenko to dismiss Kikhtenko on June 5 (Kmu.gov.ua, June 5).
Zhebrivsky abstained from criticizing his predecessor in the above-cited June 12 interview. Furthermore, he said he understood that Kikhtenko had earned respect locally. Asked by journalists whether he discussed his plans with Yatsenyuk, Zhebrivsky diplomatically said that the rumbling of helicopter engines made it difficult to talk when they flew to Mariupol for his presentation to the local community. He said he hoped to establish cooperation with both Prime Minister Yatsenyuk and President Poroshenko (Zn.ua, June 12). This will not be an easy task given the difficult history of relations between Kyiv and Donetsk and the institutional rivalry between Poroshenko and Yatsenyuk—in large part due to the imperfect separation of powers as written in the Ukrainian constitution, hastily adopted in 2004, and which is yet to be overhauled.
Zhebrivsky, 53, is a former policeman who became a businessman in the early 1990s. His family reportedly has stakes in the Ukrainian pharmaceutical sector. Zhebrivsky served as the governor of the central agricultural province of Zhytomyr briefly in 2005, while Poroshenko was secretary of the NSDC. Zhebrivsky was a people's deputy in 2006–2012. Last year, he joined military ranks in Donbas as a volunteer. In January 2015, he was appointed to head an anti-corruption department at the Prosecutor-General's Office. President Poroshenko said he had known Zhebrivsky for 15 years and trusted him (Liga.net, June 11). When Poroshenko founded his political party, Solidarity, in the early 2000s, Zhebrivsky was deputy chairman of the party.
Zhebrivsky's personal loyalty to Poroshenko apparently played a role in the appointment. It is yet to be seen whether this will affect his relations with Yatsenyuk's team, and whether this will help him to make the voice of Donetsk heard in Kyiv.