Under a COVID-19 Cloud, China's Gig Economy Comes of Age
Publication: China Brief Volume: 20 Issue: 10
By: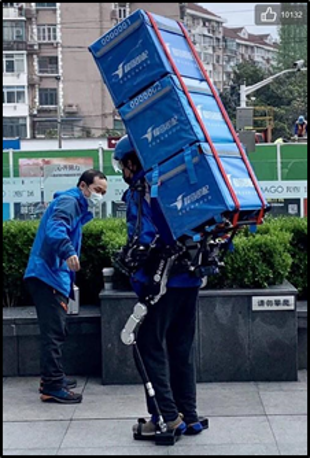 Introduction
In late April, as residents of the People's Republic of China (PRC) began to adjust to a new normal in the wake of the COVID-19 epidemic, Ele.me—one of the country's biggest food delivery platforms—unveiled its latest innovation. In a viral post, a delivery man clad in Ele.me's bright blue uniform steps into a steel-reinforced full-body "exoskeleton." Three food crates, weighing over 100 pounds, are strapped to a metal rod that runs the length of his spine. Hiking up his face mask and adjusting his helmet, he takes his first tentative steps, mechanized joints straining. Surrounded by reporters and delighted onlookers, the delivery man's stride grows quicker and more confident as he makes his way across a city square (Baidu, April 23).
The video spurred an outpouring of online commentary. Observing that the delivery person looked "barely human," some netizens deemed the suit "overkill," while others suggested such technology would be better utilized in medical or military capacities. But most remarked favorably on the advanced technology, likening the suit to those worn by characters in the popular new video game Death Stranding (Lei Feng Net, April 23; Phoenix Weekly Weibo, April 23).
Ele.me's official social media accounts announced that the suits will allow delivery workers better access to elderly communities notorious for their lack of elevators, as well as neighborhoods that do not allow motorbikes. Touting their partnership with a prominent robotics lab, the company proclaimed that the prototype represents the next step in "inevitable trends of social development" (社会发展的必然趋势, shehui fazhan de biran qushi ) (Zhihu, April 22). Converging at the intersection of the technology industry and labor markets, this innovation is representative of the rapid transformation of China's explosive gig economy.
The coronavirus epidemic of early 2020 has cast a brighter spotlight on gig workers, particularly couriers and food delivery people. Although people and government have recognized their vital logistic role in the throes of the pandemic, the daily perils they face has brought their plight into clearer resolution. In March, the PRC Ministry of Human Resources and Social Security, the PRC General Administration of Market Supervision, and the PRC National Bureau of Statistics jointly named sixteen official new occupations: among them, "online delivery people" (网约配送员, wangyuepei songyuan) (People's Daily, March 4). Though increased recognition from the government and the public are steps in the right direction, without substantive changes to China's labor laws and broader employment landscape, gig work will become both more expected and more dehumanizing.
Human Engines for China's Economic Growth
China's gig economy (零工经济, linggong jingji) has grown at a shocking rate in recent years. Confronting slowing economic growth and a looming demographic crisis, China's leaders are striving to transform the economy from a low-cost, low-skill, low-tech manufacturing model to a modern service-based market. To address these challenges, Beijing's top leaders have identified the digital sector as a "new engine for economic development" (State Council, 2015).
The manifestation of top-level directives and global technological advances is conspicuous in Chinese cities. Mobile payments made via WeChat Wallet and AliPay have rendered cash all but obsolete. It is difficult to hail a taxi without ride-sharing app DiDi Chuxing. Sidewalks are strewn with dockless shared bicycles from Mobike and Ofo. Food delivery workers for Meituan and Ele.me weave through traffic to reach their destinations. In rural China, e-commerce platforms such as Taobao and JD have connected remote communities with consumers around the world. The transition to a digitally-driven economy has opened a new, loosely-regulated frontier for the Chinese state, firms, and workers.
The proliferation of short term and freelance jobs has fundamentally changed how workers relate to the workplace. According to Zhaopin.com, China's largest online recruiting firm, demand for part-time or freelance jobs has consistently outpaced growth for full-time work. At present, 20 to 35 percent of the working-age population already make a living through flexible employment—but this number is expected to skyrocket (SCMP, February 26, 2017). A recent report from the Ali Research Institute predicts that as many as 400 million people in China may be gig workers by 2036 (Sohu, June 17, 2019).
But with opportunities come challenges. The explosive growth of the gig economy has raised pressing concerns in China, as in other countries, about workers' access to the benefits—such as social insurance, compensation, pensions, and health care—that come with a formal labor contract. Mistreatment of gig economy workers is well-documented (Hebei Youth Daily, May 13; E-Commerce, May 15). Chronically overworked and underpaid, migrant workers from China's countryside, who lack proper documentation to work and access benefits in cities, have pushed back. Approximately half of all protests in early 2019 occurred in the service, retail, and transportation industries—sectors now heavily dominated by internet companies that offer gig work (China Labor Bulletin, May 15, 2019). Widespread strikes among e-commerce couriers and delivery drivers have, in some cases, seriously disrupted normal business operations (Linyi Hedong Net, February 22, 2019).
China's primary pieces of labor legislation—the Labor Law (1995), Labor Contract Law (2008), Labor Dispute Mediation and Arbitration Act (2008), and Trade Union Law (2001)—have yet to catch up with these seismic shifts. Though "flexible" and "informal" employment were first officially recognized as early as 2001 in the 10th Five Year Plan, real structural changes and protections for gig economy workers have yet to be implemented.
Gig Economy Drivers Go Viral
The COVID epidemic of early 2020 brought the plight of gig economy workers to the fore of China's social and political discourse. As Chinese families quarantined and businesses shuttered, delivery orders soared. Since the outbreak, Ele.me competitor Meituan Dianping has reported recruiting nearly half a million new riders (Zhihu, April 20). E-commerce platform JD.com saw online grocery sales more than triple year-over-year during a 10-day period between late January and early February (Vox, March 25).
In addition to increased work demands and the risk of exposure to illness, China's millions of gig economy drivers have also been forced to adjust to more stringent health and safety protocols. Companies such as Yum China's KFC, Ele.me, Meituan, and JD.com have implemented "contactless delivery," and some meal deliveries come with notes detailing the temperature readings of the workers who prepared and delivered the food (Reuters, February 9). Drivers for ride-sharing company Didi Chuxing must post their body temperature and upload a video to Didi's internal platform each day to show that they have sanitized their car (New York Times, May 12). As public transportation systems shut down, many delivery people faced long and circuitous commutes from the suburbs into the cities they serve. As expectations are raised on both sides and gig work becomes increasingly structured and socially vital, a tacit quid pro quo emerges: if workers are held to higher standards, they also must be afforded certain protections and benefits.
The bravery and sacrifice of delivery drivers has been highlighted in Chinese and international media, with a Meituan driver even appearing on the cover of TIME magazine (TIME, March 19). Tributes to heroic drivers braving the virus to deliver food and medicine to shut-in families have circulated widely (iFeng, March 31; Tangqi qisheng shenghuo shuo, March 13). These stories have drawn attention to the essential yet precarious role of gig economy drivers, prompting for the first time an outpouring of public support.
In the wake of the epidemic, prominent journalists and public figures have come out as advocates for policy changes around gig economy drivers' employment status. Tu Yongqian, a researcher at the National Development and Strategy Research Institute of Renmin University, argued that: "the employment opportunities provided by the gig economy—especially during the epidemic period—are essential…traditional labor laws passed during the factory era must be appropriately expanded with the development of labor and employment, and the social security law must continue to eliminate the differential treatment workers based on identity" (Peng Pai News, April 28).
Similarly, a China Youth Daily columnist wrote that "part-time workers under the impact of the epidemic cannot be ignored…it is necessary to clarify the nature of the labor relationship in the gig economy at the legal level, so that it can be included in the scope of social security and management" (China Youth Daily, April 24). Another state media op-ed called for relevant government departments to provide gig economy workers with "diversified employment services such as vocational training, supply and demand matching, social security services, and commercial insurance" (Beijing Evening News, May 13).
Local governments and organizations have also been spurred to action. In Chongqing, a branch of the municipal government established the first ever legal service group to help delivery drivers navigate licensing and appointment issues (Chongqing Morning Post, May 13). In Hegang (Heilongjiang Province), the local Communist Youth League launched a volunteer program to support delivery workers through online advocacy and by donating supplies (China Youth Daily, May 13). And in Baicheng (Jilin Province), local authorities and company representatives engaged in much-needed conversations about driver safety (Peng Pai News, May 14).
Though these measures mark a step in the right direction, it remains unclear what long-term effect—if any—they will have on the employment status and livelihood of gig economy workers. What is clear is that takeout and delivery services will become increasingly essential as China, and the world, recover from the coronavirus epidemic. Reflecting the mainstream status of gig workers in the hearts and minds of the Chinese public, one netizen opined that "as long as you see the deliverymen still running, you know that life continues" (Sina, April 26).
The Road Ahead
China's food delivery services alone have developed into a $46 billion industry—the largest in the world and twice the size of that of the United States. More than 400 million people (about half of China's internet users) have ordered food deliveries (Zhihu, April 28). Among young, urban white-collar workers, "delivery brothers" (外卖小哥, waimai xiaoge) are fondly referred to as yishi fumu (衣食父母), an idiom that literally translates to "food and clothing parents"—the people one relies on for care and sustenance.
Aside from being a critical means of keeping China's city-dwellers fed and clothed, the gig economy represents an important source of employment in the new, service-based economy that China's leaders are working hard to promote. The gig economy has absorbed millions of laid-off workers from China's manufacturing and industrial sectors, thereby heading off potential labor unrest. Nearly one-third of Meituan's riders used to work in factories, and in 2018 the number of migrant workers engaged in the service industry surpassed the manufacturing industry for the first time (Zhihu, April 28). It is also becoming a more viable profession for young, educated people seeking flexible employment: a recent report released by Alibaba, Ele.me's parent company, showed that around half of their delivery drivers were born post-1990, and identified as "slash youth" (斜杠青年, xiegang qingnian)—meaning they have multiple jobs (e.g.,  delivery driver/student/artist). In a difficult job market, college students comprise about 20% of the drivers (Sina, April 26).
While increased recognition from the public and central and local governments has shone a positive spotlight upon gig economy workers, larger, structural and institutional changes to labor laws and regulations are necessary in order for real change to be affected. The coronavirus epidemic has expedited the urgency of these changes, and China's labor landscape must update to reflect the reality of a post-COVID-19 world. If it does not, the consequences could be dire—not only for gig workers themselves, but also for urban residents dependent on gig economy labor, and for China's broader economic transformation.
Viola Rothschild is a PhD student in political science at Duke University. You can follow her on Twitter @vrothsch.