Undocumented Uyghur Migrants Find New Route to Southeast Asia
Publication: China Brief Volume: 14 Issue: 17
By: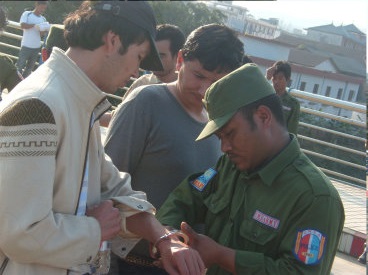 Since 2013, increasing numbers of Uyghurs from Xinjiang Province have attempted to migrate illegally through China's South Asian neighbors—Burma, Laos, Vietnam and Cambodia—to Thailand and then Malaysia, often with the hope of flying to Turkey. This trend marks a change from the 1990s and mid-2000s, when disaffected Uyghurs most often left Xinjiang through Kyrgyzstan and Kazakhstan in Central Asia. The cooperation of Central Asian governments with Chinese authorities in extraditing undocumented Uyghurs, especially dissidents, likely spurred Uyghurs to abandon that migration route in favor of Southeast Asia in recent years.
The uptick in migration to Southeast Asia coincides with rising levels of violence in Xinjiang since 2013. In July 2014, militants assassinated Jume Tahir, the pro-Chinese Communist Party (CCP) head imam in Kashgar, only two days after 100 people were killed in an attack in nearby Yarkand (South China Morning Post [SCMP], July 30). There have also been terrorist attacks by Uyghur militants in China that were praised by the Pakistan-based and Uyghur-led Turkistan Islamic Party (TIP), including a car bombing in Beijing in October 2013; a mass stabbing in Kunming, Yunnan Province, which borders Burma and Laos, in March; and suicide and car bombings in Urumqi in May. Like the earlier groups of Uyghurs who migrated to Central Asia in the 1990s, many of the more recent groups of Uyghur migrants to Southeast Asia appear to have been connected to the ongoing violence in Xinjiang, thus spurring their decision to leave.
This article reviews the reasons behind the migration of Uyghurs to Central Asia in the 1990s and mid-2000s and the more recent trend of migration to Southeast Asia. The article also analyzes the likelihood of this trend to continue and the security and geopolitical effects of Uyghur migration to Southeast Asia on China and its relations with Southeast Asian countries.
Background
After the breakup of the Soviet Union in 1991, the five newly independent Central Asian countries—Kazakhstan, Kyrgyzstan, Uzbekistan, Tajikistan and Turkmenistan—had minimal capacity to regulate cross-border migration. Uyghurs who were dissidents because of their participation in "separatist" uprisings or who sought economic opportunities outside of Xinjiang were able to cross illegally into Central Asia with relative ease. The human geography of Central Asia also made it an attractive destination for Xinjiang's Uyghurs: Southeastern Kazakhstan and northeastern Kyrgyzstan have indigenous Uyghur communities; Uyghur language is mutually intelligible with Uzbek and similar to Kazakh, Kyrgyz and Turkmen; and from 1996 until the U.S.-led invasion of Afghanistan in 2001, the Taliban allowed Sunni Muslims to enter the country without formal documentation (about 99 percent of Uyghurs are Sunni Muslims).
The biographies of Uyghurs who were captured by U.S. and Pakistani forces in Pakistan in 2001 and 2002 and transferred to Guantanamo Bay illustrate the motives and methods of the migration patterns during the 1990s (the biographies were made available via leaked State Department cables). For example:
Adel Noori took part in the "Baren uprising" in 1990, after which he used a false name to obtain a Chinese passport and fly to Tashkent, Uzbekistan. [1] On the advice of a friend, he planned to travel to Afghanistan. From Tashkent, a contact helped him travel to Ashgabat, Turkmenistan, where he obtained an Iranian visa and traveled to Mashad, Iran. The ethnic Uzbek owner of a hotel in Mashad took Noori to the Afghan border, where the Taliban let him into the country and he stayed during the late 1990s. Noori lived at a safe house in Kabul and trained with firearms until the U.S. invasion in 2001. After he crossed into Pakistan, he was arrested at a Tablighi Jamaat center in Rawalpindi (JTF Gitmo Detainee Assessment, Wikileaks).
Abdal Razak Qadir left Xinjiang to conduct business in Kyrgyzstan in 1995. Kyrgyz border guards detected his forged passport and sent him back to Xinjiang, where he was detained for two weeks by Chinese authorities. After obtaining a real passport, Qadir went to Kyrgyzstan, Uzbekistan and finally Pakistan to pursue business opportunities for several years in the late 1990s. Qadir did not succeed in Pakistan, so he traveled to meet Uyghurs in Kabul, Afghanistan, who recommended he visit the home of Hassan Mahsum, a Uyghur militant leader. Although Mahsum was not there, Abdul Haq al-Turkistani, who would later become Mahsum's successor, met Qadir and sent him to Tora Bora, Afghanistan, where he became a supplier of goods to militant camps. In January 2002, Qadir was arrested with 18 other Uyghurs and Arabs at a mosque near the Afghan-Pakistani border (JTF Gitmo Detainee Assessment, Wikileaks).
Ahmad Muhammad Yaqub left Xinjiang in 1994 because of dissatisfaction with Xinjiang's agricultural policies and traveled with 50 Uyghurs to Kyrgyzstan. In Bishkek, Kyrgyzstan, the Chinese embassy urged his group to return to China, but Yaqub did not return. Yaqub traveled to Kazakhstan in 1995 and then flew through Turkey to Cairo, Egypt to study for two years. In 1997, Yaqub returned to Kyrgyzstan, where a Turkmen neighbor provided Yaqub with Iranian and Afghan visas and advised him to travel to a militant camp in Afghanistan, which was led by Abdul Haq al-Turkistani and where "one could learn about the Koran, Uyghur culture, national identity and weapons." In December 2001, Yaqub was captured along the Afghan-Pakistan border with a group believed to be led by al-Qaeda leader Abu Yahya al-Libi (JTF Gitmo Detainee Assessment, Wikileaks).
After the late 1990s, it became more difficult for Uyghurs to travel to Central Asia. China's security, economic and political influence was increasing in the region, including through the Shanghai Five (renamed the Shanghai Cooperation Organization [SCO] in 2001). This led Central Asian governments to begin complying with China's demand to extradite suspected Uyghur militants and dissidents. After 2001, Kazakhstan and Kyrgyzstan also labeled several Uyghur organizations "terrorist groups." In 2003, the East Turkistan Liberation Organization (ETLO), the main Uyghur-led militant group operating in Central Asia and Turkey, also announced it was abandoning armed struggle to become a political movement amid pressure from the U.S. Global War on Terror (BBC Chinese, September 30, 2005). The next wave of undocumented Uyghur migration as a result of violent incidents in the late 2000s therefore shifted from Central Asia to China's borderlands with Southeast Asia.
Southeast Asia Migration
Starting in 2009, hundreds of Uyghurs without documentation began seeking refuge in Southeast Asia. The main catalyst was the July 2009 inter-ethnic clashes in Urumqi, which saw several hundred Uyghurs and Han Chinese killed and hundreds of Uyghurs arrested. Soon after, the first instances of large numbers of Uyghurs migrating to Southeast Asia occurred:
In December 2009, 20 Uyghurs who fled to Cambodia via Vietnam with the help of Christian non-governmental organizations were deported to China on the day before then-Vice President Xi Jinping's visit to Phnom Penh (Asia Times, January 20, 2010). One other Uyghur "escaped" to Laos, but was arrested in March 2010 when his wife and five children arrived at the airport to meet him (Phnom Penh Post, December 19, 2010). Two other Uyghurs from this group were detained by Vietnamese authorities, but went "missing" after escaping their holding cell (Radio Free Asia, December 10, 2009).
In January 2010, Burma deported 17 Uyghurs at the Chinese border crossing in Yunnan (Sina, January 20, 2010).
In August 2011, Malaysia deported 11 Uyghur men, who the government accused of being "members of a human trafficking syndicate." Several of the remaining Uyghurs from that group were later deported in 2013 before CCP Politburo Standing Committee member Jia Qinglin's visit to the country (Sydney Morning Herald, August 23, 2011).
Although from 2009 to 2011 Southeast Asia proved no more hospitable to Uyghur migrants than Central Asia, migration to the region continued. One possible reason for this continued trend was the highly publicized case of Ershidin Israil, a Uyghur schoolteacher who reported on the July 2009 riots for Radio Free Asia and then fled to Kazakhstan (Fergana, June 7, 2011). Although the UN High Commissioner for Refugees designated Israil as a refugee, he was detained by Chinese security forces in a Kazakh border town in 2011 and taken back to Xinjiang with Kazakhstan's permission, thus making the Central Asia option less appealing to prospective Uyghur migrants.
With the increase in violence in Xinjiang in 2013, another wave of migration to Southeast Asia started. In 2014, for example, cases of undocumented Uyghurs in Southeast Asia included:
In March, more than 300 Uyghurs, including women and children, were detained along with Burmese Rohingyas at a human trafficking camp in Hat Yai, Thailand near the Malaysian border (Phuket Wan, March 24).
Also in March, 15 Uyghurs were arrested at the Thai border with Cambodia among a group of more than 100 migrants (Phnom Penh Post, March 27).
In April, 16 Uyghurs, including 10 men, four women and two children, were detained after a violent clash in Vietnam in which five Uyghurs and two Vietnamese security officers were killed after the Uyghurs entered Vietnam from Guangxi, China (Nongnghiep, April 18).
In addition to these incidents, the ten-person group of Uyghurs who carried out a mass stabbing in Kunming in March 2014, killing 29 people, had reportedly been denied entry into Vietnam and Laos. This reportedly drove them to carry out the attack in Kunming as "retaliation" (BBC, March 5). This group was also reportedly connected to an incident in Hotan, Xinjiang on June 28, 2013, in which 15 Uyghurs were killed after the police broke up an anti-government sermon at a mosque and arrested the imam, which led to riots in the local town square (Radio Free Asia, June 30).
While details about other Uyghur migrant groups have not been released publicly, it appears that many of the Uyghurs migrating to Southeast Asia were also involved with, or at least affected by, violence in Xinjiang, which prompted their decision to leave China. It is also clear that their ultimate destination is Turkey, which would not only provide refuge from the violence in Xinjiang but also offer Uyghurs employment opportunities and support networks from the Uyghur civil society organizations and Muslim support networks in the country. However, there has been only one reported instance of undocumented Uyghurs successfully reaching Turkey in recent months, in which a group of 30 arrived and settled in the country. This suggests that most Uyghurs in the recent wave of migration did not succeed (Today's Zaman, May 7).
Conclusion
From the 1990s to the present, undocumented Uyghurs and Uyghur dissidents have shifted their migration routes from Central Asia to Southeast Asia. Southeast Asian countries, however, have proved to be no more lenient than Central Asian countries toward these migrants and still extradite Uyghurs to China. There are relatively few reports of Uyghurs making it to Turkey from Malaysia or settling in Southeast Asian capitals, despite the apparent belief among Uyghurs that the Southeast Asia route is safer.
If the Southeast Asia migration route becomes untenable for disaffected Uyghurs, it may lead to a catch-22 for China. Once the Uyghurs are in Southeast Asia or arrive in Turkey, they may engage in anti-Chinese advocacy activities, and a smaller number may join militant groups in Syria, but they are still hard-pressed to affect the security situation in China. However, if these Uyghurs are unable to leave China at all, then they may vent grievances through violence at home. This is what appears to have happened with the March 2014 Kunming attack, which is now referred to as "China's September 11" in China.
The Chinese government is now left with the difficult task of crafting a policy to deal with disaffected Uyghurs in the country and it remains to be seen whether Chinese security officials and the country's counter-terrorism strategy has the capacity to address the issue successfully. If not, there will likely be more militant attacks in Xinjiang and possibly again in eastern China in the years ahead.
Notes
The "Baren uprising" was an armed confrontation that took place in Kizilsu Kyrgyz Autonomous Prefecture in Xinjiang in April 1990, which led to the deaths of more than 1,000 Uyghurs and Chinese troops in a five-day conflict.