"Unity and Struggle": The Campaign to Study the 20th Party Congress
Publication: China Brief Volume: 22 Issue: 21
By: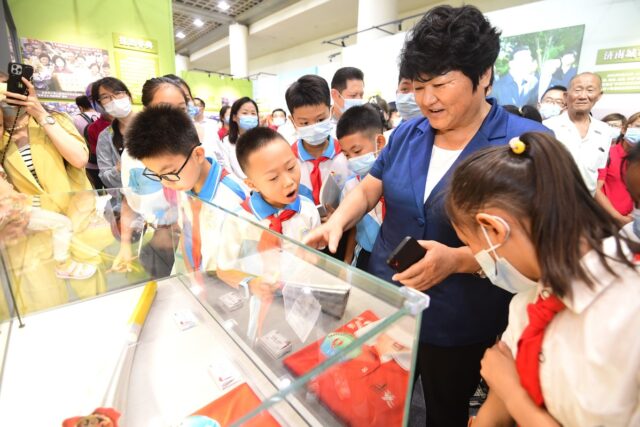 On November 16, members of the local Young Pioneers group attended a lecture by Sanjianxi village party chief Gao Shuzen on the "Spirit of the 20th Party Congress" (二十大精神, ershida jingshen) in Jinan, the capital of Shandong province (China Youth Net, November 16). [1]  Gao, who was a delegate to the October 16-22 Party Congress in Beijing, told the Young Pioneers about her experience participating in such a "grand occasion" (盛况, shengkuang). Two days earlier, transit workers in Huangshi, Hubei, attended a "learning and sharing session" on the "Spirit of the 20th Party Congress." All of the participating employees reported that the study session inspired them to "work diligently, not slack off, take responsibility and make contributions to the new era" (Hubei Daily, November 16). Scenes like this are playing out all over China as party members, workers, students and retirees alike study and seek to implement the "Spirit of the 20th Party Congress."
Telling the Red Story
In many localities, citizens are being encouraged to learn about the "Spirit of the 20th Party Congress" at street side "red stations"  (红色驿站, hongse yizhan), which seek to foster a "deep relationship" between the Chinese Communist Party (CCP) and the masses (Rudong Daily, November 14). Last week, for instance, food delivery drivers in Lingwu city, Ningxia, attended a study session at the local "red station" on the importance of General Secretary Xi Jinping's Party Congress work report, where they also received complimentary copies of the Party constitution, a reader of the "top twenty CCP reports" and N-95 masks (Ningxia Daily, November 11). Many "red stations" feature speeches from CCP youth organizations including the "Little Red Bees" "(红色小蜜蜂, hongse xiao mifeng) and the "Red Scarf Guides" (红领巾讲解员, honglingjin jiangjieyuan) who underwent extensive preparation to undertake post-Party Congress outreach (People.cn- Guangxi Channel, October 9).  For example, on October 11, the Shaanxi Propaganda Department and Youth League cohosted a skills demonstration, which included a CCP history trivia contest and virtual "red" activities to practice conveying revolutionary stories (Shaanxi Daily, October 15). The best commentators were then selected as "little propagandists" (小小宣传员, xiao xiao xuanchuan yuan to "tell red stories well." In some areas, such as in Qinghai, "Little Red Bees" went door-to-door to highlight the main points of Xi's work report to older and ethnic minority residents (Qinghai Daily, November 16).
Party Lessons
The 20th Party Congress convened from October 16-22 to select a new Central Committee, which in its subsequent First Plenum on October 23 rubberstamped Xi's third term as CCP General Secretary and approved a Politburo filled with his lieutenants (China Brief, October 24). On October 26, Xi led the other 23 members of the new Politburo in the first study session on  the lessons of the 20th Party Congress (People's Daily, October 27). Notably, the meeting occurred a day prior to Xi taking the new Politburo Standing Committee (PBSC) to visit the "sacred land of the Chinese revolution" in Yan'an Shaanxi, which served as Mao Zedong's base of operations from 1935 to 1948 (China Brief, November 3; Xinhua, October 29). At the study session, Xi touted the 20th Party Congress as an epochal moment in Chinese history that yielded "a series of great achievements in politics, theory and practice." He described the record of the October conclave as "a political declaration and action plan" of the CCP "to build a fully, modern socialist nation" and "achieve the great rejuvenation of the Chinese nation" (People's Daily, October 27). In doing so, Xi was effectively calling on all citizens to study the speeches and documents produced at the 20th Party Congress, particularly the work report, which he presented at the Congress's October 16 opening ceremony (Gov.cn, October 25). For Xi, the resources provide a blueprint for fully realizing the CCP's second centennial goal of becoming a fully developed, "great modern socialist country" that is "prosperous, strong, democratic, culturally advanced, harmonious and beautiful" by the 100-year anniversary of the People's Republic of China's (PRC) founding in 2049 (Xinhua, October 18, 2017).
On October 29, the Central Committee issued the "Decision to Conscientiously Study, Propagate and Implement the Spirit of the 20th Party Congress" (Xinhua, October 30). The Decision stresses the importance of resolute adherence to the "Two Establishes" (两个确立, liang ge queli): establishing Xi's status as core of the Central Committee and the Whole Party; and adhering to the guidance of Xi Jinping Thought on Socialism with Chinese Characteristics for the New Era. It also emphasizes the need to "deeply understand the Chinese characteristics and essential requirements of Chinese-style modernization," a concept introduced by Xi in his Party Congress work report. According to the Central Committee's October 29 decision, "Chinese-style modernization" is CCP-led Socialist Modernization adapted to China's specific cultural and material circumstances, in particular, its huge population. Hence, "Chinese-style Modernization" entails the advancement of "common prosperity" for all people; coordinating China's material and spiritual civilization; and ensuring harmonious coexistence between nature and humanity. As a result, "Chinese-style modernization" is presented as an essential vehicle to achieve the CCP's interlinked goals of achieving "national rejuvenation" at home, while building a "community of common destiny" in the world.
Pursuing "Unity" and Embracing "Struggle"
On November 2, People's Daily ran an editorial by newly appointed PBSC member and director of the CCP General Office, Ding Xuexiang, entitled "Comprehensively Advance the Great Rejuvenation of the Chinese Nation through Unity and Struggle (seriously study, publicize and implement the spirit of the 20th Party Congress)" (People's Daily, November 2). In his editorial, Ding averred that the 20th Party Congress deeply analyzed and dissected the difficult and complex challenges that face China.  He noted that the key lessons of the Congress are that strength comes from unity and success at work comes from struggle. He then identified five key themes of the Congress to carry forward in his People's Daily essay on unity and struggle :
Unity and struggle are the distinctive spiritual symbols of the CCP and the Chinese people: Ding noted that over millennia, the Chinese people creating a "unified multi-ethnic country" developing vast mountains and rivers through arduous efforts and overcoming countless natural disasters (China Brief, April 29). Ding maintained that in modern times, the people united under the CCP's leadership in the face of the catastrophe of national humiliation to drive away foreign colonizers and invaders in order to build a new China.
Unity and struggle are essential to comprehensively advancing national rejuvenation: Ding stated the CCP has reached its first centennial goal (achieving a "moderately prosperous society") but that achieving rejuvenation by 2049 requires even more arduous efforts.
Unity and struggle stems from the unifying will and action of Xi Jinping Thought on Socialism with Chinese Characteristics for a New Era: Ding acclaimed that in difficult times, Xi Jinping Thought is a means to comprehend and navigate changing, often challenging circumstances. "As long as we thoroughly learn and comprehend this important thought, know both what it says and what it means, and grasp what it is and why it is so, confusion in cognition can be eliminated in time and the difficulties in work can be solved. We must persist in taking this important thought as the fundamental basis for thinking about problems" said Ding.
Consolidate and strengthen all aspects of unity so the whole party and society think and move in one direction:  Ding explained that "our party is a highly centralized and unified Marxist party." He stated that historical experience has proven as long as the party is united, "we will be invincible and overcome all obstacles and powerful enemies." He stressed that it is not possible to pursue unity by "chanting slogans," i.e. going through the motions. Rather, Ding averred that following the principle of the "two upholds" (两个维护, liang ge weihu; Qiushi, July 9, 2019), which are to uphold Xi as the core and uphold the CCP's centralized authority, requires "correct understanding and actions."
Dare to struggle: Ding quotes Xi in observing that China's efforts to surmount the challenges it faces is a marathon not a sprint. He asserts that "only by daring to struggle can we overcome barriers." Finally, Ding declared that "Communists in the New Era should abandon all timidity, negativity and laxity" and "always maintain a fearless spirit" no matter the dangers ahead.
Conclusion
It is unsurprising that when Xi had his first meeting with U.S. President Joseph Biden in Bali, Indonesia, on November 14, he expounded on the importance of the 20th Party Congress and its key outcomes (PRC Foreign Ministry, November 14). In the meeting, Xi also made an explicit attempt to rebut foreign criticism of the CCP model, asserting that "the whole-process people's democracy practiced in China is based on the country's reality, history and culture, and it reflects the people's will." He also claimed that the PRC's domestic and foreign policies are open and transparent, with clearly stated strategic intentions. Putting aside the veracity of Xi's statement, his remarks to Biden do highlight that foreign observers struggling to understand China's present trajectory would do well, albeit with a critical eye, to undertake their own extensive study of the 20th Party Congress and its lessons.
John S. Van Oudenaren is Editor-in-Chief of China Brief. For any comments, queries, or submissions, please reach out to him at: cbeditor@jamestown.org.
Notes
[1] The Young Pioneers are a national mass youth organization for Chinese children, which is run by the Communist Youth League. According to the State Council Information Office (SCIO) , the Young Pioneers had over 110 million members at the end of last year (SCIO, June 1).