US Elections and Economic Concerns Dominate Internal Debates in Belarus
Publication: Eurasia Daily Monitor Volume: 13 Issue: 184
By: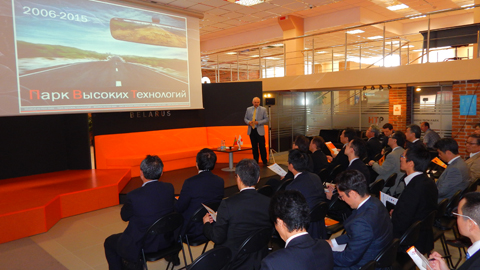 The United States' presidential election elicited genuine interest in Belarus. On November 8, at 7:30 PM Minsk time, while voting was still in its early phase, the US embassy held a reception marking the event. The reception was attended by at least 300 people, representing the government, media, think tanks, the vast majority of the opposition, and even Russia's ambassador to Belarus, Alexander Sourikov. Guests were encouraged to participate in mock elections, in which Hillary Clinton won in a landslide (Tut.by, November 8). Just like in the US itself, Belarusian experts and pundits largely failed to forecast the actual outcome. And yet, Belarusian President Alyaksandr Lukashenka did accurately predict Donald Trump's victory as early as two months ago (Naviny.by, November 9).
Immediately after Trump's win, the US elections became the central theme of discussion within the print and Internet media as well as politically minded talk shows on Belarusian TV. On one such show, Forum, which airs on CTV (the episode was broadcast on October 14), Tatyana Korotkevich posed a rhetorical question as to why Belarusians pay more attention to US elections than to their own. Korotkevich was a 2015 presidential hopeful and remains the leader of the Speak the Truth civic campaign in Belarus. Her own response to this question was that Belarusian people enjoy watching a genuine electoral process that is not overshadowed by suspicion that the vote would be rigged. However, she was shouted down by some other guests on the show, notably Oleg Gaidukevich of the Liberal Democratic Party. Nonetheless, Korotkevich was arguably on target.
Of utmost interest to Belarus's domestic analysts are two issues: Is Trump's victory akin to last summer's Brexit (whereby voters in the United Kingdom chose to leave the European Union) and a harbinger of looming government takeovers by social conservatives (e.g. Marine Le Pen) in Europe? And what, if anything, will be the outcome of Trump's election for Belarus? Interest in the first issue is related to the fact that Lukashenka is often considered a spiritual brother of these Western social conservatives. The aforementioned Gaidukevich is an aspiring cheerleader for this line of thought. Even more natural is Belarusian's interest in the latter issue. While it is difficult to speculate on the implication of Trump's victory for Belarus, it is noteworthy that the opposition-minded pundits are fixated on a zero-sum game approach. To them, Trump's treatment of Belarus stands in inverse proportion to his treatment of Russia. If it remains hostile or grows even worse, then Belarus may count on some carrots from Washington. But if it improves, Belarus may be "left at the mercy of Russia," they fear. Both Andrei Dynko, the editor-in-chief of the leading opposition newspaper Nasha Niva, and Paval Usau, a political commentator, firmly stick to this view (Svaboda.org, November 12). For the opposition, the notion that Belarus may be seen as a self-styled actor on the European scene is not even considered a possibility as long as Lukashenka is at the helm of power. And this is despite Belarus' peace-brokering initiative in conjunction with the conflict in Ukraine and other foreign relations initiatives.
In the meantime, Belarus's independent diplomatic overtures have lately been bearing fruit when it comes to diversifying the destinations of its exports. First, a deal was finalized with the United Arab Emirates during Lukashenka's visit, on October 30–November 6, for export of Belarusian-made crawler tractors for transporting tanks. This contract is based on a previous deal, from 2007, when a transaction with the same buyer led to the delivery of 200 such vehicles (Naviny.by, November 13). Later, during the visit of Turkish President Recep Tayyip Erdoğan to Minsk, on November 11, the two sides discussed several important contracts. Erdoğan and Lukashenka also attended the inauguration of a mosque in Minsk (Tut.by, November 11).
To overcome Belarus's economic doldrums, the country will need not only new destinations for its exports, but also to energize its foremost sectors of domestic growth. One of them is information technologies (IT). According to Yury Zisser, the founder and owner of Tut.by, a popular Belarusian news and analysis portal, Minsk should improve the business environment by decriminalizing so-called "unregistered entrepreneurship," cutting back on penalties for innocuous clerical mistakes, and avoiding arrests of prominent businessmen. The "Catch-22" situation local entrepreneurs often find themselves in—whereby, they can either build a successful business and then have it taken away by the authorities, or build an unsuccessful business and end up in jail for it—must be eliminated, Zisser argued (Tut.by, November 10).
Despite persistent problems, however, Belarus is already the world leader in per capita export of IT products: $74. For comparison, Russia's per capita IT exports equal $19; in India the figure is $41; and in the US it is $43. In 2016, the export revenue of the Minsk-based High-Tech Park, with 160 resident companies and 24,000 employees, will exceed $1 billion. After the first Minsk Start-up Weekend was conducted back in 2009, the number of such events in Belarus has skyrocketed. Thus, in 2016, 174 technology and start-up events have taken place in the Belarusian capital, and most of them were attended by foreigners. Besides EPAM, Belarus's largest IT company, the Belarusian tech firms with the highest name recognition across the world are Wargaming, MAPS.ME, and MSQRD. These apps as well as the world-famous messenger Viber, were created by Belarusian software developers without any state support whatsoever. Of importance are business incubators, where inexperienced entrepreneurs can obtain useful advice. The oldest and most successful entity of this type, ZAO MAP, is located in Kolodishchi, near Minsk (Tut.by, November 10).
Just 11 years ago, there was no High-Tech Park, and Belarusian computer programmers used to emigrate in droves. Now, despite all the crises, Belarus's IT business is expanding dozens of percentage points per year. Zisser has asserted that in about 15 years, Belarus will become the third-largest producer of software in the world, after the US and Israel (Svaboda, November 10). When and if this happens, a demand for a new political environment will be generated, meaning Belarusians will likely become more energized by their own elections as well. In the meantime, Western foreign policy toward Minsk can either act to support or hinder this long-term trend gradually remaking Belarus.