US-Russian Discord Over Syria Deepens After Discussions in Helsinki
Publication: Eurasia Daily Monitor Volume: 15 Issue: 113
By: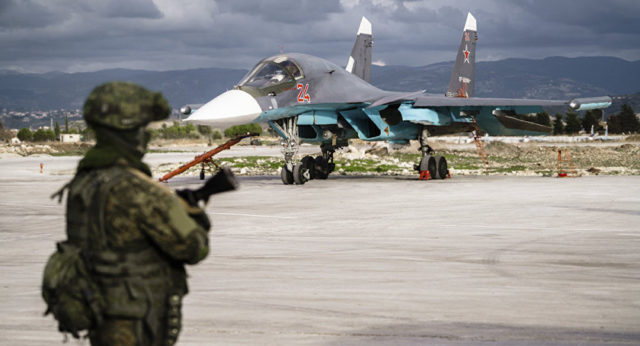 The fruits of President Vladimir Putin's "victory" at the meeting with President Donald Trump in Helsinki, Finland, on July 16, are turning increasingly bitter for Russia as initial dismay and angry responses in the United States have continued to coalesce into strong pushback (see EDM, July 23). Perhaps the strongest manifestation of this reassertion of firm US stance against Russian attacks on the world order was the Crimea Declaration, issued by the Department of State on July 25, to much disappointment in the Kremlin (Forbes.ru, July 26). Putin had assumed that he had removed this issue from the agenda by casually mentioning, at his joint press conference with Trump, the mutual readiness to keep disagreeing about it. Instead, he advanced the idea of a referendum in Donbas, knowing perfectly well that it was a non-starter (RIA Novosti, July 27). The Russian leader presumed that the theme most ripe for mutual understanding and even agreement would be Syria. But what little consent was built in Helsinki on this badly managed disaster has evaporated since.
US-Russian military-to-military cooperation in this war zone was praised by both presidents, and Putin sought to build on this "de-confliction" as well as engage the US military into joint work on the return of refugees. This proposition was flatly turned down by General Joseph L. Votel, the commander of US Central Command, who found no rationale for expanding cooperation with Russian forces (RIA Novosti, July 23). The Russian defense ministry, in turn, accused Votel of undermining the position of his Commander-in-Chief (RBC, July 24). This disparaging comment was followed by a statement questioning any legitimate reasons for the further presence of US troops in Syria (Gazeta.ru, July 24). Moscow was probably trying to exploit Trump's expressed desire to withdraw from Syria. But such blunt assertions of Russia's "victory" are bound to prove counter-productive.
Putin's proposition to focus on the refugees issue is also underpinned by this assumption of hard-worn success in defeating rebels and guaranteeing the dominance of Bashar al-Assad's regime (see EDM, July 26). The latest meeting of the so-called "Astana process," in Sochi, this Monday (July 30), is supposed to add diplomatic weight to this victorious conclusion of the devastating civil war (Kommersant, July 28). The invitation to partake in this political elimination of the Syrian opposition was extended to the United States, but the State Department refused to attend (Rossiiskaya Gazeta, July 26). Al-Assad's victory may seem all but certain, but that does not mean Washington feels obligated to recognize his legitimacy, particularly since his rule relies heavily on support from Iran.
The problem of Iranian presence in and dominance over Syria looms large for US policy in the Middle East, and Trump was unable to convince Putin in Helsinki to make any meaningful step toward a solution (Carnegie.ru, July 17). The sustainability of Russia's military intervention in Syria depends too heavily on cultivating a close military partnership with Iran and various pro-Iranian militias, so Moscow cannot risk alienating Tehran (Nezavisimaya Gazeta, July 18). Before meeting with Trump, Putin had given all necessary reassurances in this regard to Ali Akbar Velayati, a senior adviser to Iran's Supreme Leader Ali Khamenei, who paid a visit to Moscow (RIA Novosti, July 12). The Kremlin also publicly maintains support for the nuclear deal with Iran, condemned and abandoned by Trump (RIA Novosti, July 27).
The real challenge for Putin is to square the circle of friendship with Iran with his close ties to Israel's Prime Minister Benjamin Netanyahu, who is also a frequent guest in Moscow (see EDM, May 10). Last week, Russian Foreign Minister Sergei Lavrov and Chief of the General Staff Valery Gerasimov presented Netanyahu with a plan to redeploy the pro-Iranian forces in Syria an extra 100 kilometers further north from Israel (RBC, July 23). The offer was duly turned down because Israel knows too well that Russia has no authority over Hezbollah and little control over the Syrian army. Still, Moscow preferred to pretend that the talks went just fine (Rossiiskaya Gazeta, July 24). Perfecting this duplicitous game, Russia's foreign ministry issued and then recalled a protest over the downing of a Syrian Su-22 fighter by Israeli air defense last Tuesday (July 24) (Moskovsky Komsomolets, July 25). Israel's operation to evacuate a group of Syrian "white helmets" rescue workers trapped near the Golan Heights after the fall of Daraa was presented by Russian commentators as assistance to extremists (Nezavisimaya Gazeta, July 22).
Putin was at least able to proclaim, together with Trump, a commitment to ensuring Israel's security. But Russian and US positions remain far apart over the issue of Turkey. Putin apparently did not call Turkish President Recep Tayyip Erdoğan after Helsinki. And while meeting Erdoğan in Johannesburg, South Africa, last week (July 25–27), for the BRICS summit, Putin preferred to pretend that their partnership was just fine (RBC, July 26). Syria clearly does not fit into this picture of perfect accord, particularly as al-Assad's forces prepare an offensive on Idlib province, controlled by rebels of various persuasions. Turkey is firmly set to resist this conquest (Nezavisimaya Gazeta, July 24). On the other hand, Putin benefits from the quarrel between Washington and Ankara over the latter's purchase of Russian S-400 surface-to-air missile systems, which are due to be delivered to Turkey in March 2020 (Gazeta.ru, July 28).
The space for purposeful US-Russian cooperation in Syria has effectively shrunk to preventing raids by the pro-al-Assad forces into the territory east of the Euphrates, controlled by the US-backed Syrian Democratic Forces (SDF). Moscow cannot harvest any fruits from its dubious victory since Bashar al-Assad's regime remains internationally ostracized. Whereas, rebuilding the "pacified" regions proceeds primarily with aid from Iran, which adds economic muscle to its military presence. Russia is trying hard to avoid responsibility for rescuing al-Assad, even if it seems unlikely he will ever be able to fully unite and revitalize post-war Syria. Putin has won for himself a big say over Syria's present plight, but the Trump administration as a whole is not particularly interested in what the Kremlin leader has to say on its future. Whether or not a follow-up bilateral summit will happen in the coming months or years, the two leaders might find it opportune to relegate the Syrian dossier to the already overflowing basket of irreconcilable differences.