US Slaps Sanctions on Caucasus Emirate as Violence Continues in North Caucasus
Publication: Eurasia Daily Monitor Volume: 8 Issue: 103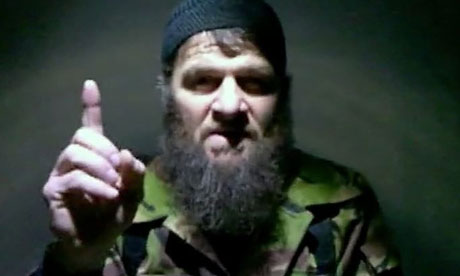 The US State Department on March 26 designated the Caucasus Emirate under Presidential Executive Order 13224, which targets terrorists and those providing support to terrorists, terrorist organizations or acts of terrorism. The State Department said in a statement that the action would "help stem the flow of financial and other assistance to the group" and that it "supports the US effort to degrade the group's ability to mount attacks on Russian interests." It added that the United States is determined to "eliminate the group's ability to direct violent attacks" and to "disrupt, dismantle and defeat" its network
(https://www.state.gov/r/pa/prs/ps/2011/05/164312.htm).

Also on March 26, the State Department announced it had authorized a $5 million reward for information leading to the location of Doku Umarov, the "Emir" of the Caucasus Emirate insurgent group. The department noted that under Umarov's leadership, the Caucasus Emirate has "conducted suicide bombings and other acts of terrorism," and launched "terrorist attacks using improvised explosive devices (IEDs), vehicle-born IEDs, and suicide bombers." It said Umarov has claimed responsibility for various terrorist attacks, including the January 2011 bombing of Moscow's Domodedovo airport, which killed 36 people, the March 2010 suicide bombings of two Moscow subway stations, which killed 40 people and the November 2009 bombing of the high-speed Nevsky Express train in which 28 people were killed. It said Umarov has also issued statements encouraging followers to commit violent acts against the Caucasus Emirate's declared enemies, "which include the United States as well as Israel, Russia, and the United Kingdom." In June 2010, the State Department designated Umarov as a Specially Designated Global Terrorist, thus providing the US government with the legal means to disrupt Umarov's financial support network (https://www.state.gov/r/pa/prs/ps/2011/05/164314.htm)

Daniel Benjamin, the State Department's counterterrorism chief, said in a statement: "The attacks perpetrated by Caucasus Emirate illustrate the global nature of the terrorist problem we face today. We stand in solidarity with the Russian people in our condemnation of these deplorable terrorist acts" (Reuters, May 26).

The US moves against Umarov follow a video statement from the rebel leader earlier this month in which, according to a transcript of the statement posted on the rebel Kavkaz Center website, he vowed to continue the "jihad" against Russia and praised slain al-Qaeda founder, Osama bin Laden (EDM, May 20).

The Kremlin welcomed the US moves, with the Russian president's special envoy for international cooperation in the fight against terrorism and transnational organized crime,
Anatoly Safonov, telling Interfax: "Washington's decision can be assessed only positively. It is well-timed and quite prompt. This is a contribution to the joint efforts in the fight against terrorism. This is a signal that Russia and the U.S coincide in assessments and approaches. It can be said that there are no discrepancies in these assessments at present" (Interfax, May 26).

The US moves were also welcomed by Chechen leader Ramzan Kadyrov, who told reporters in Grozny that Washington's announcement of a $5 million reward for information on Umarov's location is a gesture showing that the United States "is resolved to help neutralize him." Kadyrov reiterated his oft-made prediction that the "end" for Umarov is "near" (https://www.chechnya.gov.ru/page.php?r=126&id=9354).

Meanwhile, insurgency-related violence continued in the North Caucasus this week. In Dagestan today (May 27), a policeman was fatally wounded during a special operation targeting a group of three to five suspected militants in the village of Chontaul. Yesterday (May 26), a man who fired on police after they stopped his car near the village of Gurbuki in Dagestan's Karabudakhkentsky district was killed by return fire. The slain attacker was identified as a resident of the village of Manas, also in Karabudakhkentsky district. Also yesterday, a gunman who fired on a police car in the village of Hechaevka in Dagestan's Kizilyurt was killed by return fire. No police personnel were hurt in the incidents (www.kavkaz-uzel.ru, May 27).

On May 24, three improvised explosive devices were found in an arms cache discovered on the outskirts of the village Serebrayakov in Dagestan's Kizlyar district and defused. That same day, Magomedgadzhi Aliev, the head of the Gorvodoknal municipal unitary enterprise in Kaspiisk and a member of the city's legislative assembly, was shot and killed as he was driving home in his car. Also on May 24, a traffic police officer, Maj. Anvar Aliev, died in a Khasavyurt district hospital after he was shot in the city of Khasavyurt (www.kavkaz-uzel.ru, May 24).
On May 22, the head of the Khasavyurt police department's youth affairs division, Major Magomed Abdulkhamidov, was shot to death by unidentified attackers. The previous day, May 21, an unidentified attacker shot and wounded a traffic policeman in Khasavyurt, who later died in the hospital (www.kavkaz-uzel.ru, May 22).

In Kabardino-Balkaria yesterday (May 26), two improvised explosive device were discovered on the Baksan-Azau highway and defused (www.kavkaz-uzel.ru, May 26). On May 24, authorities in the city of Tyrnyauz, also in Kabardino-Balkaria, reported finding an IED in the apartment of an unemployed man (www.kavkaz-uzel.ru, May 24). On May 23, unidentified persons who had stolen a car and were being pursued by police in Kabardino-Balkaria's Baksan district opened fire on the pursuing officers. No one was hurt in the incident (www.kavkaz-uzel.ru, May 23).

On May 22, two suspected militants were killed on the Baksan-Azau highway. They were indentified as Buzhigit Khadzhiev and Magomed Zalikhanov, both residents of Kabardino-Balkaria (www.kavkaz-uzel.ru, May 23).

Kabardino-Balkaria's Interior Minister Sergei Vasilyev said yesterday (May 26) that 36 rebels and rebel accomplices have been killed in the republic this year, including several rebel leaders (www.kavkaz-uzel.ru, May 26).

In Ingushetia, a Russian Interior Ministry Internal Troops serviceman was wounded yesterday (May 26) in a shootout with a group of suspected rebels on the outskirts of the village of Verkhny Alkun in Ingushetia's Sunzha district (www.kavkaz-uzel.ru, May 26). On May 24, a suspected rebel was killed after he was stopped by police in the Gamurzievsky municipal district of Ingushetia's main city, Nazran, and opened fire on them. Russia's National Anti-Terrorist Committee identified the slain alleged rebel as Vakha Mochukiev (aka Machukaev), who it said had organized and participated in a series of high-profile murders and also financed rebels in the republic (www.kavkaz-uzel.ru, May 24).

In Chechnya, a suspected militant was killed and a Russian Interior Minister Internal Troops serviceman wounded in a shootout on May 21 in the republic's Achkhoi-Martan district (www.kavkaz-uzel.ru, May 22).