US Slaps Sanctions on Georgian Judges
Publication: Eurasia Daily Monitor Volume: 20 Issue: 64
By: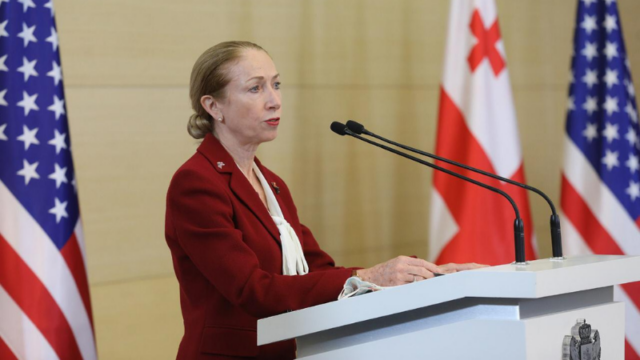 On April 5, United States Secretary of State Anthony Blinken issued a statement announcing that the US State Department has publicly sanctioned Georgian judges Mikheil Chinchaladze, Levan Murusidze, Irakli Shengelia and Valerian Tsertsvadze under Section 7031(c) of the visa restriction authority. "These individuals abused their positions as court Chairmen and Members of High Council of Justice, undermining the rule of law and the public's faith in Georgia's judicial system," Blinken stated (Radiotavisupleba.ge, April 5).
Shortly after Washington's announcement, the US ambassador to Georgia, Kelly Degnan, explained that "the State Department determined, based on credible and corroborated evidence, that these individuals abused their public positions by engaging in significant corrupt activity." Degnan added, "Their actions undercut judicial and public processes by offering benefits to or coercing judges to decide cases in favor of political allies and manipulating judicial appointments to their benefit." She further underlining that "corruption and judicial interference obstruct Georgia's European integration" prospects (Radiotavisupleba.ge, April 12).
The US sanctions caused quite a stormy reaction in Georgia, not only in political circles but also throughout society. Gocha Mirtskhulava, founder of the independent news agency Nation.ge, in an interview with this author on April 14, declared that, during the 31 years of diplomatic relations between the US and Georgia, Washington has never imposed sanctions against Georgian politicians or officials. He asserted, "Georgia was the USA's favorite in the Caucasus region. President [George W.] Bush even called our country a beacon of democracy. But the Americans now are forced to admit that the judiciary is the weakest point of Georgian democracy" (Author's interview, April 14).
For their part, the Georgian authorities reacted ambiguously to the US sanctions. President Salome Zurabishvili stressed that she was "not happy" and was "worried" by the US State Department's decision, as, for her, "the most important thing is the reputation of the country." She also expressed regret that Georgia is included on the list of other sanctioned countries, especially at a time when the country is awaiting "the most important decision" from its European partners on the granting of European Union candidate status. "I am afraid that the US decision will be perceived as a negative signal in Europe," Zurabishvili added. "Therefore, it is not the time for rejoicing, self-righteousness or justifications. Above all, it is up to us to correct the image of the country" (Civil.ge, April 7).
Chinchaladze, Murusidze, Shengelia and Tsertsvadze have been identified as part of Georgia's so-called "Clan of Judges"—an influential group of judicial officials that often sways court decisions in high-profile cases (Eurasianet, April 6). In almost every case, decisions are made that are in the interests of the ruling Georgian Dream (GD) party.
As David Avalishvili from Nation.ge stipulates, for many years, Georgian non-governmental organizations and the opposition have reported to Western partners about the actions of this "clan,"; however, Washington seemingly hesitated, demonstrating caution toward Tbilisi against the backdrop of Georgia's active support for the US military operation in Afghanistan. Yet, as Avalishvili points out, "The Americans have finally decided to say that democracy is the most important thing for them" (Author's Interview, April 15)
In response, Georgian Prime Minister Irakli Garibashvili expressed his "full support" for the US-sanctioned judges. He also announced that "any interference in any way with the independent court of a sovereign country is unacceptable and inadmissible" (Civil.ge, April 10) This statement from Garibashvili, who, according to the Georgian Constitution, has the real power in the country, confirms that the ruling party views Washington's decision as a confrontational attempt to interfere in Georgia's domestic affairs.
However, the reaction of many influential judges in Georgia has been much more severe. For example, Vladimer Kakabadze, a lifelong judge of the Supreme Court of Georgia, did not hide his anti-American resentment in his response: "The United States of America is perceived as the global gendarme. … Has it been that long since you stopped poisoning women and children with chemical weapons in Vietnam, Mr. Blinken?" (Ambebi.ge, April 7). The Georgian judge, Levan Murusidze, remembered his grandfather: "If now they will not let us into the United States or the European Union, [it is not a big deal] as my grandfather visited neither of them and the man lived a normal life" (Radiotavisupleba.ge, April 5).
However, experienced Georgian politicians advised paying less attention to such official statements. One of the founders of the Republican Party of Georgia and former political prisoner of the Soviet era, David Berdzenishvili, claimed in an interview on April 14 with this author, that by introducing sanctions against the "judicial clan," Washington sent a clear message to the real leader of the ruling GD party—billionaire Bidzina Ivanishvili. Berdzenishvili contended, "He has already received this message, he understood it exactly and I do not rule out big changes in Georgian politics already this autumn, when the European Union can resolve the issue of Georgia's status as a EU candidate country." He further argued, "Ivanishvili will change his team to a more pro-Western one, so that Washington does not think about imposing sanctions against his capital in Western banks" (Author's interview, April 14). In truth, EU candidate status remains the most important political issue in Georgia, even after the US sanctions against some of the most powerful judges in Georgia.
Paradoxically, according to many opposition politicians, Washington's decision may actually help Georgia attain candidate status, rather than hinder the process. Former president of the National Bank of Georgia and current member of parliament Roman Gotsiridze, in an April 15 interview with this author, claimed that an adequate reaction from not only the opposition parties but also civil society will force the ruling party to adjust course from building a semi-authoritarian regime and demonstrate to Europe Georgia's true democratic potential. In this, Gotsiridze expressed hope that the "Europeans have seen and are convinced that, if not the government, then the Georgian people deserve European status" (Author's interview, April 15).
On this, Georgian civil society organizations referred to sources saying that the European Commission could recommend as early as October 2023 that Georgia be granted candidate status "if Georgia continues to pursue reforms, and the human rights and democracy situation does not deteriorate in the coming months" (Radiotavisupleba.ge, April 11). Furthermore, a joint statement signed by more than 140 civil society organizations reads, "The government bears full responsibility for securing Georgia's candidate status. It must review and intensify its efforts to seize this historic opportunity" (Netgazeti.ge, April 11).
Thus, while Washington's sanctions may have produced an initial adverse and wary reaction within Georgia, this measure could provide the impetus for pressuring Tbilisi to maintain the country's Western course in hoping to achieve official EU candidate status—and eventually full-blown membership.