US Summit Reflects Decline in Russia's Position in Central Asia
Publication: Eurasia Daily Monitor Volume: 20 Issue: 160
By: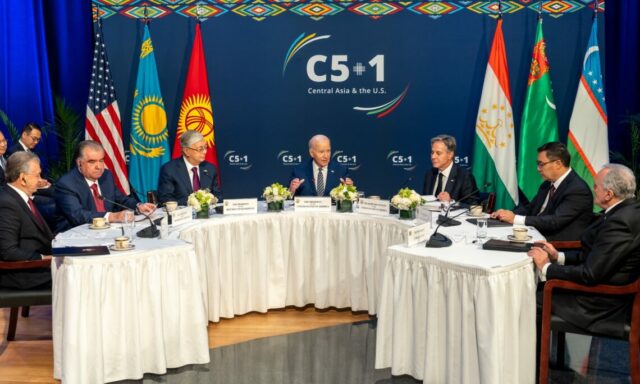 Numerous accounts of Russia's position and influence in Central Asia have commented on Moscow's declining standing there. Those results are visible in the clear unhappiness of Central Asian governments with the war in Ukraine, what they perceive as Russia's failure to take their interests seriously. Moreover, Russia's faltering economy substantially reduces its ability to provide the economic investments these countries need. China's corresponding ascension, particularly regarding economic investment and trade in Central Asia, reflects this decline (Rbc.ru, May 21).
Regional commentary supports this conclusion of the decline of Russian influence in Central Asia. For example, one Uzbekistan outlet explicitly stated that the September summit of American President Joe Biden reflected this decline (Ulysmedia.kz, September 17). Indeed, it openly denounced Russia's war in Ukraine as senseless. This summit at the UN General Assembly in September marked an unprecedented meeting even though it happened under the long-standing 5+1 formula (Tass.ru, September 19).  It also seems to have signaled a new, and frankly long-overdue, revival of sustained U.S. interest in Central Asia. This summit also reflects the important economic and environmental assistance that the American government and the private sector could bring to bear in Central Asia.
Geopolitically as well, according to Russian expert Arkady Dubnov, this summit reflects Central Asian leaders' desire to make a public statement that they, as well as President Biden, regard Central Asia "as a separate, or to be more precise, independent subject of international politics (Inbusiness.kz, September 16). Indeed, the fact that Dubnov made this statement highlights the ongoing Russian governmental view that Central Asia is somehow still a part of the Russian empire and subject to Moscow's hegemony. Under the circumstances, it should, therefore, not be surprising that these leaders would seize the first opportunity to reassert their independence and make it clear to Moscow that it no longer is the stronghold that it once was and currently pretends to be.
Therefore, Central Asia now presents itself as an increasingly open field for international cooperation and enhanced regional cooperation. Increasingly, Central Asian states are convening to discuss ways to foster collaboration and connectivity concerning trade, transportation, and environmental policies. Russia cannot, except for oil and gas, provide much assistance here, and all these governments share a healthy wariness concerning Chinese interests and policies. For these reasons, the summit may be a welcome sign of signifying not only a revived American interest in Central Asia and increasing participation in regional initiatives, but also the open emergence of both individual and collective assertion by Central Asian states (Vesti.kg, September 19). These developments illustrate the economic and geopolitical spiraling costs of Moscow's misbegotten war in Ukraine. For now, its equally imperial pretensions regarding Central Asia are being exposed as unsustainable.
This does not mean Russia will simply vacate the area and surrender its influence. The announcement of a naval base in Abkhazia at Ochamchire highlights Russia's commitment to an empire, in this case in Georgia, as well as continued dominance in the Black Sea (Iz.ru, October 4; BBC.com, October 5). Nevertheless, its position in Central Asia and the Caucasus is increasingly tenuous and under pressure from internal, regional, and external powers, like the United States, who appear to be increasingly ready to counter Russian imperialism, which has thoroughly shown itself to be a trigger for endless wars across Eurasia. Henceforth, Russia will be one of many foreign contenders for influence in Central Asia, not the regional hegemon. So, while Moscow endlessly trumpets multipolarity as the basis for its desired world order, it now must contend with an accelerating and deepening multipolarity within Central Asia among foreign powers and, at the same time, enhanced regional cooperation among the local states (Golosameriki.com, May 4).
The signs of this emerging cooperation are visible everywhere. For instance, Kazakh President Kassym-Jomart Tokayev, at the September 14-15 regular meeting of the five Central Asian presidents, advocated a unified electronic database of regional commodity producers within the framework of the Central Asian gateway platform (Qazmonitor.com, September 14; Cis.minsk.by, September 21). Similarly, President Emomali Rahmon of Tajikistan called for a media association of Central Asian countries (E-cis.info, September 18). Admittedly, the latter might become an organ of repression or control of the media, but it would nonetheless, even if perversely, be a regional, not a Russian initiative.
These are only two of many proposals now circulating across Central Asia for greater regional cooperation. This spirit is very much in tune with what the U.S. can offer the region, particularly regarding environmental and economic projects. This healthy impulse also contrasts the alternatives offered by Beijing and Moscow that aim to extend and expand their hegemonies over Central Asia. It is therefore desirable for both Central Asian states and the United States to coalesce regionally and build upon President Biden's summit.