Uzbekistan and Kyrgyzstan Heighten Tensions in Violent Local Border Dispute
Publication: Eurasia Daily Monitor Volume: 10 Issue: 17
By: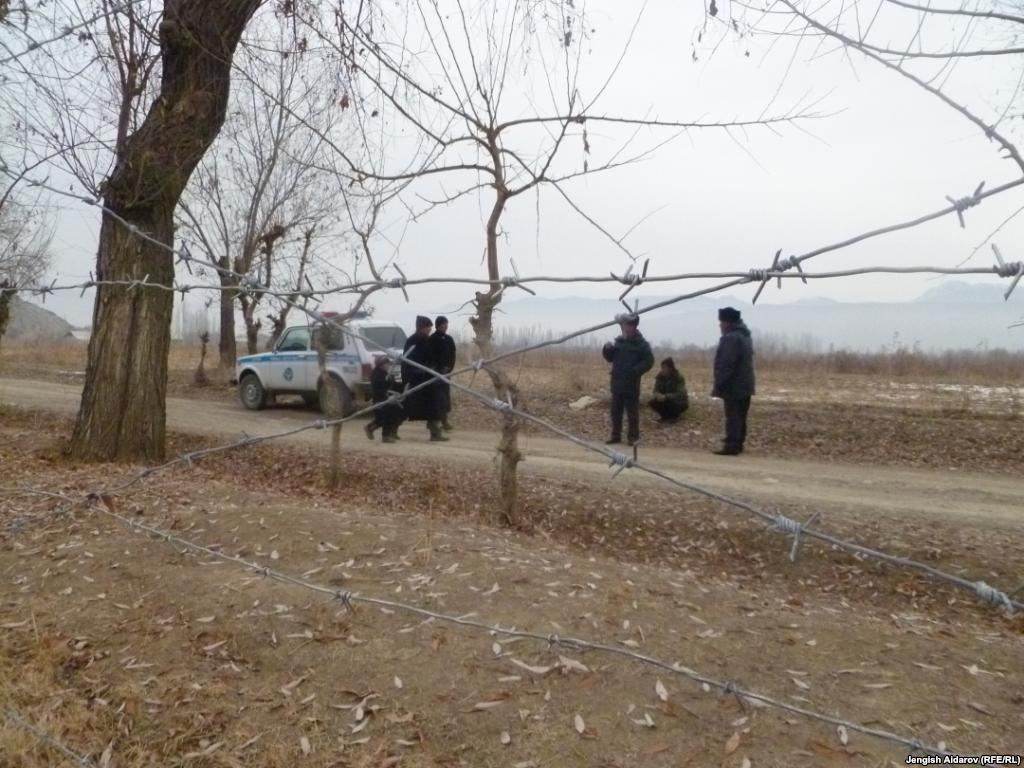 Already unstable relations between Uzbekistan and Kyrgyzstan worsened this week. Violence had erupted in early January 2013 in the Uzbekistani enclave of Sokh located inside Kyrgyzstan that resulted in property damage and hostages being taking. Since January 7, Bishkek continues to block access to Uzbekistan's Sokh and Shahimardan enclaves, and on January 23, Tashkent retaliated by obstructing entry to the Kyrgyzstani enclave of Barak, found inside the borders of Uzbekistan, where about 300 families live. The residents of all the affected enclaves are currently experiencing food supply shortages. Furthermore, since January 22, Tashkent has blockaded railway check-points on the Uzbekistani-Kyrgyzstani border. Unofficially, Uzbekistan has also practically banned Kyrgyzstani citizens from entering its territory through the border-crossing points located throughout the Ferghana Valley (Fergananews.com, January 24).
The Sokh incident was sparked on January 5, when Sokh enclave residents, believing they witnessed Kyrgyzstani border guards working on Uzbekistan's territory, attacked the border guards, who shot back. According to Bishkek, the Kyrgyzstani border guards fired into the air, but Uzbekistan insists that five of its citizens were injured. On January 6, about 1,000 residents from Sokh entered the Kyrgyzstani village of Charbak and started taking hostages. The Uzbekistani citizens also tried to seize weapons from Kyrgyzstan's border guards. Several border guards of the Kyrgyz Republic were injured in the clashes. Uzbekistan's citizens also threw stones at the guard post, broke windows and seized more than a dozen vehicles of Kyrgyzstani citizens, taking the passengers hostage (see EDM, January 9).
The population of the Uzbekistani Sokh enclave is mainly ethnic Tajiks. But after the Sokh incident, Bishkek has also blocked the Shahimardan enclave, populated by ethnic Uzbeks. The problem of the Shahimardan enclave is very acute. This Uzbekistani territory located inside Kyrgyzstan is less than one hour by car from Sokh. Notably, in 2004, Kyrgyzstan's lawmakers demanded the annexation of Shahimardan to Kyrgyzstan. But after the latest Sokh incident, Kyrgyzstani nationalists may have to rethink their country's approach to the Shahimardan issue (see EDM, January 9).

According to Alexander Knyazev, an Almaty-based coordinator of the Central Asia and Caucasus program at the Russian Institute of Oriental Studies, after the 2010 Kyrgyz-Uzbek clashes in Osh, anti-Uzbek rhetoric is still very popular in Kyrgyzstan. But following the Sokh conflict some Kyrgyz politicians started to speak not only about the difficulties between the two ethnic groups, but also about the complications between the two states: Uzbekistan and Kyrgyzstan (Author interview with Alexander Knyazev, January 28). Notably, the lawmakers of the Kyrgyzstani parliament implemented a resolution calling on Tashkent to apologize for the Sokh incident. Now, relations between the two countries have deteriorated to the point that some newspapers in Uzbekistan have reported that a Kyrgyzstani military helicopter flew over Uzbekistani territory (Novaya Gazeta [Kazakhstan], January 24; www.12.uz, January 23).
According to Uzbekistan's President Islam Karimov, the conflict was provoked by external forces, whom he referred to as outside "mediators." "We do need mediators," Karimov noted at a televised meeting with the government of Uzbekistan. Yet, he added, "These advisors want to destabilize the situation. [Due to the latest unrest], there will be no investment in Central Asia and we will have to buy their [foreign] goods" (Uzbekistan TV, January 18).
Islam Karimov is a serious politician, so it is unlikely he would make an emotionally-charged statement regarding the situation. But it is not clear specifically which "external forces" or "mediators" he was referring to. Many Western governments and independent organizations frequently criticize violations of human rights in Uzbekistan and provide Tashkent with recommendations on how to improve the situation. The most active non-governmental organizations (NGOs) in Central Asia include, Human Rights Watch, Freedom House, Amnesty International, the Institute for War and Peace, etc. These organizations offer financial grants to protesters and human rights defenders in Central Asia, and they also organize trips for Central Asian dissidents and human activists to the West. In private conversations with the author during the 2000s, Uzbekistani officials asserted that Western human rights defenders openly support the government's enemies. But, although governments of Western countries avoid openly supporting Central Asian dissidents, the US Department of State and the Organization for Security and Cooperation in Europe (OSCE) regularly publish reports documenting violations of human rights in the region. Furthermore, all embassies of the United States in Central Asia have on staff a diplomat who is responsible for the monitoring of human rights violations. Illustratively, Western countries condemned Tashkent over the tragic events in Andijan, Uzbekistan, in 2005. After this, President Karimov demanded the withdrawal of the US military base from Uzbekistan. Therefore, on the face of it, it would have been possible to suppose that by "external forces," Karimov implied Washington and other Western governments (Council on Foreign Relations, June 26, 2006).
But based on recent international developments, the above explanation is no longer probable. Tashkent is beginning to strengthen its bilateral relations with the US and is simultaneously distancing itself from Russia. Moreover, Uzbekistan withdrew from the Russian-led Collective Security Treaty Organization (CSTO) and has started negotiations on establishing a US military base on its territory. In response to Washington's apparent attempts to gain a foothold in Uzbekistan, Russia has begun providing military and technical support to Kyrgyzstan and Tajikistan in the form of direct assistance. In particular, Russia is prepared to spend $1.1 billion to upgrade Kyrgyzstan's army and another $200 million for the needs of the armed forces of Tajikistan. In addition, Moscow will provide Dushanbe with $200 million in the form of discounts for the supply of petroleum products. Taken together, these developments point to growing competition between the United States and Russia for influence in Central Asia. And in this "game," Tashkent may be interpreting Russia's actions as forming a closer alliance with Kyrgyzstan, while the US provides support for Uzbekistan (see EDM, January 14).