Uzbekistan Increasingly Turns to China for Development Loans
Publication: Eurasia Daily Monitor Volume: 16 Issue: 118
By: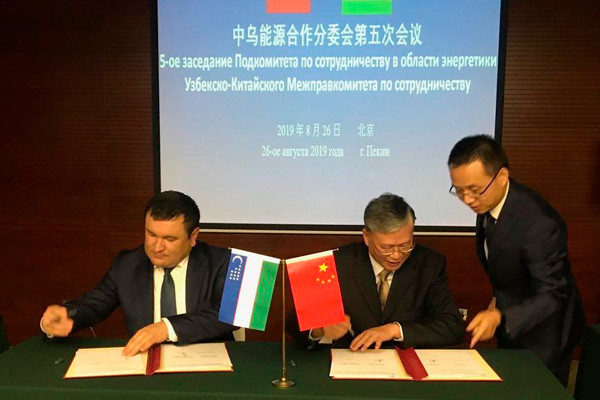 The Uzbekistan-China Intergovernmental Cooperation Committee held its fifth meeting on August 26, in Beijing. Uzbekistan's committee co-chair, Prime Minister Abdulla Aripov, led his country's delegation to the Chinese capital (Fmprc.gov.cn, August 28). The intergovernmental committee has been a regular and consistent biannual fixture in the two countries' relations since its creation in 2011. The body includes seven subcommittees on investments, trade, transportation, energy, agriculture, culture, education and tourism. Its latest meeting resulted in various multi-million-dollar loan agreements as well as Uzbekistan's first ever acceptance of a yuan-denominated loan. Credit lines were diverse, and the largest of them is a planned billion-dollar joint investment fund to produce chemical and petrochemical products for export.
Prime Minister Aripov concluded his visit by meeting with President Xi Jinping, at which time he called China "the closest and most reliable neighbor and partner" of Uzbekistan. Xi, in turn, vowed to continue implementing the "high-quality construction" of the Belt and Road Initiative (BRI) with Uzbekistan. The phrase "high-quality construction" is a relatively new addition to Beijing's BRI lexicon: it was coined earlier this year in response to criticism from many Western countries regarding China's alleged lack of transparency, employment of debt traps, and skirting of internationally accepted rules in pursuing BRI projects (Xinhua, August 28).
One subject Aripov almost certainly raised with Xi was bilateral trade relations. Indeed, in his speech connected to the two-party meeting, the Chinese president promised to increase agricultural imports from Uzbekistan (Xinhua, August 28). According to trade turnover statistics from the first half of 2019, China has become this Central Asian republic's largest trade partner—surpassing Russia for the first time—mainly thanks to increased imports from China (Sputniknews-uz.com, July 23).
Beijing's major lending banks to Uzbekistan include China Development Bank and Eximbank. Both financial institutions agreed to disburse several loans after the most recent round of intergovernmental meetings. China Development Bank pledged two loans: The first is a loan of $309 million to Uzbekistan Airways for the purchase of new aircraft. The second line of credit totals 500 million yuan (around $70 million) (Podrobno.uz, August 28). The loan in yuan is the first of its kind; Uzbekistan had never before borrowed in China's local currency.
An official from the National Bank of Uzbekistan, the entity receiving the yuan-denominated loan, explained that this was advantageous because it could not be subjected to spikes in the London Inter-Bank Offer Rate (LIBOR) and would eliminate the currency conversion process, thus saving money and time (Podrobno.uz, August 29). Borrowing in a local currency results in growing significance of that currency to the detriment of the United States dollar, the dominant currency in international transactions. The US dollar has been a preferred (global reserve) currency in transactions due to its low volatility. But China is clearly encouraging others to move away from the dollar in lending.
Eximbank will offer Uzbekistan a $65 million loan to build new hydroelectric plants as well as renovate several existing ones. Tashkent must have been satisfied with the $144 million loan it borrowed from China in 2017 for similar projects implemented in other regions of Uzbekistan (Podrobno.uz, August 28).
Investments in telecommunications have become a prominent area of bilateral cooperation as of late. China's Huawei is Uzbekistan's largest telecom provider and will remain so for the foreseeable future: the partners signed a loan agreement for $150 million with Uzbekistan's state-owned provider UMS. The loan will allow the Central Asian republic to purchase Huawei technology to upgrade the country's existing cellular networks to 3G/4G country-wide and to 5G in select regions by 2023. The project promises to increase the reach of telecommunication to all parts of Uzbekistan—in particular, Internet connections for schools and medical centers (Gazeta.uz, August 29).
Another Uzbekistani official working to attract foreign interest in the regional telecommunications sector is the current Shanghai Cooperation Organization (SCO) head, Vladimir Norov, who recently met with founder and chairperson of Chinese retail giant Alibaba, Jack Ma (Sputniknews-uz.com, August 29). Novov encouraged tapping into Ma's promise to create large-scale infrastructure projects and jobs, and he offered the SCO member countries as a platform to test out this approach.
Last week's Uzbekistan-China Intergovernmental Cooperation Committee meeting yielded one additional major deal (albeit with few publicly released details): an investment fund worth $1 billion between Chinese state-owned CITIC Group and the government of Uzbekistan to set up for the production of chemical and petrochemical products for export (Gazeta.uz, August 28). Notably, another $1 billion dollar agreement was signed in April 2019 with CITIC subsidiary CITIC Guoan and with Huawei to launch development of digital infrastructure for Uzbekistani governmental agencies and to transform the surveillance capabilities of local law enforcement.
The Uzbekistani delegation clearly perceived the fifth committee meeting between China and Uzbekistan as a success, and it returned home with several diverse and sizable loan agreements. The numerous loans indicate Uzbekistan's thirst for investments as well as China's willingness to serve as the lending party. Meanwhile, the increasing number and types of loans indicate Tashkent's growing trust in Beijing as a lender. Uzbekistan is even testing the waters by taking out a small loan in China's local currency, a practice that will likely be repeated if this initial experience works out well.
The August 26 meeting in Beijing has implications for Russian-Uzbekistani relations as well: Prime Minister Aripov notably referred to China as Uzbekistan's closest partner—a particularly bold statement for a country that typically prefers to play a careful balancing role given Moscow's still strong political and security influence in Central Asia. The open reference by Aripov to China's quickly growing role may, perhaps, signal that Russia is already losing the battle of choice in Uzbekistan.