Vano Merabishvili's Release From Prison: A Chance or Challenge for the Georgian Opposition?
Publication: Eurasia Daily Monitor Volume: 17 Issue: 31
By: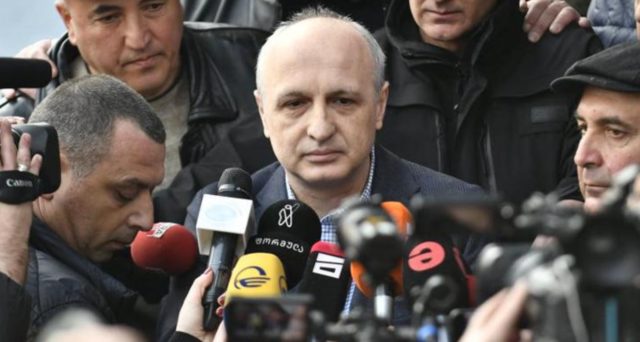 On February 20, former interior minister (2004–2012) and former prime minister (2012) Vano Merabishvili was released from prison in Tbilisi, where he spent six years and nine months in solitary confinement (Interpressnews February 20). Merabishvili—widely known as the "Georgian strongman" during his time in government under the administration of then-president Mikheil Saakashvili—had been arrested on May 21, 2013, almost immediately after billionaire Bidzina Ivanishvili's Georgian Dream (GD) party came to power in Georgia. The former Saakashvili-era minister was sentenced to six years and nine months in prison after being found guilty of organizing beatings of businessman Valery Gelashvili, who insulted Saakashvili's wife Sandra Roelofs in a newspaper interview (2005). The beatings were carried out by members of a special forces unit of the Ministry of Internal Affairs.
Merabishvili was Saakashvili's "right hand" man. He carried out successful police reforms, eliminated corruption, and reduced crime in the country; however, the opposition accused him of creating uncontrolled mobs that kidnapped people and confiscated private property. Merabishvili infamously ordered his Ministry of Internal Affairs to use force against opposition demonstrators on November 7, 2007, and May 26, 2011. After GD won the 2012 elections and assumed power, he was found guilty on all these counts, but the former minister called the court decisions "political" and never considered them lawful. He reiterated his complete innocence in an interview with reporters last month, a few minutes after being released: "I guarantee that, this year, Georgian Dream's power will end; and after its overthrow [sic], all other political prisoners will also leave this prison." Merabishvili's reference to "political prisoners" pertained to other former officials of the Saakashvili administration, including one-time defense minister (2009–2012) Bachana Akhalaya, who is serving a seven-and-a-half-year sentence. In his remarks to the press, the newly freed former interior minister immediately turned to the police, promising them a "decent salary" after a change in power, and explained the need to "get rid of the current regime" in order "to restore faith, hope and dignity to Georgia" (Interpressnews, February 20).
Yet, Merabishvili's longer-term political prospects are unclear. The two main opposition parties with direct links to the Saakashvili administration—Sakashvili's own United National Movement (UNM) and David Bakradze's European Georgia (EG), which splintered from UNM in 2017—have so far remained silent and shown no hurry to extend invitations to the former prime minister and interior minister to rejoin their ranks. President Saakashvili is clearly concerned that an individual as controversial as Merabishvili joining his team might scare away potential voters ahead of this October's parliamentary elections. The former president advised Merabishvili "not to engage in politics anymore" but instead to travel around the world. "In the years that he [Merabishvili] was in prison, the world has changed a lot; for example, several new iPhones have appeared," Saakashvili said in an interview with Main Channel TV (Kommersant, February 20).
Merabishvili did not comment on these statements. From Tbilisi he traveled to the Akhaltsikhe district, where he was born and raised. Professor Tornike Sharashenidze from the Tbilisi Institute of Public Affairs (GIPA) suggested, in a February 21 interview with this author, that the former prime minister, given his popularity in Akhaltsikhe, has a chance to become a member of parliament by winning the elections in this district. Sharashenidze recalled that to participate in the elections in a majoritarian constituency (Georgia presently has a mixed proportional and single-member majority district system for parliamentary elections), Merabishvili does not have to join any party. He can run as an independent candidate. "However, if he still decides to join the party, it will be difficult for his former friends to resist. It all depends on the conditions that he will put forward and the conditions that are extended to him," Sharashenidze averred.
If the party leaderships of both UNM and EG conclude that it would be better for them to participate in the October elections without Merabishvili, that decision could split the opposition. It is possible that this is exactly what the authorities wanted all along, having released Merabishvili from prison a few months before the election. According to Georgian political scientist Iosif Tsintsadze, "Merabishvili does not have enough resources to win the elections on his own as an independent candidate, and he will definitely need party support." Tsintsadze emphasized, "The popularity of the former minister of internal affairs among the police is not enough to win the election" (Author's Interview, February 28).
The opposition parties will have to make a difficult decision regarding Merabishvili amidst their continuing negotiations with the ruling party on electoral reforms ahead of the upcoming elections. Over the past week or so, these negotiations have been actively mediated by the US embassy in Tbilisi (Interpressnews February 28). One of the leaders of the European Georgia party, Sergi Kapanadze, told this author that the opposition unanimously demands a transition to a proportional election system or a system that is as close to proportional as possible. Additionally, according to Kapanadze, free and fair elections in the country are possible only after the release of all political prisoners, including the former mayor of Tbilisi, Gigi Ugulava. Kapanadze hopes that pressure from the West will force GD to make concession (Author's interview, February 26).
The last round of negotiations offered little hope that a workable compromise was within reach. The ruling party is ready to reduce the number of "majority deputies" to 40 seats, but it categorically rejected the proposal of the "united opposition" for a of 20 + 130 formula: 20 members of parliament elected in single-member (majoritarian) electoral districts and 130 from party lists (proportionally).
Even more importantly, despite the involvement of the West in the ongoing negotiation process, the Georgian authorities are unwilling to concede on the issue of releasing the still-imprisoned opposition leaders. This categorical obstinacy on the part of GD may lead to the radicalization of the opposition forces, providing an opening for Georgia's former "strongman" to find a new place for himself within this new political environment. Indeed, Vano Merabishvili spoke about one more scenario when he exited prison: the use of mass street protests to expel the ruling regime.