Venezuela's Multibillion Dollar Abkhazia and South Ossetia Recognition Fee
Publication: Eurasia Daily Monitor Volume: 6 Issue: 170
By: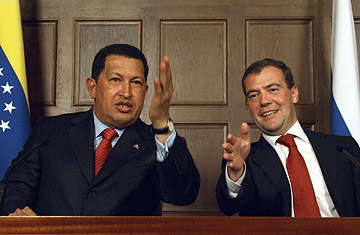 Last week Hugo Chavez, the flamboyant leftist President of Venezuela, while meeting in Moscow with President Dmitry Medvedev, announced the recognition of the independence of Abkhazia and South Ossetia -the Georgian breakaway regions, occupied by Russian troops during the short war in August 2008. Venezuela is the third nation after Russia and Nicaragua to recognize the independence of Abkhazia and South Ossetia (Interfax, September 10). The authorities in Abkhazia announced that a delegation will fly immediately to Venezuela to establish diplomatic relations and expressed confidence that the next nation to recognize their independence will be Cuba (RIA Novosti, September 11). The rulers of Cuba -the brothers Raul and Fidel Castro- publicly supported the Russian invasion of Georgia in 2008 and have blamed the U.S. for being the true cause of the war (ITAR-TASS, January 28).
While meeting Chavez in Moscow, Prime Minister Vladimir Putin praised him for recognizing Abkhazian and South Ossetian independence. According to Putin, the recognition "clearly underlines the independent nature of Venezuelan foreign policy" and "supports Russian efforts to democratize international relations." Chavez replied that Venezuela is a Russian ally and "our foreign policies coincide in a multipolar world" (RIA Novosti, September 10).
It soon became clear that Chavez in fact gained much more than simply praise. Multibillion dollar economic and arms trade deals were signed in Moscow. Medvedev announced: "We will give Venezuela the weapons they have asked for, including tanks" (ITAR TASS, September 10). After returning to Venezuela, Chavez revealed that he had secured from Russia a $2.2 billion loan to buy Russian arms. "Soon we will get from Russia small missiles that fly 300 kilometers (km) and do not miss," announced Chavez. The Russian press did not understand fully what "small missiles" Chavez was talking about. It was believed that these might be Bastion antiship cruise missiles (Vedomesti, September 14).
Chavez later clarified that Venezuela will buy 92 T-72 tanks and several newer T-90 tanks; S-300, Buk-M2 and older S-125 Pechora antiaircraft missiles; long-range (up to 90 km) multiple-launch Smerch rockets (Interfax, September 14). But none of these missiles have a 300 km range and cannot be "deployed underground" as Chavez had announced. Ether Chavez did not disclose the entire inventory of what he is buying in Russia, or he was confused by the S-300 that in fact has (despite its name) a maximum range of 150 km (S-300PMU1). Some reports from Moscow suggested that Chavez will buy S-300V antiaircraft missiles that were developed for the Russian army during the Cold War and are no longer produced (Vedomosti, September 15). But the S-300V has a range of up to 100 km. Chavez apparently does not know for sure what Russian arms he is buying, or he may not actually care much.
Since 2005, Chavez has reportedly purchased some $4.4 billion worth of Russian weapons that include some 24 Su-30MK2V fighter-bomber jets, over 50 transport and attack helicopters, 100,000 Kalashnikov rifles, and some Buk-M1 antiaircraft missiles. During a visit to Orenburg last fall, Chavez accepted a $1 billion loan to buy Russian arms, but while he fully supported Moscow in the Georgia conflict, he stopped short of recognizing their independence (Vedomosti, September 15). Now a new $2.2 loan has been provided. However, the inventory of weapons Chavez has purchased is strange and the known numbers do not seem to match the overall sum.
Chavez is buying Soviet-made weapons that were designed for a global war with the West -a high intensity conflict mostly in Europe. The Smerch launchers, the Su-30 bombers, the S-300's do not seem to make much military sense in Latin America's terrain and political environment. In addition, the prices seem to be over inflated, as is the claim by Chavez that he is buying arms to defend against a U.S. invasion to take over Venezuela's oil wealth.
Foreign arms buyers, especially from rogue states, are happy to trade with Russia. Russian arms traders are ready to pay substantial bribes to customers. Ten percent of the total sum of a contract is considered a "normal" obligatory payback. In some cases, the payback may exceed 20 percent of the contract money (EDM, July 31, 2006). The payback Chavez might have received under the table for buying Russian arms could be over $1 billion. At first, Chavez may have used arms contracts with Russia to cash in on Venezuela's oil wealth. Today he seems to have succeeded in securing a cut of Russian taxpayers' money. "Commissions" will be paid to Russian and Venezuelan arms traders, to the Russian defense industry through budget money, while the loan to Chavez may never be repaid.
The vice president of the Russo-Venezuelan Business Council Vladimir Semago -a former Duma communist deputy and shrewd businessman who has been trading with Venezuela and before that in Saddam Hussein's Iraq, believes that the "loan is a reward for the recognition of Abkhazia and South Ossetia." According to Semago, "the political situation in Venezuela is tense and if Chavez falls, no one will ever repay Russia" (Kommersant, September 14).
It was announced that a consortium of major Russian oil companies have agreed to pay Chavez $1 billion as a bonus for the right to develop oilfields under the control of the Petroleos de Venezuela (PDVSA) national oil company. The Orinoco river oil is heavy and has to be upgraded for use. Some $30 billion must be invested over 25 years. Russian oil companies do not have any experience in developing heavy oil deposits. Semago believes that this is a high-risk investment (Kommersant, September 15).
Now, what happens if Cuba indeed decides to recognize Abkhazia and Ossetia? Will the Russian budget manage an additional payoff?