Viktor Orbán's Anti-Sanctions Campaign Sparks Fears of EU Disunity on Russia
Publication: Eurasia Daily Monitor Volume: 19 Issue: 163
By: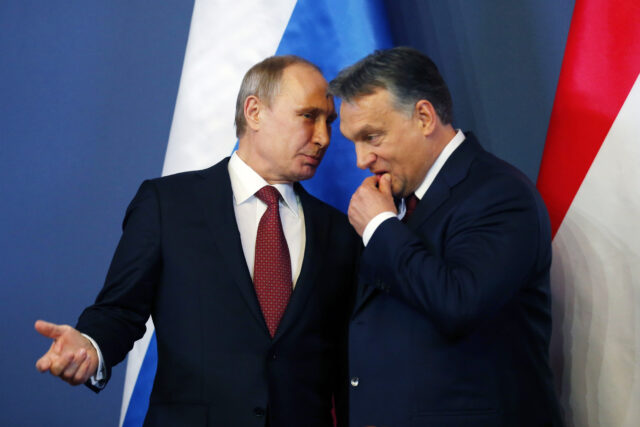 On October 14, the Hungarian government and Prime Minister Viktor Orbán launched a nationwide survey regarding the European Union's sanctions policy against Russia. The survey asked Hungarian citizens to share their opinions on the energy sanctions introduced by the European bloc in response to Russia's re-invasion of Ukraine on February 24. Orbán's "national consultation" included seven questions on current and potential EU sanctions measures against Russian energy, including on the delivery of Russian oil, gas, raw materials and nuclear fuel to Europe; the Rosatom-built expansion of Hungary's sole nuclear power plant in the city of Paks; as well as the overall impact of the restrictive measures on food prices, tourism and immigration (Portfolio.hu, October 14).
Accompanied by a nationwide billboard campaign, in which the Hungarian government argued that "Brussels sanctions are ruining us [Hungarians]" and compared the Western sanctions to missiles (similar to those being actively launched in Ukraine), the national consultation represents the latest culmination of Orbán's years-long opposition to the EU's sanctions on Russia (Telex.hu, October 15). While Hungary has so far supported all the jointly proposed restrictive measures (in exchange for multiple exemptions from sanctions on Russian oil), the Hungarian premier has emerged as the top European critic of the anti-Kremlin sanctions, stressing that the EU should reverse its sanctions against Moscow over Ukraine by the end of 2022 (Telex.hu, October 19). In response, the European Commission—the chief architect behind the EU sanctions—characterized the Hungarian government's move as "inappropriate," adding that Hungary has also played a part in the joint EU decisions (Euronews, October 21). Indeed, both the approval of new sanctions and prolonging those already introduced require unanimity among the EU member states.
Even before Russia's all-out war against Ukraine, Orbán was critical of EU sanctions against the Kremlin, arguing that these measures have caused more harm to the European economy than to their intended target (Portfolio.hu, February 5, 2017). However, as Orbán's opposition to sanctions has mounted in parallel with the continuing Russian aggression in Ukraine, fears in the West have grown about whether the EU will be able to maintain its sanctions regime against Russia—and subsequently—its strategic unity to support Ukraine at a critical time, as Moscow's war will undoubtedly continue.
In view of the close political and economic ties between Budapest and Moscow, growing concerns over whether Hungary will formally veto prospective EU sanctions are not unsubstantiated. Orbán is also likely using sanctions as a bargaining tool in his bid to secure billions of euros in EU funding, which has been stalled by Brussels over rule-of-law concerns (Szabad Európa, September 10). In many ways, the Hungarian leader's anti-sanctions campaign is intended for his domestic audience, undergirded by his own political calculus as Budapest tries to navigate through a politically and economically tense period.
Economically, Hungary is among the countries that have been most affected by Russia's war against Ukraine. Combined with the need to balance the budget after implementing a massive welfare package ahead of the country's recent parliamentary elections in April 2022, the war forced the Hungarian government in July to break its main election promise and partially reverse a years-long flagship program to cut utility costs (Atlatszo.hu, July 22). As a result, millions of Hungarians are now facing manifold increases in gas and electricity prices.
Aside from a looming economic downturn, the country is also facing a skyrocketing inflation rate, one of the highest in the EU, which is driving growing popular discontent with Orbán and his ruling Fidesz party (24.hu, September 22). By putting the blame on sanctions for the country's economic hardships, the Hungarian premier is likely using the national consultation—and the subsequent propaganda campaign against the EU—as an attempt to avoid a massive loss in popularity among his core voters. Additionally, as in the case of previous national consultations, the state-funded survey provides Fidesz with the opportunity to seize the political narrative and measure the overall sentiment of its core voters (Index.hu, September 28).
Theoretically, Orbán could call out the aggressor and blame Russia's actions for the economic fallout; however, this would likely receive a mixed reception from his supporters. Over the years, the governing Fidesz party, which was once a staunchly pro-Western, center-right political faction, has been gradually transformed into a Euroskeptic party with growing ideological proximity to Moscow. Largely due to the government's anti-EU rhetoric and soft stance on the Kremlin's actions, the right-wing Fidesz voter base has also embraced Russia, with a large share of supporters holding a sympathetic view toward Moscow. The majority of Fidesz voters also believe that Ukraine and the United States—not Russia—are responsible for the neighboring war (Népszava, August 22). For Orbán, condemning Russia for its actions in Ukraine would mean that his party might lose a significant share of its voters—most likely to the openly pro-Kremlin and far-right Our Homeland (Mi Hazánk Mozgalom) party, thus shedding light on why the government chose to run a propaganda campaign against the "Brussels sanctions" and not Russia's war.
Recent polls show that support for Fidesz, although on the decline, has not taken a strong hit yet, leading some to suggest that the government's anti-sanctions campaign has worked—at least for now (Magyar Hang, September 28). Moreover, Hungarian independent pollster Medián recently found that 52 percent of Hungarians oppose EU sanctions against Russia, up from 41 percent in May 2022 (444.hu, October 25).
However, as the economic situation in Hungary deteriorates, Fidesz could witness a significant drop in popular support, which may prompt Orbán to formally veto the extension or renewal of the EU's sanctions regime against Russian. Such a move, which Orbán's critics say could be the potential political price Hungary is paying for its economic and energy ties to Moscow, would deal a strategic blow to Western efforts to support the war effort and Kyiv's quest to rid itself of the Russian occupiers.