Violence Reported in Dagestan, Kabardino-Balkaria, Chechnya and Ingushetia
Publication: Eurasia Daily Monitor Volume: 8 Issue: 15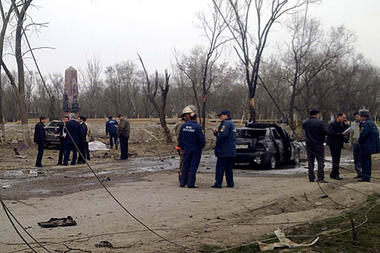 Insurgency-related violence continued in the North Caucasus this past week, particularly in Dagestan. A homemade bomb went off near a department store in the city of Khasavyurt around one in the morning. No one was injured but the store was significantly damaged. That same day in the city, police arrested a 27-year-old local resident on suspicion of aiding members of "armed formations" – i.e., the rebels. On the evening of January 18, a bomb went off near a furniture factory in the village of Semender in the suburbs of Dagestan's capital, Makhachkala. Authorities said the explosion had the force of around 200 grams of TNT. No one was hurt in that incident (www.kavkaz-uzel.ru, January 20).
On January 15, a local resident of the village of Sultanyangiyurt in Dagestan's Kizilyurt district was shot by two other local residents who authorities said were active members of the republic's armed rebel underground. The attackers shot the victim with automatic weapons and then escaped in a car. The victim died on the way to the hospital (www.kavkaz-uzel.ru, January 17).
On January 14, a car bomb detonated near the White Nights café on the outskirts of Khasavyurt. The blast initially killed three people, but one later died in the hospital, bringing the total number of fatalities to four. Hospital officials in Khasavyurt said nine people were hospitalized, five of them in grave condition, and that a tenth person injured in the blast was transferred to a hospital in Makhachkala (www.kavkaz-uzel.ru, January 16). Earlier on January 14, three alleged militants were killed in a shootout with police in Makhachkala. The National Anti-Terrorist Committee identified two of the slain suspected rebels as Ruslan Atavov (who, it said, had been on the federal wanted list since August 2010) and his wife, Ilmukhanum Genzheyeva, a native of Buinaksk (Associated Press, www.kavkaz-uzel.ru, January 14).
Also on January 14, a traffic police officer shot in an armed attack in Makhachkala the previous day died of his wounds in the hospital. Another policeman was killed and a third was wounded in that January 13 attack (www.kavkaz-uzel.ru, January 14).
In Kabardino-Balkaria, unidentified gunmen shot up a car carrying the republic's former interior minister, Khachim Shogenov, as he was leaving his dacha in the republic's Chegem district on January 17. Two of Shogenov's guards were killed in the attack, but he was unharmed (www.kavkaz-uzel.ru, January 17).
On January 15 in the village of Islamei in Kabardino-Balkaria's Baksan district, an unidentified gunman murdered a senior local police inspector, Asker Malukhov (www.kavkaz-uzel.ru, January 17). It was the second shooting incident in the village in two days: on January 13, gunmen killed a businessman, Safudin Khashukaev on the outskirts of Islamei (www.kavkaz-uzel.ru, January 14).
In Chechnya, one serviceman was killed and another was wounded on January 16 in the village of Kharsenoi when the improvised explosive device they were trying to defuse went off. Authorities said the blast had the force of 400 grams of TNT. That same day in the village of Novyi Tsentoroi, a local resident was killed and another wounded by an explosion that occurred as they were transporting parts of artillery shells. On January 15, one person was killed and two wounded when a bomb went off along a railway line in the village of Petropavlovskaya in the Chechnya's Groznensky district (www.kavkaz-uzel.ru, January 14).
Chechen Interior Minister, Ruslan Alkhanov, told ministry officials on January 18 that 93 militants, including three rebel leaders and "an Arab mercenary who trained terrorists," were killed in the republic in 2010. He said that 202 rebels were detained last year, while another 40 turned themselves in (Interfax, January 18).
Meanwhile, Chechen President, Ramzan Kadyrov, said on January 16 that police in the republic continue to search for Chechen rebel leader Doku Umarov, the "emir" of the Caucasus Emirate, despite rumors that Umarov has died. Kadyrov said it was highly probable that the rumors of Umarov's death were true, but said the rumors would have no influence on the "intensity" of the special operations to track him down (www.newsru.com, January 16). On January 17, the Kavkazsky Uzel website quoted a Chechen law-enforcement source as saying: "Today there are serious grounds to say that Doku Umarov is either dead or in very grave condition. Since the end of October, he has not once made contact with his partners in crime, and there is practically no information about what happened to him." According to the website, security sources noted that previous rebel leaders never disappeared from the radar screen for such a long period (www.newsru.com, January 17).
However, on January 15, RIA Novosti quoted an anonymous high-ranking source in Russia's special services as saying there was no evidence that Umarov had died. The source said there was information that Umarov and a group of rebel fighters had been targeted by air strikes in Chechnya's mountains and that several groups of spetsnaz were searching for their remains, but that there was no confirmation they had been hit (www.newsru.com, January 15).
In Ingushetia, an unidentified attacker hurled a grenade into the yard of the home of the republic's minister for labor and social protection, Bagaudin Marshani. No one was at home at the time of the incident, so no one was hurt in the blast. The home was only slightly damaged (www.newsru.com, January 16).