Vostok 2014 and Russia's Hypothetical Enemies (Part One)
Publication: Eurasia Daily Monitor Volume: 11 Issue: 167
By: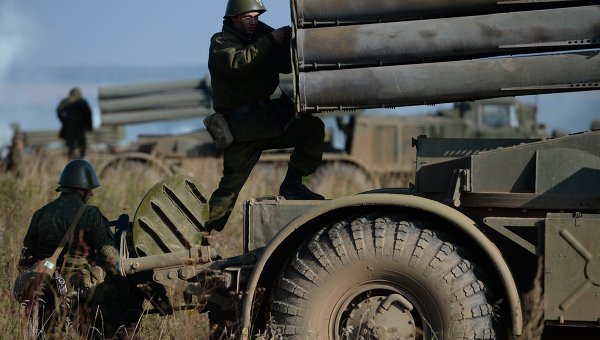 On September 19, Russia's Armed Forces commenced the combat training year's major highlight to which many of their activities were dedicated: staging the operational-strategic exercise Vostok 2014 in the Russian Far East. Clearly, the Kremlin and military top brass have been buoyed by the strategic successes of annexing Crimea and destabilizing eastern and southeastern Ukraine. And the Russian military leadership is also likely pleased with the dividends reaped from the effective use of "snap inspection" exercises as the Ukraine crisis unfolded. Meanwhile, the Western sanctions regime against Russia gained little support in East Asia, and Moscow has been deepening its energy, economic, defense and security ties with Beijing as a counterbalance. During the recent Shanghai Cooperation Organization (SCO) Peace Mission exercise held in China, senior Russian defense officials indicated that security ties will further deepen with the large neighbor. Nevertheless, Vostok 2014, much like its earlier incarnation in 2010, contains strong evidence that the Russian General Staff continues to consider China a potential threat to Russia (see EDM, September 16, 2014; July 12, 2010; July 13, 2010).
An additional indication of the level of importance attached to Vostok 2014 was revealed in President Vladimir Putin's decision to order a "snap inspection" of combat readiness in the Russian Far East, ahead of the actual exercise. From September 11 to 18, the Armed Forces were drilled and tested in the Eastern Military District (MD). This was undoubtedly intended to sufficiently prepare such forces for the key strategic exercise of the year. Many of the features of the snap inspection also fed into the overall scheme of Vostok 2014, while raising training and combat readiness levels ahead of the exercise. These included rehearsing logistics and the movement of troops, coordinating the various units involved, enhancing command and control, as well as sending political signals to the North Atlantic Treaty Organization (NATO) and Ukraine on Russia's readiness to act (see EDM, September 16).
Vostok 2014, being held on September 19–25, closely followed the snap inspection in East MD. The ongoing drills involve 100,000 personnel, 1,500 tanks, 120 aircraft, 5,000 pieces of military hardware and 70 ships, and are being carried out at 20 ground, sea and air ranges from Anadyr to Vladivostok. Its main elements unfolded on the island of Sakhalin, the Kamchatka Peninsula, Chukotka, and the southern part of the Primorsky Territory. Russian defense ministry sources indicated that Vostok 2014 would rehearse coastline defense, joint operations of the Ground Forces, and Air Force and naval groupings, as well as refine inter-agency cooperation and smooth out problems in logistics and strategic mobility. The live-fire element placed significant emphasis on the use of operational-tactical missile systems ranging from cruise missiles to Iskander launches, which may also fit the defense ministry's plans to form 12 new surface-to-air (SAM) brigades by 2020 (Rossiyskaya Gazeta, September 21).
Vostok 2014 focused on several different features, but prioritized command and control, inter-agency coordination, the improvement of strategic mobility, tests of an automated system for logistics, as well as rehearsals for the use of conventional and nuclear missile systems. This use of force-mix, conventional and nuclear capabilities, combined-arms operations and other issues suggests that the main hypothetical enemy in the Russian Far East is China—and only to a lesser extent Japan or de facto the United States (Rossiyskaya Gazeta, September 21; ITAR-TASS, September 20; Krasnaya Zvezda, September 19).
Such conclusions—despite the seeming "all is well" message from the SCO's Peace Mission 2014, and Moscow's continued reliance on China to avoid strategic isolation over the Ukraine crisis—are primarily revealed in the assets and the scenario for Vostok 2014. These assets include heavy strategic bombers, Iskander tactical missiles launches, cruise missiles launched from the sea and air, as well as submarines and mine sweepers (Krasnaya Zvezda, September 19).
Although the combatant assets received much attention in Russian media reports, the logistical and combat service support features were much more vital in the planning and testing dimensions of the exercise (see Part Two of this article). However, the combat assets were impressive by any means of measurement or comparison. The air support of ground forces featured Mi-8, Mi-24 and Ka-52 helicopters; Su-24 and Su-25 attack jets, as well as MiG-31, Su-27 and the latest mixed-use developments of the Su-34, Su-30CM and Su-35 fighters. Strategic bombers included the Tu-95MS and the long-range Tu-22M3; and these were augmented by Il-78 refueling aircraft, Il-76 and An-12 military transports, in addition to airborne early-warning A-50s. Tu-95MS bombers were used to simulate launches of cruise missiles from the northern part of the Sea of Okhotsk. The Pacific Fleet mainly concentrated on anti-submarine warfare, consistent with the concern of ensuring the safe exit of Russia's nuclear submarines to sea during a regional or international security crisis (Rossiyskaya Gazeta, September 21).
Much like the earlier version of Vostok 2010, the assets deployed during this exercise were more consistent with facing and preparing for the defense of the Russian Far East from a state actor: the only state actor that fits the bill in this strategic direction is China. It is a point lost on most Western analysts and those who examine Russian strictly through Euro-Atlantic prism. Russian media was careful to avoid references to China or Japan or, by inference, the fact that Russia's military exercise faces the US in the Pacific Ocean. But the assets tell a different story (Rossiyskaya Gazeta, September 21; ITAR-TASS, September 20; Krasnaya Zvezda, September 19).
Vostok 2014 sends a clear warning to Ukraine and to NATO concerning Russia's willingness to act in defense of its strategic interests. Yet, as much as Putin may take comfort in being able to avoid complete isolation thanks to China's close ties to Russia—most notably through energy deals—this does not suggest long-term confidence in Moscow concerning the nature of its potential adversary in the Far East. Undoubtedly, given the combined-arms, conventional and nuclear elements evident in Vostok 2014, Russia fears the long-term risks of war on its eastern flank. Consequently, Moscow wants to send a strong signal that it is willing to take far-reaching steps to defend Russian territory—even if that means having to launch nuclear weapons (see EDM, September 16, 2014; July 12, 2010; July 13, 2010).