War in Syria Has Reverberations in the North Caucasus
Publication: Eurasia Daily Monitor Volume: 10 Issue: 170
By: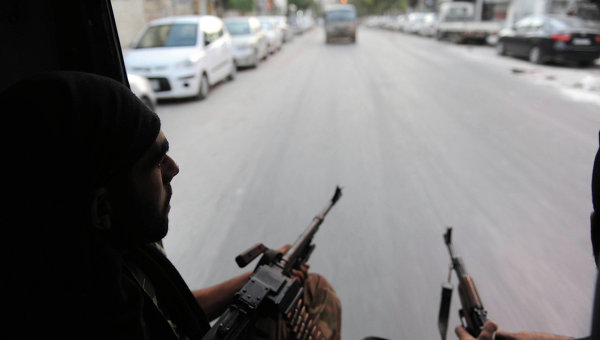 On September 20, the first deputy director of the Federal Security Service (FSB), Sergei Smirnov estimated that 300-400 Russian citizens are participating in the conflict in Syria. "They will come back and that, naturally, is posing a serious danger," the Russian security official said in the Russian city of Yaroslavl during a press conference of the anti-terrorist body of the Shanghai Cooperation Organization. Chechen leader Ramzan Kadyrov had earlier alleged that foreign security services were trying to recruit North Caucasians to participate in the war in Syria and for a long time had even denied there were any Chechens fighting there (https://www.interfax.ru/world/txt.asp?id=330118).
Kadyrov is understandably anxious about the involvement of Chechens in the Syrian war, given that persistent reports of this type could anger his superiors in Moscow. Indeed, it appears that the majority of Russian participants in the war in Syria are ethnic Chechens, even though other ethnic groups from the North Caucasus and the Russian Federation in general are also involved. A Chechen interior ministry official told the Kavkazsky Uzel (Caucasian Knot) website that 200–500 residents of Chechnya may be fighting in Syria. According to the official, young people from Chechnya first travel to Azerbaijan, from where they travel to Turkey and then on to Syria. "Young people are lured there by allegations that there is 'jihad' going on and that there is a fatwa by famous Islamic scholars about that," the official was quoted as saying. "So they think that participating in the Syrian war is the direct obligation of every faithful Muslim" (https://www.kavkaz-uzel.ru/articles/230371/).
As the civil war in Syria has dragged on, more and more Muslims from the outside world, including post-Soviet countries, have become involved. A large number of Dagestanis are reportedly taking part in the hostilities in Syria, along with ethnic Tatars and Bashkirs from Russia's Middle Volga region. The figures vary greatly, with some sources saying that as many as 600 Dagestanis and 200 Tatars and Bashkirs, are fighting in Syria. The overall number of Russian citizens fighting on the side of the Syrian rebels is estimated at 1,400 people (https://ttolk.ru/?p=18109). Even Muslims from those North Caucasian republics with a majority non-Muslim population, such as North Ossetia, have been reported to be fighting in Syria. Many are young people who apparently travel to the Middle East either under the pretext of pursuing Islamic studies or as genuine students. The official clergy frantically tries to dissuade young Muslims from joining the war in Syria, but with limited success (https://www.segodnia.ru/content/118129).
First Deputy Federal Security Service (FSB) Director Sergei Smirnov told the Shanghai Cooperation Organization (SCO) security group that all member-countries of the organization are affected by the problem of Muslim mercenaries in Syria. Thus, Kazakhstan, China, Kyrgyzstan, Tajikistan and Uzbekistan also seem to be facing the problem of their citizens going off to Syria to fight Bashar al-Assad's regime. Formally, Russian law prohibits mercenary activities. However, the legislation is underdeveloped, so Russia can do little legally to prevent its citizens from fighting in Syria, according to Smirnov (https://ria.ru/arab_riot/20130920/964662999.html).
On September 19, RIA Novosti reported that North Caucasian volunteers had set up a new group, called Al-Muhajireen. The state news agency referred to the Internet website Al-Quds Al-Arabi (https://www.alquds.co.uk). The newly established group allegedly has ties to al-Qaeda and is based in the region of Aleppo in northern Syria. RIA Novosti further reported that the group has over 1,000 members, most of them with past military experience in the North Caucasus, and is headed by a Chechen commander, Abu Abdurakhman (https://ria.ru/arab_sy/20130919/964501497.html).
"People here know that the Russian government supports Bashar Assad's regime, so participation in the hostilities against Syrian authorities is for them a continuation of the war with Russia," an anonymous source in Chechnya told Kavkazsky Uzel, citing the hardships and horrors Chechnya's population experienced during the two Russian-Chechen wars of the 1990s and the last decade. A source cited the example of a Chechen family that lost the head of its household in the first Russian-Chechen war, telling Kavkazsky Uzel that the family's elder son clandestinely traveled to Syria. "Now they [the family of the young man] are scared that the authorities will find out, and [the family intends] to leave the republic, fearing reprisals," the source said (https://www.kavkaz-uzel.ru/articles/230371/).
Experts are divided on the possible consequences that the return of North Caucasians fighting in Syria might have on the region. A Russian expert on Islam, Alexei Malashenko, said he believes the effect on the region of militants returning from Syria will be relatively insignificant. He added, however, that one possible consequence could be a shift of loyalties inside the North Caucasian insurgency, given that militants returning from Syria will be unlikely to subordinate themselves to Caucasus Emirate leader Doku Umarov (https://www.ekhokavkaza.com/content/article/25098190.html).
Another well-known expert on the North Caucasus, Orkhan Jemal, believes many of the North Caucasians fighting in Syria will choose not to return to their homeland out of fear of facing harsh treatment at the hands of the Russian government. Those who return will have to join Umarov's movement in order to survive, Jemal said. Interestingly, Jemal also claimed that a militant from Dagestan who was videotaped slitting the throats of two Christian priests in Syria previously served in Dagestan's anti-extremism special police unit before switching sides and joining the Salafis (https://www.ekhokavkaza.com/content/article/25098190.html).
The influx of fighters returning from Syria to the North Caucasus may, by itself, have only limited consequences for the evolution of the situation in the region. However, if al-Assad's regime falls, it may be a source inspiration for the North Caucasian militants and bolster their ranks. After all, North Caucasian regimes are quite similar to Bashar al-Assad's regime, except they are not sovereign nations. Thus, they have the same vulnerabilities as authoritarian countries.