Washington Looks Forward to Armenian Parliamentary Election
Publication: Eurasia Daily Monitor Volume: 9 Issue: 11
By: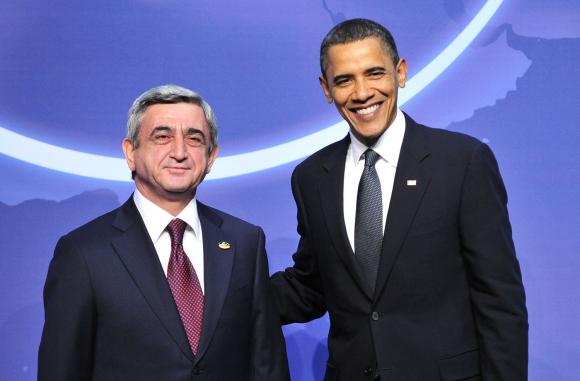 Senior US officials have sounded remarkably optimistic about the conduct of Armenia's forthcoming parliamentary elections, which President Serzh Sargsyan will try to use as a launch pad for winning a second term in office in 2013. Highlighting Washington's overall satisfaction with the current authorities in Yerevan, they have also played up government concessions to the Armenian opposition.

The election, slated for May 2012, will be the biggest test of Sargsyan's democratic credentials since the turbulent start to his presidency in April 2008. His administration has made an ambitious pledge to break with the country's troubled electoral past, and ensure that the 2012 election is the most democratic in its post-Soviet history. Opposition politicians and civil society representatives dismiss these assurances, saying that Sargsyan's Republican Party of Armenia (HHK) will seek to retain control over parliament at any cost. That control is essential for the success of the president's re-election plans.

During a conference in Washington on the South Caucasus on November 28-29, 2011, attended by the author, Eric Rubin, a US Deputy Assistant Secretary of State, suggested that the Armenian government is genuinely interested in the freedom and fairness of the polls. "Going into this election, we are encouraged by what we see," Rubin said, adding, "we think the government is not just saying all the right things, but we believe it is committed to an open, free and fair process and to a real contest in the elections." The United States will be "doing everything we can to offer support to both the government and to civil society" in the election preparation, he said.

The new US Ambassador to Armenia, John Heffern, singled out the issue after handing his credentials to Sargsyan on October 18, 2011. "We are working together so that Armenia's important national elections in 2012 and 2013 are the best elections ever and fully consistent with international standards," he said. In that context, Heffern hailed "some important progress here in Armenia in the last six months" (www.armenialiberty.org).

The diplomat referred to a series of concessions made by Sargsyan to the main opposition Armenian National Congress (HAK) last spring. Those included the release of the last opposition members remaining in jail, which paved the way for several rounds of negotiations between the HAK and Armenian's ruling three-party coalition. The dialogue collapsed in late August. "I think things are much better [in Armenia] than they were a year ago," Rubin insisted during the recent Washington conference organized by the Carnegie Endowment for International Peace.

Sargsyan's deep involvement in past Armenian elections is hardly reassuring. He became president in a disputed February 2008 election that sparked deadly clashes between the security forces and supporters of HAK leader Levon Ter-Petrosian. The US criticized that election as "significantly flawed," cutting $60 million in additional economic assistance promised to Armenia. But the US reaction to the unrest was otherwise muted.

Sargsyan's standing in Washington improved considerably in the following months as he embarked on an unprecedented rapprochement with Turkey that was strongly welcomed and backed by the West. The process culminated in the signing in October 2009 of the Turkish-Armenian protocols to normalize bilateral relations. US President Barack Obama praised Sargsyan's "courageous efforts" when the two met in Washington in April 2010 (Statement by the White House, April 12, 2010). Secretary of State Hillary Clinton likewise described Sargsyan's policy on Turkey as "very statesmanlike," during her July 2010 visit to Yerevan. Like the Armenian leaders, Clinton said Turkey should ratify the protocols without preconditions (Armenian Public TV, July 5, 2010).

Sargsyan appears to have been also more flexible than his predecessor, Robert Kocharian, in the resolution of the Karabakh conflict, another key US goal in the region. He was clearly ready to accept the most recent version of the basic principles of a Karabakh settlement put forward by the US, Russia and France and discussed at the June 2011 Armenian-Azerbaijani summit in Kazan. The summit reportedly failed because of last-minute changes in the framework peace accord demanded by Azerbaijan's President Ilham Aliyev.

While sticking to Armenia's military and political alliance with Russia, during his presidency, Sargsyan has also deepened US-Armenian defense cooperation, within both the bilateral and NATO frameworks. The deployment of around 130 Armenian troops in Afghanistan was one manifestation of that cooperation. In a letter to President Obama on August 4, 2011, Sargsyan boasted that US-Armenian relations are now "stronger than ever before." He pledged to expand them further during later talks in Yerevan in October 2011, with US Deputy Secretary of State William Burns (Statements by the Armenian presidential press service).

The fact is that Washington can hardly expect more US-friendly policies from any of the other major Armenian political actors, including Ter-Petrosian. The charismatic opposition leader, who had served as Armenia's first president, was long respected in the West for his conciliatory views on the Karabakh conflict. Yet, Western governments showed little enthusiasm for Ter-Petrosian's dramatic political comeback in 2007-2008. He has since regularly accused them of turning a blind eye to human rights abuses in return for greater Armenian concessions to Turkey and Azerbaijan, allegedly promised by Sargsyan.

Ter-Petrosian publicly branded US policy on Armenia "immoral" in October 2008. In a leaked November 2008 cable to Washington, publicized by WikiLeaks last September, Marie Yovanovitch, the then US ambassador in Yerevan, denounced Ter-Petrosian's "dishonest rhetoric," saying that he is willing to "sell out his own policy views for the sake of personal political expedience."

The US has even less of a reason to rely on the two other major opposition groups, the Armenian Revolutionary Federation (also known as the Dashnak Party) and the Heritage Party. Both parties favor a hard line on Karabakh and Turkish-Armenian relations. All this could have important implications for the US assessment of the Armenian parliamentary elections. The positive tone of election-related statements made by US diplomats suggests that the Obama administration is not inclined to judge them too rigorously, in a way that would undermine the Armenian government's legitimacy. Sargsyan may not be a committed democrat, but he has sought to accommodate US interests in the region better than any other Armenian leader.