"Water Summit" in Central Asia Ends in Stalemate
Publication: Eurasia Daily Monitor Volume: 6 Issue: 83
By: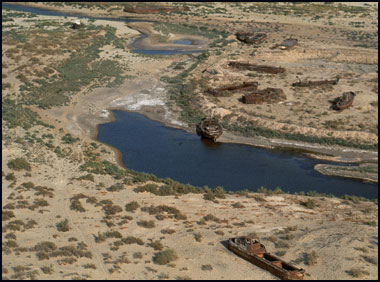 On April 28, the five Central Asian leaders met in Almaty to discuss water issues related to the Aral Sea. The discussion on the interstate regulation of the Syr Darya and Amu Darya rivers (both flowing into the Aral Sea) between upstream and downstream countries dominated the summit's agenda. It exposed some of the deepest divisions among the region's leaders. Uzbekistan's President Islam Karimov bullied upstream Kyrgyzstan and Tajikistan for their plans to implement more assertive water management policies. Kazakhstan's President Nursultan Nazarbayev, in turn, demonstrated his upper hand by seeking to moderate the discussion, while Turkmenistan's Gurbanguly Berdimuhamedov called on others to seek a regional balance without clarifying how this might be achieved.
In short, the regional gathering once again proved to be a failure with the oil and gas-rich downstream countries -Kazakhstan, Turkmenistan and Uzbekistan- disregarding the interests of the upstream countries -Kyrgyzstan and Tajikistan- that rely heavily on their water resources. The summit took place amid low water levels in upstream countries and uncertainties within the region as it faces the global economic crisis.
The summit highlighted the current stalemate within the region between upstream states' displeasure and downstream states' plans to construct new large-scale dams (EDM, December 2, 2008). Downstream countries, however, are reluctant to improve their irrigation infrastructure, thus failing to ease the burden on their upstream neighbors. As a result, each year the downstream countries lack sufficient water for irrigation in the summer months, while upstream countries suffer from severe shortages of electricity in winter.
Uzbekistan plays an important role in this impasse. With half the region's 50 million population, its needs for irrigation are increasing every year, while its infrastructure continues to deteriorate. According to international experts' estimates, approximately 50 to 70 percent of water is lost on its territory due to its poor irrigation infrastructure. But Uzbekistan's supplies of natural gas to Kyrgyzstan and Tajikistan allow Tashkent to dictate its own terms and promote its interests within interstate water management. Uzbekistan annually increases prices for natural gas to Kyrgyzstan and Tajikistan, with the price reaching $240 per thousand cubic meters in 2009.
Kyrgyz leader Kurmanbek Bakiyev raised the possibility of selling services of water collection and storage to downstream countries. This would allow upstream countries to manage water resources more efficiently. As he rightly argued, this suggestion is backed by international regulations on trans-border water resource management. Yet, the Uzbek leader in particular, opposed this idea. Karimov further condemned the construction of new dams by upstream countries, accusing Kyrgyzstan and Tajikistan of considering construction of hydropower plants that were designed during the Soviet period. Karimov argued that without the international community's investigation, both countries should abstain from constructing these dams (www.akipress.kg, April 28).
Both upstream and downstream countries referred to international organizations' recommendations regarding water management. In his speech Bakiyev argued that he is following the recommendations of the World Bank in setting forward conditions to downstream countries (www.ca-news.org, April 29).
The Kyrgyz leader himself is partly to blame for failing to curb corruption in the hydropower sector. Since last spring Kyrgyzstan has been suffering from water shortages and the government had to ration electricity supplies throughout the winter. The crisis was caused in part by natural phenomena, as well as by the poor management of the sector. During 2005-2008, the Kyrgyz hydropower sector reported over 40 percent losses, some of which might be accounted for through illicit exports of electricity. In late 2008 and the beginning of this year, these losses comprised roughly 30 percent, indicating that the illicit trade of electricity has declined during the crisis.
The summit ended with the signing of an agreement without any specific detail on transnational water management. According to an expert from a think tank in Washington, constructing large dams will only add stress to the regional collaboration efforts. Instead, short term solutions should be sought, such as working on improving living conditions at village level. Any national regime change in Central Asia, however, has the potential to significantly transform the regional dynamics in interstate water management.
In the meantime, Central Asian leaders' approach towards interstate water management is only short-term and lacks concern for future economic development. Tensions between states, therefore, will continue largely as a consequence of the antagonistic personal relations between the region's leaders. As long as these relations persist, Central Asia will face stalemate in cooperation over trans-boundary water management.