What to Expect From the Presidential Elections in Kyrgyzstan
Publication: Eurasia Daily Monitor Volume: 8 Issue: 150
By: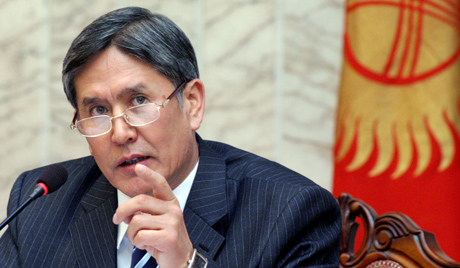 Approximately three months before the presidential elections in Kyrgyzstan, over 30 candidates have shown interest in running for the highest post in the country. The list includes the leaders of political parties, journalists, businessmen, and unemployed citizens not known to the wider public (www.akipress.kg, August 2).
However, the main competition is likely to unfold between Prime Minister and leader of the Social Democratic Party, Almazbek Atambayev, and the leader of Ata-Jurt Party Kamchybek Tashiyev. Both are members of the ruling coalition in parliament and have considerable political influence in the country. While Atambayev is considered to be more popular in northern Kyrgyzstan, Tashiyev's supporters are concentrated almost entirely in the southern areas of the country. At this point a second round seems almost inevitable in the presidential election. It is unlikely that either Atambayev or Tashiyev will gain a majority of the votes. Both potential frontrunners will be challenged by other candidates who will be unable to win the election, but may succeed in diminishing their share of the vote (www.akipress.kg, August 2).
For anyone to win the election it will require the support of both the northern and southern electorates. In Atambayev and Tashiyev's cases this means pairing up with other political leaders or political parties. Atambayev might draw significant support from Deputy Prime Minister Omurbek Babanov's constituency in the south if the latter publicly supports him. During the parliamentary elections in October 2010, Babanov's Respublika party performed well in southern Kyrgyzstan.
Unlike Atambayev, who has a wide variety of options to foster his popularity in southern Kyrgyzstan, Tashiyev's repertoire is limited. In northern Kyrgyzstan voters are likely to support Atambayev primarily to counteract Tashiyev –a much despised political leader in Bishkek. Many consider him to be a strong nationalist unable to lead a balanced national policy and unite north and south. Atambayev has already resorted to symbolic acts to boost his chances of winning in the election. In attempting to attract some of Tashiyev's and other openly nationalist politicians' supporters Atambayev resorted to the politics of symbolism. He announced a plan to erect yet another statue of Manas, a Kyrgyz epic hero, in central Bishkek (www.24.kg, July 31). The move was welcomed by some ethnic Kyrgyz in northern Kyrgyzstan, who fear that the country is becoming unruly because ethnic minority groups are gaining too much power.
Akylbek Japarov in the Ar-Namys Party is another potentially strong candidate in the election. Japarov is known for his experience in formulating economic policy and attracts younger voters. Japarov's fellow party member Felix Kulov, a former KGB officer with considerable support across the country is unlikely to run. Kulov will be unable to pass a Kyrgyz language exam, which is a prerequisite for any presidential candidate to be nominated.
Furthermore, the leader of Butun Kyrgyzstan Party, Adakhan Modumarov is another popular candidate, while Omurbek Tekebayev, the leader of Ata-Meken Party is also likely to stand in the election. All these politicians will take their share of votes in the first round, but their chances of securing final victory are minimal. The list of potential candidates also includes two women and leaders of parties unrepresented in parliament. The number of presidential candidates is likely to decrease as the election draws near.
Meanwhile, parliament has proposed a ban on political campaigning in news agencies and prohibiting candidates from using pictures of them shaking hands with political leaders from other countries. The latter regulation is a result of past experience when leaders like Felix Kulov used their photos with Russian President Dmitry Medvedev during last year's elections. Both regulations have received strong criticism from the NGO community and the Central Elections Commission (www.24.kg, August 2).
Although Kyrgyzstan managed to hold transparent parliamentary elections last year, the stakes are higher this time. Some members of parliament fear that Atambayev will seek to falsify the election results to secure victory in the first round. Local NGOs and international donors are gearing up for observer missions to exert as much pressure on the candidates as last year. President Roza Otunbayeva's endorsement of any particular candidate will be an important factor in the elections. She is likely to support former members of the interim government that came to power in the aftermath of April 7, 2010 regime change.
At this point Atambayev remains the most likely winner. If he does indeed succeed, his foreign policy will unambiguously be pro-Russian and he will seek to increase presidential powers.