What Turkmenistani President's Visit to Gulf Means for TAPI Pipeline Project
Publication: Eurasia Daily Monitor Volume: 15 Issue: 47
By: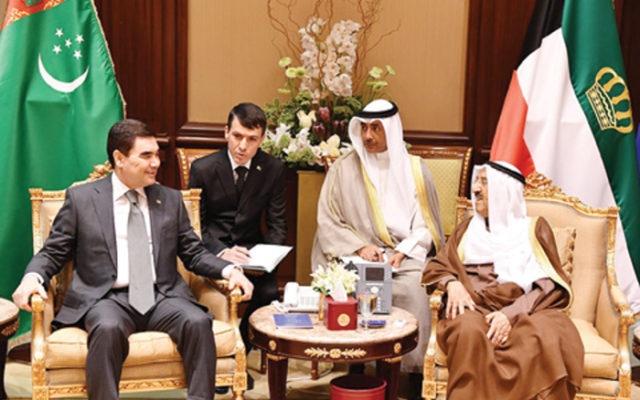 Turkmenistan's President Gurbanguly Berdimuhamedow visited the United Arab Emirates and Kuwait in mid-March as part of a campaign to revive a long-stalled natural gas pipeline from his country to Pakistan and India (Neftegaz.ru, March 16). The visit occurred three weeks after a February 23 groundbreaking ceremony marking the latest effort to put the Turkmenistan–Afghanistan–Pakistan–India (TAPI) pipeline back on track. The ceremony, held on the Turkmenistan-Afghanistan border to initiate the second stage of the pipeline—which will run through Afghanistan—was a high-profile affair. In attendance were Berdimuhamedow, Afghan President Ashraf Ghani, Pakistani Prime Minister Shahid Khaquan Abbasi and India's Minister of State for External Affairs Mobashar Jawed Akbar (RBK, February 23).
The event was another milestone for the project, first conceived 20 years ago. Turkmenistan had finished its section of the pipeline in 2017, thanks to financing from the Saudi Fund for Development (Trend, January 30). Although the start of the second segment has raised hopes the pipeline will be completed by 2019, a number of crosswinds buffet the project. Not least of these is opposition from Russia, which sees TAPI as a threat to its attempts to maintain a stranglehold on oil and gas in the region.
Although Turkmenistan has the world's sixth-largest gas reserves, it is using only one of its three existing export pipelines at the moment—sending 30 bcm per year to China (Eia.gov, accessed March 28). It has stopped shipping gas through a pipeline to Russia over a price disagreement and through a pipeline to Iran over a payments dispute (Vedomosti, August 13, 2017). Because natural gas exports account for most of Turkmenistan's revenue, it desperately needs to diversify its customer base, and TAPI would play a key role in that.
If completed, the $10 billion pipeline will deliver 33 billion cubic meters (bcm) of gas per year from Turkmenistan's Galkynish field, the world's second-largest, to energy-hungry Pakistan and India. It will run along the Kandahar–Herat highway, in Afghanistan, to Quetta and Multan, in Pakistan, and on to Fazilka, India (Adb.org, accessed March 28). The pipeline will pass through Afghanistan's Herat Province, which the Taliban controls. However, the Taliban has pledged to support the pipeline's construction, provided no companies or development agencies from the United States are involved (Lenta.ru, March 5).
Turkmenistan's state-owned Turkmengaz is the leader of the consortium that will operate TAPI, with 85 percent ownership. ISGS of Pakistan, Afghan Gas Enterprise, and India's GAIL will each have a 5 percent stake. The Asian Development Bank, which has been involved in TAPI since its inception in the mid-1990s, is the project's key financial advisor.
On November 8, 2017, the Islamic Development Bank agreed to loan Turkmenistan $700 million to complete its section of TAPI. In the same month, Turkmenistan's State Bank for Foreign Economic Affairs also signed a loan agreement with the Saudi Development Fund (Tfeb.gov.tm, accessed March 28, 2018). However, the overall cost of the project amounts to almost a third of Turkmenistan's gross domestic product. Thus, additional financing is needed to make it happen.
Berdimuhamedow's visit to the UAE and Kuwait can be interpreted as an effort to seek the remainder of the funding from the region. On his trip to the Gulf, Berdimuhamedov asked his hosts to take part in the pipeline project. Consequently, Turkmengaz signed memorandums of understanding on cooperating in the project with the Emirates' Mubadala Fund and Kuwait Petroleum Corporation (Tdh.gov.tm, March 13).
Meanwhile, Moscow has continued to push against the TAPI project. Last October, Russian President Vladimir Putin visited Ashgabat for the first time in five years (RBK, October 2, 2017). Although the TAPI pipeline was not part of his formal discussions with Berdimuhamedow, behind closed doors, Putin reportedly tried to dissuade the Turkmenistani leader from moving forward on it (Natural Gas World, November 24, 2017).
Russia has persistently pressured Central Asian countries to continue exporting their oil and gas to the West, China and elsewhere through Russian pipelines. One reason is to give it leverage over supplies to Western Europe. Another is so it can profit from transit fees on oil and gas surging through its pipelines. But an additional reason that Russia would like to see TAPI scrapped is that it has begun exporting more liquefied natural gas (LNG), including to the lucrative markets of Pakistan and India. At the moment, Qatar is the largest LNG supplier to India and Pakistan, but Russian companies are interested in grabbing a share of this business. As Russian Foreign Minister Sergei Lavrov noted on February 20, after talks with his Pakistani counterpart, "Russia and Pakistan are evaluating options for LNG exports from Gazprom LNG to Pakistan, as well as construction of transnational pipeline projects, including the Iran–Pakistan–India pipeline" (RIA Novosti, February 20).
RT-Business Development, a subsidiary of Russia's state-owned Rostekh Bank, won the bidding to build the $2.5 billion 1,100-kilometer North–South gas pipeline across Pakistan, which will ship 12.3 bcm of Qatari LNG per year, from Karachi north to Lahore (Rt-rb.ru, accessed March 28). Meanwhile, Gazprom and India's GAIL have confirmed that the Russian gas giant will start supplying LNG to India in 2018 (Vestifinance.ru, January 16).
Turkmenistan continues to dream about another pipeline that would send its gas across the Caspian Sea to Azerbaijan, where it would connect with a transit network that would eventually supply the gas to Europe. The Trans-Caspian Pipeline project has long been beholden to negotiations over the final status of the Caspian. But in December 2017, after the latest meeting of the five Caspian littoral states, Lavrov made a surprise announcement that the participants had agreed on "all outstanding issues with respect to the status of the Caspian Sea (Caspianbarrel.org, December 11, 2017). This appeared to signal that Russia would not stand in the way of a pipeline along the Caspian seafloor. At the same time, Turkmenistan announced the completion of a pipeline connecting the gas fields in its east with its western Caspian Sea coast. Together, these developments have revived hopes in Turkmenistan and Europe that the long-sought Trans-Caspian Pipeline project might be revived.
For now, however, TAPI continues to be a higher priority for Turkmenistan—and hopes for its completion extend far beyond Ashgabat, despite Moscow's negative pressure. The pipeline could help ease energy shortages in the countries it will serve, increase the chances for peace in troubled southwest Asia, and could even help normalize relations between India and Pakistan. A lot is thus on the line in central Eurasia.