When Belarusians of All Stripes Perform in Vilnius
Publication: Eurasia Daily Monitor Volume: 10 Issue: 217
By: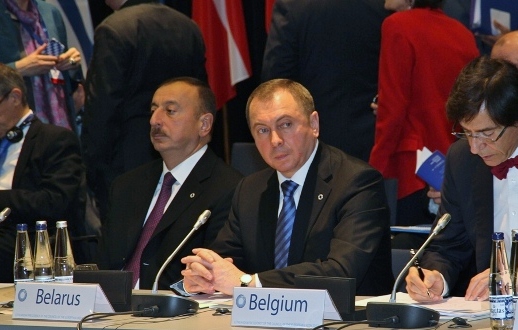 According to Kirill Koktysh, an ethnic Belarusian and a professor of the Moscow State Institute of International Relations, any souring of relations between Russia and Ukraine boosts Russia's generosity with respect to Belarus. This is because relations with Ukraine are seen as a touchstone for the Russian elite's abilities to conduct efficient foreign policy. So if Ukraine escapes from Russia's control, a worsening of relations with Belarus cannot be tolerated. Conversely, if Ukraine moves closer to Russia, Moscow's generosity may not be enough for either Ukraine or Belarus. Belarus's key role in the Eurasian Union—quite possible should Ukraine stay out of it—will make Belarus more attractive for Europe as a gateway to the Eurasian Union at large. Also, due to high unemployment and the indebtedness of many European Union members, the EU is likely to be undergoing a transformation either toward more nationalism or toward more socialism. In either case, protectionist tendencies will be on the rise, thus pushing Belarus's own protectionist policies toward the EU into the background (nmnby.eu/news/analytics/5328.html?).
Koktysh's reasoning is not entirely shared by other commentators. Yury Drakokhrust of the Belarusian Service of Radio Liberty suggests that because of Ukraine's and Armenia's vacillations, Belarus was no longer an outcast at the Eastern Partnership summit in Vilnius. Moreover, the EU may possibly end up relaxing its demands vis-à-vis Ukraine so much that Belarus may also find it possible to "fit." Drakokhrust recalls that, not too long ago, the EU signed association agreements with Tunisia, Egypt and Libya, whose leaders were subsequently swept away by the Arab Spring. Neither Viktor Yanukovych nor Alyaksandr Lukashenka are any worse than Hosni Mubarak or Muammar Gaddafi, he contends (https://naviny.by/rubrics/eu/2013/11/27/ic_articles_627_183775/).
In his interview to the Polish newspaper Gazeta Prawna, Belarus's Foreign Minister Vladimir Makei, who represented his country at the Vilnius summit, did not exclude that his country may potentially accede to the EU. "We observe the ongoing processes calmly and are [immune] to the attempts to push us toward the ultimate choice—either the EU or the Custom Union. We have long lived in the shadow of other peoples. We shared polities with Poland and Russia; we lived in the Soviet Union. And during the 20 years [since its dissolution,] we have not yet shaped our identity. Give us some time to decide where to go." As the chief of President Lukashenka's staff, who observed the events of December 19, 2010 through a monitor, Makei has no doubt that an attempt to storm a government compound was undertaken—the kind of attempt that in many other countries would have deserved harsher punishment than that meted out in Belarus. Most of those arrested for their active role in that assault are no longer imprisoned. Makei believes that those still in prison would have long been released as well had they appealed for pardon (https://news.tut.by/politics/375637.html).
The Belarusian foreign minister also criticized Polish authorities for their differential approach to ethnic Poles who are citizens of Belarus. "The more you criticize Belarusian authorities, the more funds you receive. And if you collaborate with the authorities, you are not going to be allowed to enter Poland… As for us, we refrain from drawing divisions on the basis of ethnicity because we have to secure stability and peace… We would like to resolve those problems constructively and calmly. And any external attempt to play an ethnic card is unacceptable for us." Makei opined that Belarus sees the Eastern Partnership (EaP) program as an instrument to improve relations with the West. But at the moment, Belarus does not have big expectations with regard to the EaP. Finally, much like Lukashenka, on many occasions, Makei admitted that Belarus spends quite a bit of money safeguarding the 1,300-mile border with the EU from illegal immigrants streaming to the West (https://news.tut.by/politics/375637.html).
On November 27, Belarus was in the focus of a joint, inter-committee meeting of the Lithuanian parliament (the Seim). Several members of the Belarusian opposition, including such veterans as Anatol Liabedzka and Sergei Kallyakin, took part in that meeting. Most participants demanded the release of the remaining political prisoners (https://naviny.by/rubrics/eu/2013/11/27/ic_articles_627_183787/).
Incidentally, a political situation within the Vilnius-based European Humanities University (BHU), a Belarusian school in exile, resembles a situation in Belarus at large. The BHU was founded in 1992, in Minsk, but in 2004 was denied accreditation and relocated to Vilnius. First, the BHU's rector (president) Anatoly Mikhailov has been in his position for 20 years, longer than Lukashenka has been president of Belarus. Second, a number of the BHU's professors are in opposition to the policy of the administration. They are dismayed by the trends in the BHU's curriculum whereby the Belarus-centered programs are deemphasized, while more and more Lithuanians with no interest in Belarus join the university administration. Also, most educators hailing from Belarus have to abide by annually resumed contracts that do not include either social benefits or permanent residency status in Lithuania. In response to this criticism, the rector announced his plan of consolidating the team of professors, switching to their hiring through open competition whereby legal residency in Lithuania would be one of the pre-conditions of employment. Along with the plan of reforms, the new "code of behavior" of the BHU's associates was announced, which bans "spreading false, defamatory or any unsubstantiated information about the processes unfolding in the university." According to a reporter of Naviny.by, a news portal giving voice to the opposition, the wording of the aforementioned code strikingly resembles that of one of the most repressive articles of Belarus's Criminal Code (https://naviny.by/rubrics/society/2013/11/26/ic_articles_116_183771/).
Indeed, if anything unites Belarus's officialdom and the opposition, it is their political culture. When Belarusians of all stripes perform in Vilnius, this impression is hard to shed. At times, though, it seems that the structures of the opposition are more, not less intolerant of dissent than what they call "the regime." It is high time the West sees the forest for the trees while formulating its Belarus policies.