Where Does the TAP Gas Pipeline Project Stand to Date? The View From Baku
Publication: Eurasia Daily Monitor Volume: 17 Issue: 94
By: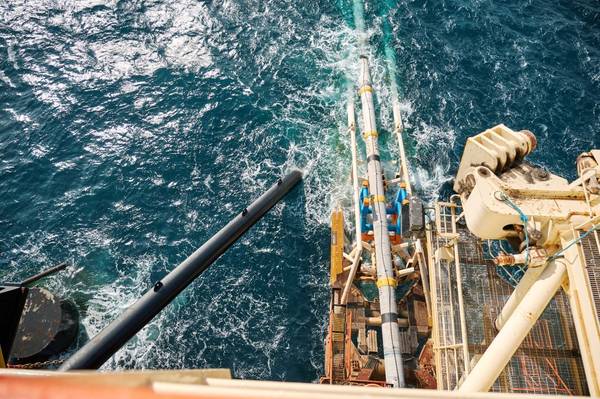 On June 9, the press service of the Trans-Adriatic Gas Pipeline (TAP) consortium announced that construction of the 105-kilometer offshore segment of TAP, which will transport Azerbaijani natural gas to Europe, had been completed. This latest development phase comprised the offshore deployment of 36-inch pipes by the semi-submersible pipelaying vessel Castoro Sei, operated by the Italian firm Saipem. At the same time, project work included building the above-water interface with onshore assets on Albanian territory as well as hydrotesting various associated facilities to guarantee their safety and readiness. Operations to link the Italian and Albanian coasts started in January 2020, with tubes being welded and checked onboard the Castoro Sei and subsequently installed in a steady stretch, from west to east, along the Strait of Otranto, at the southern tip of the Adriatic Sea (Azernews.az, June 10).
Several weeks earlier, on May 20, the project hit another milestone when it commenced delivering the first test volumes of natural gas into a four-kilometer segment of the overland pipeline in Albania, between the Albanian-Greek border and a metering station in the town of Bilisht. This is the primary phase of the pipeline testing process, in accordance with national and global safety and functional requirements, which guarantees that the system is fully secure and available for exploitation. After this first segment is authorized, gas will begin to be slowly integrated into other parts of the Albanian pipeline and beyond (Tap-ag.com, May 22).
TAP's agenda is presently overwhelmingly associated with upstream improvements, implying that the precise date for the pipeline's start of operations will heavily depend on progress with work at the Shah Deniz Stage II offshore gas field (Tap-ag.com, accessed June 30). According to Vitaly Baylarbayov, the Azerbaijani state energy company SOCAR's deputy vice president for investment and marketing, the Trans-Adriatic Pipeline will start to carry gas from Azerbaijan's Shah Deniz field to European markets as soon as the end of 2020. Baylarbayov also noted, "The issues that have occurred in the previous years have been fixed. [A] [t]wenty-five-year agreement has been signed with Italy for the supply of Azerbaijani gas from [the] second stage of the Shah Deniz field, with [a] supply volume of 8 billion cubic meters annually. Currently, no obstacles are expected" (Azernews.az, February 17).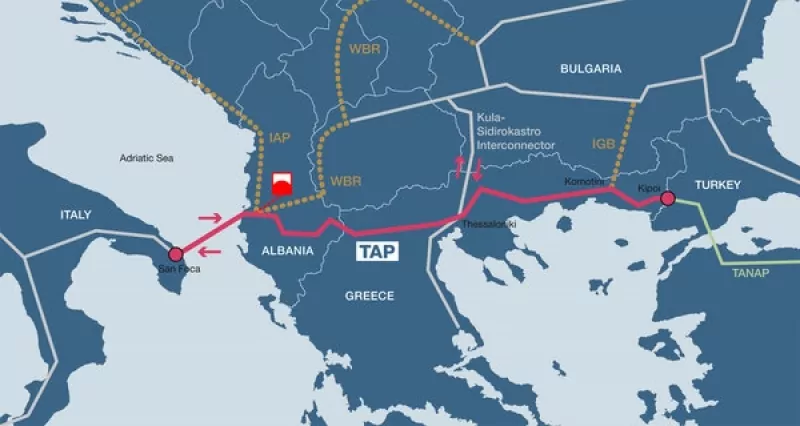 TAP is an important new development for Southeastern Europe, where the energy sectors of local countries depend heavily on fossil fuels for power generation. "Via links with the Greece–Bulgaria Interconnector (IGB) and presumably the Ionian-Adriatic Pipeline (IAP), TAP will be able to supply the region with 10 billion cubic meters of gas annually in the coming years. The 878-km-long TAP pipeline, [which links up with] the Trans-Anatolian Pipeline (TANAP) at the Greek-Turkish border, will pass [through] Northern Greece, Albania and the Adriatic Sea before arriving ashore in Southern Italy to connect to the Italian natural gas network," says TAP Managing Director Luca Schieppati (Azernews.az, January 29).
All of the pipeline's customers are already queued up, expecting supplies. The TAP project will fulfill 33 percent of Bulgarian gas demands, 20 percent in Greece and approximately 10.5 percent in Italy (Report.az, May 14). The volumes delivered by this pipeline will be particularly important for the latter country since Italy expects to face increasing natural gas shortfalls in the near to medium term, and TAP's capacity (current and potential, after expansion) will be enough to fill these gaps.
At a cost of €5 billion ($5.6 billion), the Trans-Adriatic Pipeline is one of the largest energy projects currently under development in the European Union. Its shareholders are comprised of energy companies SOCAR (20 percent), BP (20 percent), Snam (20 percent), Fluxys (19 percent), Enagás (16 percent) and Axpo (5 percent) (Azernews.az, May 14). TAP is the westernmost (European) and final segment of the Southern Gas Corridor project, a chain of pipelines that will deliver Caspian-basin gas to Southeastern Europe and involves three key projects in addition to TAP: Shah Deniz II, expansion of the South Caucasus Pipeline (Baku–Tbilisi–Erzurum) and TANAP (Azernews.az, February 17).
Azerbaijan and the EU signed a Joint Declaration on the Southern Gas Corridor, in Baku, back in 2011 (President.az, July 9, 2019). As a result, Azerbaijan has found itself in a considerably stronger situation in its relations with the European bloc, as the ability to define the shape and future of the Southern Corridor provides it with greater leverage in dealings with Brussels and EU member state capitals. Indeed, Azerbaijan's progressively significant role in transnational energy markets as well as its active contribution to Europe's energy security have an important influence on its global, regional, geopolitical and geo-economic position.
The implementation, execution and realization of any major pipeline strategies are exceedingly complicated, requiring effective organization, high-level technical skills, meaningful international collaboration, attention to detail, along with cautious stakeholder consultation. Despite all these challenges and difficulties, TAP has continued to progress on schedule. And as of late April 2020, the project was reportedly 95.1 percent complete (Tap-ag.com, accessed June 30). With the final implementation of TAP over the coming months, Azerbaijan is contributing to the strengthening of Europe's energy stability, helping to progressively decarbonize the local economies, as well as  enabling much-needed gas supply diversification across the region (Azertag.az, January 27).