Who is to Blame for Ukraine's Privatization Scandal?
Publication: Eurasia Daily Monitor Volume: 6 Issue: 184
By: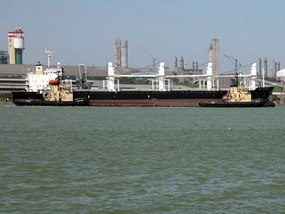 Nortima, a company linked to the Ukrainian tycoon Ihor Kolomoysky, on September 29 won the privatization tender for Odessa Portside Plant (OPZ), one of Ukraine's largest chemical factories. Nortima bid over $625 million, more than its rivals: the Russian Sibur and Russian-Ukrainian businessman Konstantin Grigorishin. This was more than the offer price of $500 million. However, the tender commission invalidated the result, arguing that the price was too low, while Prime Minister Yulia Tymoshenko, who had insisted on OPZ's privatization despite the court ban and fierce opposition from President Viktor Yushchenko, accused participants of price fixing. She said that she would not allow OPZ's privatization "for a song" as it should cost around $1 billion (Channel 5, September 29).
It was impossible to avoid problems with the tender since on September 17 Yushchenko banned it, and a court in Kyiv on September 23 had suspended it. This scared off around ten potential buyers including the richest –an international consortium headed by Norway's Yara. Nonetheless, Tymoshenko ignored the bans and proceeded with preparing the tender. Consequently, only three companies applied, and therefore it was clear that the selling price would be lower than expected. Yushchenko was opposed to the privatization from the start, arguing that industrial assets should not be sold during the recession when prices are low. He announced a U-turn on the issue in September.
Yushchenko explained that OPZ's privatization was part of an agreement with Tymoshenko and the International Monetary Fund (IMF). He said that Tymoshenko had pledged economic reform in order to qualify for the IMF's loans and for his part, he agreed to privatize OPZ. Yushchenko said that he changed his mind in September, because Tymoshenko did not live up to her promises (UT1, September 30). Tymoshenko wanted to sell OPZ this year in order to fill gaps in the state budget. She planned to raise $1.25 billion from privatization this year and OPZ's sale would have guaranteed meeting this target.
The main message that foreign investors gleaned was that the Ukrainian government cannot be trusted even when a privatization tender was conducted despite all the controversy involved, as its result was invalidated by the same prime minister who had advocated it. Kolomoysky pledged to prove in court that OPZ belongs to him and he is not expected to lose (Ukrainska Pravda, September 29; Zerkalo Nedeli, October 3). The loser is the Ukrainian state whose investment image has been damaged as a result of the continuing rivalry between Yushchenko and Tymoshenko.
Several explanations were offered for this investment fiasco. Tymoshenko and the State Property Fund (FDM) claim that there was collusion between the tender participants. They argued that the participants should have known that $625 million was too low for a large chemical factory. According to this version, the would-be buyer probably agreed with other participants in the tender to sell a share in OPZ to them after the tender succeeded, as a result a lucrative asset would have been privatized for a low price.
The opponents of this version argue that the price offered by Nortima was higher than the FDM's offer price, and that this was probably OPZ's real price in the current economic climate when the demand for chemicals is low and production costs are high because OPZ consumes a lot of expensive Russian gas (Inter TV, October 2). They also suspect that Tymoshenko illegally influenced the commission, which is supposed to be an independent body. One Ukrainian weekly noticed that Tymoshenko's claims about collusion appeared on her website several minutes earlier before the commission announced its verdict (Zerkalo Nedeli, October 3).
Tymoshenko's rivals are accusing her of collusion. Yushchenko's camp suspects that she had promised OPZ to Russia for a promise not to punish Ukraine for buying less gas from Gazprom in 2009 than contractually stipulated. According to this logic, Tymoshenko decided to invalidate the tender result because the Gazprom-linked Sibur had lost (Inter TV, October 2). Kolomoysky also supports this version. The court ruling on September 23 to suspend the tender, acted in favor of one of Kolomoysky's companies which had filed a lawsuit arguing that Sibur should not be allowed to participate because the Russian government share in the company exceeds 25 percent, which risked OPZ becoming the property of a foreign state. Commenting on the tender's invalidation, Kolomoysky claimed that had Sibur won the tender, it would not have been invalidated (Ukrainska Pravda, September 29).
An alternative explanation was offered by Arseny Yatsenyuk, the presidential candidate and former parliamentary speaker; supported by Valentyna Semenyuk, a former FDM chairwoman. They suggested that Tymoshenko is sure that Kolomoysky will successfully defend his right in court to buy OPZ. According to them, Tymoshenko is only pretending to "fight a greedy oligarch" in order to avoid any accusations of helping Kolomoysky –who has been viewed as her ally– to purchase a lucrative asset (Ukrainska Pravda, September 30; Ukraina TV, October 2).