Why India Won't Play Its 'Tibet Card'
Publication: China Brief Volume: 18 Issue: 9
By: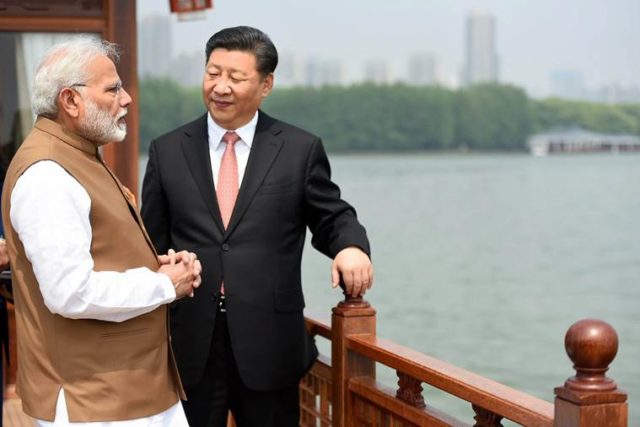 On February 22, India's Foreign Secretary Vijay Gokhale issued a directive calling on leaders and government officials to stay away from events planned by the Central Tibetan Administration (CTA)—the Tibetan government-in-exile—to mark the 60th anniversary of the Dalai Lama's exile to India. In his note, Gokhale pointed out that the "proposed period" when the Tibetan events would happen was "a very sensitive time" for Sino-Indian relations (Indian Express, March 2). Either on its own volition or under instructions from the Indian government, the CTA subsequently canceled the interfaith meeting and shifted the public event to Dharamsala, the headquarters of the CTA (Phayul.com, March 16). The Indian government's distancing from the Tibetan events is at odds with its proximity to the Dalai Lama and the CTA the past four years.
Upon coming to power in May 2014, the Bharatiya Janata Party (BJP) adopted a more muscular approach to China than its predecessors. As part of this, it was not averse to using the Dalai Lama and the CTA to gain leverage in its dealings with China. Its recent move to put distance between itself and Dharamsala reflects an understanding that playing the 'Tibet card' brought India no benefits. In fact, the failure of the BJP's four-year gambit reaffirms what many Indian diplomats and scholars have been saying for decades: there is no 'Tibet card' for India to play.
Needling Beijing
The BJP government signaled a willingness to play the Tibet card as soon as it came to power in May 2014. It invited Lobsang Sangay—then the CTA's prime minister and now its president—to Narendra Modi's swearing-in as India's prime minister. Sangay was accorded treatment almost on par with other South Asian heads of state present at the inaugural (The Telegraph, June 8 2014). In December 2016, the Dalai Lama was invited to the Rashtrapati Bhavan, (India's presidential palace) for a ceremony honoring Nobel Peace prize winners, where he shared the stage with India's then-president, Pranab Mukherjee (The Pioneer, 15 December 2016). In March 2017, the Tibetan spiritual leader was permitted to travel to Tawang, a town in the Indian state of Arunachal Pradesh and one of the main sites of contention in an escalating Sino-Indian border dispute (China Brief, January 13 2017). In July, even as Sino-Indian tensions at Doklam were soaring, India allowed Sangay to unfurl the Tibetan flag at Pangong Tso on the Indian side of the Line of Actual Control (LAC) in Ladakh (The Wire, July 9, 2017). [1]
Indian leaders have met the Dalai Lama in the past, and the Tibetan spiritual leader has visited Tawang before. However, the frequency of the meetings and visits of the past four years appeared to be part of a systematic strategy, rather than periodic, undirected needling. As the Sino-Indian war of words escalated in the run-up to the Dalai Lama's visit to Tawang, India also roped in the US; then-US Ambassador to India Richard Verma visited Tawang, much to China's chagrin (Indian Express, October 22, 2016). Moreover, the Dalai Lama was escorted on his visit to Tawang by India's junior Minister for Home Affairs Kiren Rijiju, which was interpreted by Chinese media as an unambiguously official stamp of approval (Global Times, April 6, 2017).
Beijing's Reaction
China reacted strongly to India "openly" using the Dalai Lama "as a diplomatic tool to win more leverage" (Global Times, April 5, 2017). It issued India a demarche after Sangay participated in Modi's inaugural (Times of India, June 5, 2014). In the run-up to the Dalai Lama's visit to Tawang, China's Ministry of Foreign Affairs accused India of "providing a stage for anti-China separatist forces" (Ministry of Foreign Affairs, People's Republic of China [PRC], October 29, 2016). Calling on India "to immediately stop its erroneous move of using the Dalai Lama to undermine China's interests" it pointed out that this "not only violates India's commitment on Tibet-related issues but also "severely hurts" the bilateral relationship (Ministry of Foreign Affairs, PRC, April 5, 2017). China hit back at India in various global forums on issues of high interest to Delhi. Besides continuing to block India's membership in the Nuclear Suppliers Group, Beijing defeated India's efforts to get the UN Security Council to list the Pakistan-backed, anti-India Jaish–e–Mohammed leader Masood Azhar as a global terrorist (Deccan Chronicle, May 5, 2017) .
China also stepped up pressure on India along their disputed border. According to reports, the People's Liberation Army (PLA) transgressed into the Indian side of the LAC 415 times in 2017, a 48% increase over the previous year (Indian Express, January 10, 2018). Then in June 2017, China began constructing a road into Doklam Plateau in western Bhutan, a move with serious potential implications for India's national security. [2] As the crisis escalated the two countries reinforced their troop presence in the area. The possibility of war loomed (The Hindu, August 8, 2017). The crisis was defused in late August, when the two sides agreed on "an expeditious disengagement of border personnel at the face-off site at Doklam" (Ministry of External Affairs, Government of India [GOI], August 28, 2017). However, China kept up the pressure on India. Within weeks of the 'disengagement' of troops, satellite images revealed heavy deployment of Chinese soldiers, concrete structures, helipads and trenches near the previous faceoff site (The Print, December 16, 2017).
Contrary to the Modi government's expectations, playing the Tibet card did not prompt China to soften its approach to India. It not only drew Beijing's ire, but also seriously undermined bilateral relations, bringing the two countries to the brink of war. Reports in January of a fresh Chinese build-up near the previous face-off site triggered Indian anxiety over a possible "bigger confrontation", causing the Modi government to rethink its China policy (South China Morning Post, March 17).
Resetting Relations
In contrast to June-August 2017, beginning in January 2018, India's Ministry of External Affairs (MEA) downplayed reports that China was building a new road to the Jampheri Ridge. In fact, it maintained that there were no "new developments at the face-off site" (NDTV, January 17). In addition to avoiding confronting China over Doklam, India backed down on using the Tibetan issue to rile Beijing. By February, the Modi government had begun outreach to stabilize relations, and shelved the Tibet card in its bid to normalize relations with Beijing. Indeed, it informed Beijing of its plans to distance itself from the Tibetan events even before sending out the note to its officials (Indian Express, April 24).
On February 22, India and China took steps to signal sensitivity on issues of importance to the other, including Foreign Secretary Gokhale's note to the Cabinet Secretary. Meanwhile at the Paris meeting of the Financial Action Task Force (FATF), an intergovernmental money laundering watchdog, China lifted its objections to Pakistan's inclusion in a grey list for not doing enough to freeze the assets of Pakistan-based anti-India terror outfits (The Print, February 29).
The following day, Gokhale was in Beijing where he met Chinese Foreign Minister Wang Yi as well as State Councilor Yang Jiechi, China's top foreign policy official. It was during this visit that the idea of an 'informal summit' between Modi and Chinese President Xi Jinping was first mooted. Modi then called up Xi to congratulate him on the extension of his tenure. It was during this call that the two leaders agreed in principle to the informal summit. Several meetings between high-level functionaries followed, culminating in the April 27-28 'informal summit' between Xi and Modi at Wuhan.
At Wuhan, Xi and Modi agreed to provide "strategic guidance" to their respective militaries to improve communication, implement various confidence building measures and strengthen existing institutional mechanisms to prevent and manage situations in the border areas. In addition, they have decided to co-operate on a joint economic project in Afghanistan (MEA, April 28).
Modi's U-Turn
Modi and Xi's Wuhan meeting won applause in both countries (The Hindu, April 30 and Global Times, May 1). However, the Modi government also came in for criticism at home. It was raked over the coals for "rolling over and restricting Tibetan activities to please Beijing" (Times of India, March 7). This was described as "appeasement," even "kowtowing" to China's "browbeating diplomacy" (Asian Age, March 5).
Strong domestic reasons are said to have played a role in Modi's decision to appease China. Elections to several state assemblies are due later this year and India will vote in general elections in May 2019. Modi is keen to ensure that "China will not trouble India too much" along the LAC or in Doklam in the coming months as he "does not want to be distracted" by another Sino-Indian border crisis or "have the Chinese make him look ineffective on foreign policy as he moves into election mode at home" (Business Standard, April 26). Since its "muscularity" vis-à-vis China "didn't bring any dividends" and "only hardened" China's attitudes to India, the Modi government seems to have decided to avoid baiting Beijing on the Tibetan issue for the time being (Rediff.com, March 9).
Is There a 'Tibet Card'?
In theory, New Delhi should have had a strong 'Tibet card' to play against China given the fact that it is in India that the Dalai Lama, the CTA and the roughly 100,000-strong Tibetan exile community reside. However, there are several reasons it does not. For one, there was never a 'Tibet card' to begin with. The Tibetans themselves gave up their demand for independence under the 17-point agreement they signed with China in 1951 (The Wire, March 30). Indeed, even the Dalai Lama's "Middle Way Approach does not question the idea of 'One China' but only seeks 'genuine autonomy' for all Tibetan areas within the PRC through dialogue," pointed out Tshering Chonzom Bhutia, an expert on Tibetan issues. [3]
Besides, India surrendered the 'Tibet card' decades ago. Under a 1954 agreement with the PRC it accepted Tibet as a "region" of China (MEA). It went further in an agreement in 2003 when it recognized that "the Tibet Autonomous Region is part of the territory of the People's Republic of China" and reiterated that it "does not allow Tibetans to engage in anti-China political activities in India" (MEA). This "has traditionally involved carrying out preventive arrests of Tibetans in India and enforcing restrictions on freedom of assembly during visits of Chinese leaders. [4]
Having surrendered the 'Tibet card' decades ago, there is little space for India to play this card now (The Wire, March 30). To revive the card and play it effectively against China would require India to go back on all agreements signed with Beijing since 1950. This would be meaningless given the consolidation of Beijing's political and military control over Tibet. Since Tibet is a 'core' issue for China, a shift in India's position on this matter would be seen as "a challenge to China's territorial integrity." China can be expected to react to this with violence (The Wire, Jan 13, 2017).
Conclusion
Over the past four years, New Delhi's overt displays of proximity to the Dalai Lama served to rile Beijing, without yielding tangible dividends. Arguments that India has a 'Tibet card' and should play it to get Beijing to be sensitive to its security concerns are out of sync with the reality on the ground.
Dr. Sudha Ramachandran is an independent analyst based in Bengaluru, India. She has written extensively on South Asian political and security issues for The Diplomat, Asia Times Online and Jamestown's Terrorism Monitor. She is a Fellow at the Bengaluru-based Takshashila Institution. She can be contacted at sudha.ramachandran@live.in
Notes
[1] The LAC is the de-facto border between the two countries.
[2] China and Bhutan claim the Doklam Plateau, which is close to the India-Bhutan-China trijunction. It is currently under Bhutanese control. China's road into this plateau would undermine India's national security as it would ease deployment of PLA troops in the region, threatening India's strategic Siliguri Corridor.
[3] Author's Interview, Tshering Chonzom Bhutia, Associate Fellow, Institute of Chinese Studies, Delhi, April 20.
[4] Author's Interview, Tshering Chonzom Bhutia, Associate Fellow, Institute of Chinese Studies, Delhi, April 20.