WikiLeaks Confirms Role Played by Firtash in Ukrainian Politics
Publication: Eurasia Daily Monitor Volume: 7 Issue: 219
By: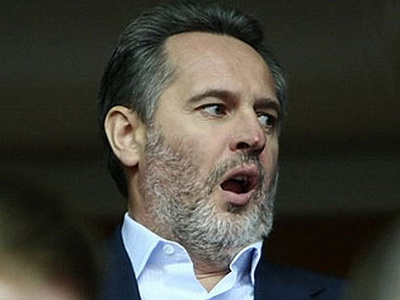 Unlike in the case of several regional neighbors, including Russia, the recent WikiLeaks transcripts hardly carry the potential of spoiling relations between Washington and the current administration in Kyiv. However, WikiLeaks has shed new light on the role of energy businessman, Dmytro Firtash, as a powerbroker in Ukrainian politics and on his links to the alleged Russian crime boss, Semion Mogilevich. Although Firtash has denied much of what the documents made public by WikiLeaks revealed about him, it is difficult to deny the role that he played in destroying post-Orange Revolution alliances, thereby helping Viktor Yanukovych win the Ukrainian presidency earlier this year.
According to a cable allegedly written by William Taylor, who served as US Ambassador to Ukraine from 2006-2009, Firtash spoke in detail about his role in domestic politics and the gas trade with Russia, as well as his relationship with Mogilevich at a meeting with Taylor in December 2008. The meeting took place several weeks before the energy intermediary RosUkrEnergo (RUE), which Firtash co-owns with Gazprom, and which would have been banished from the Ukrainian market according to agreements between Tymoshenko and Russian Prime Minister, Vladimir Putin.
Firtash expressed support for Yushchenko but spoke contemptuously of Tymoshenko, according to the text of the cable. Firtash allegedly told Taylor that he worked to build a coalition comprised of Yushchenko and Yanukovych who was the opposition leader at the time. Furthermore, Firtash allegedly boasted that he jointly with the Donetsk-based oligarch, Rinat Akhmetov, thwarted a Tymoshenko-Yanukovych coalition which, he claimed, had been supported by Russia. Firtash also claimed that Tymoshenko's deals with Russia would leave Ukraine vulnerable to Russian oligarchs in the future. Moreover, Firtash, according to the cable, boasted of his friendship with Yushchenko, claiming that he had advised him ever since his election as president in 2004 (Kyiv Post, December 3). Yushchenko vehemently denied any association with Firtash when he was president.
Firtash was correct in that Tymoshenko's agreements with Putin eventually increased Ukraine's dependence on Moscow. While RUE was indeed removed from Ukraine's energy market, as Tymoshenko had promised, that was a Pyrrhic victory. Moscow increased its gas price for Ukraine, and lured Tymoshenko into a dubious deal with Gazprom whereby Kyiv seized RUE's gas kept in Ukrainian storage. Consequently, in 2010 Kyiv in exchange for a gas price discount was pressured into extending the presence of the Russian navy in Sevastopol by 25 years. In 2011 it will have to return the gas seized from RUE in 2009 plus damages in accordance with a Stockholm arbitration verdict (Zerkalo Nedeli, December 3).
According to WikiLeaks, Firtash told Taylor about his ties to Mogilevich, saying that he had needed Mogilevich's approval to secure his entry into business (Kyiv Post, December 3). It had long been rumored that Mogilevich, and not Firtash, was the real founder of RUE and of its predecessor, Eural Trans Gas, so WikiLeaks did not add anything new to the picture. Firtash's press service denied any partnership between Firtash and Mogilevich, as well as the allegation that he needed permission from Mogilevich to do business. However, the press service confirmed that Firtash met with Taylor at the end of 2008 and that he had been acquainted with Mogilevich (Ukrainski Novyny, December 3). Asked by the Kommersant-Ukraine daily to comment on his alleged role in domestic politics, Firtash's press service only said that he did not want to reveal confidential information about the topics discussed during his meeting with Taylor (Kommersant-Ukraine, December 3).
Taylor, according to WikiLeaks, also reported to Washington that Firtash owned 61 percent of Inter, Ukraine's arguably most popular TV channel, which is staunchly pro-government. Inter is known to be controlled by Valery Khoroshkovsky, the security service chief. Khoroshkovsky has on several occasions denied the reports that he is a business partner of Firtash. The Russian TV anchor, Yevgeny Kiselev, who hosts the flagship political talk show Big Politics on Inter said he knew for certain that Firtash did not control Inter. Kiselev confirmed Khoroshkovsky's earlier statement that Firtash had an option to buy 50 percent of Inter shares, but had not used it (Inter, December 3).
Official reaction to WikiLeaks' publications related to Ukraine has so far been subdued, probably because nothing damaging has thus far emerged personally about Yanukovych and his political team. Prime Minister, Mykola Azarov, was the only Ukrainian official who reacted to WikiLeaks' publications last week. Speaking on Kiselev's talk show, Azarov predicted that as Ukrainians have become accustomed to political scandals nothing in WikiLeaks would astonish them. Azarov also said he was not afraid of any future publications of his own conversations by WikiLeaks. However, Azarov added that, in his opinion, the publication of secret analytical papers was inadmissible (Inter, December 3).