Will General Surovikin Fix Russia's C2 Problems?
Publication: Eurasia Daily Monitor Volume: 19 Issue: 172
By: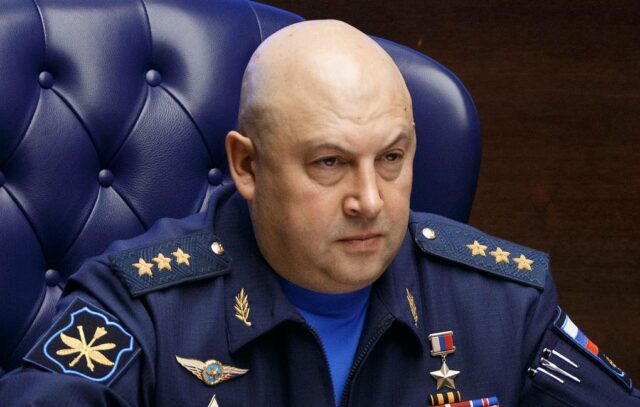 Following Russian General Sergey Surovikin's interview on October 19, the Kremlin's information warfare machine aimed to put a positive spin on the general's words of "tough decisions" to come for Russian forces in Ukraine (YouTube, October 25). Surovikin's interview immediately resulted in widespread reactions from Western media, some of which commented on Surovikin's toughness and noted his track record of military successes in Syria. Of lesser attention thought was the perspective that "General Armageddon's" media appearance was purely to restore faith in Russia's central command and control (C2).
The appearance of a senior general in active service on media pronouncing strategic and operational messages is a rare practice in Russia. In fact, one could argue that, in this, the Kremlin propagandists have been copying the successful strategic communication practices of the Ukrainian Armed Forces. It is possible that Surovikin's brand was called on to counterbalance Ukrainian Commander-in-Chief General Valerii Zaluzhnyi, who has become an extremely popular media symbol. In Russia itself, the Russian "war party" sought to contrast the "imperial warrior" Surovikin against oligarch Roman Abramovich, who is seen as only serving the wealthy (T.me/kvmalofeev, November 2).
Unlike Russia, Ukraine has an impressive cadre of popular, brilliant generals that quite often appear in the media. This key difference with Surovikin's projected brand of "effective military commander" is visible not only in how the Ukrainian generals fight but also in how they speak to their target audiences.
To begin with, the underlying values matter. In an interview on October 24, Ukrainian Ground Forces Commander Colonel-General Oleksandr Syrskyi stipulated that Ukraine's asymmetric war strategy was based on the ultimate primacy of the value of human life for civilians and soldiers (ABC News, October 24). This humanist principle is something the Russian propagandists were trying to ascribe to their commanders—to mitigate the popular discontent with the "partial mobilization" order. Pro-Kremlin analyst Sergei Markov attempted to attribute this same quality to Surovikin, saying that the general allegedly tries to avoid unnecessary casualties (Mk.ru, October 18).
But the actual practices of Russian generals stand in strike contrast to these propaganda efforts. It is widely known that Russian Colonel-General Aleksandr Lapin reportedly made all his soldiers demonstrate that they are "ready to die fulfilling their duty" (Business-gazeta.ru, July 9). Additionally, it has been reported that Lapin held a commander of newly mobilized soldiers at gunpoint for abandoning their fighting positions without an order (Meduza, October 26). This command culture results in using the threat of violence to achieve desired military objectives. For Surovikin's part, he was dubbed "The Butcher of Aleppo" for his especially brutal and inhumane tactics in Syria (The Insider, November 10).
Surovikin's appointment as commander of the Russian forces in Ukraine was presented as a step to improve Russian C2—and thus radically improve military performance. In support of the general's credentials, the Russian media painted a picture of him as an extremely experienced combat expert: "about 40 years" of military experience and "believed to be the Russian army's most skillful commander." His reported key achievements included "turning the tide in the fight against terrorists" in Syria during his command of operations in 2017. Surovikin was also credited with "flawless logistics" in "Operation Z," as well as acting in a creative, yet tough manner. Russian publications emphasized that the Russian general had graduated from three well-known Russian military schools with honors (Life.ru, June 27, TV Center, accessed Nov 8). Moreover, Surovikin's co-authored 2016 paper on military management was widely re-published (Pda.mil.ru, accessed November 8). The article focuses on combined arms operations and is a typical post-Soviet aggregation of fruitless "scientific" sentences, such as "the management system as an information system has a pronounced hierarchical nature, manifested in a strictly defined direction of information flows." And some believe that Surovikin did not write a single word of the report and that the true author was in fact a subordinate colonel.
Again, unlike Russian commanding generals, Ukrainian generals are widely asked by journalists to comment on C2 matters in the media. For example, Syrskyi  appraised the transformation of Ukraine's defense forces joint leadership and armed forces management system separating the functions of force generation from force employment (Defense Express, December 12, 2019). Syrskyi also acknowledged the valuable advisory and mentoring assistance the Ukrainian Armed Forces have been receiving since from NATO partners through the JMTG-U (US, Denmark, Lithuania, and Poland), UNIFIER (Canada) and ORBITAL (the UK) programs since 2015. The commander of the Ukrainian grouping defending Kyiv, General Oleksandr Pavliuk, underlined a critical aspect of Ukraine's C2 approach—that is, the departure from Soviet field manuals "to give each commander the opportunity to take the initiative during combat" (Apostrophe TV, October 9).
Yet another C2 issue that Surovikin is unlikely to resolve is rooted in Russia's lack of strong political-military leadership. Remarkably, since the beginning of the war, the Russian media has attempted to promote several "hero generals." But all on the list, save Surovikin, eventually failed, or fell from public spotlight. One line of this propaganda read: "One could hardly find their equals in competence in the entire world … legendary officers at the highest level with colossal combat experience." The list of the four "hero generals" included Lapin and the newly appointed commander of the Russian Airborne Forces, Colonel-General Mikhail Teplinsky (Life.ru, June 27).
In October 2022, following two rounds of public spats with the radically minded military figures Ramzan Kadyrov and Igor Girkin (Sterlkov), Lapin was reportedly suspended from his command, temporarily replaced by Lieutenant General Andrey Mordvichev (RBC; Kommersant, October 29; Ura.news, October 30). Before Surovikin's appointment, hopes were high for the equally tough General Aleksandr Dvornikov. Some have mused that Dvornikov refused the role, as follows from the comments of military expert and antiwar nationalist-minded General Leonid Ivashov. Beyond this, Ivashov also complained that, in the "management chaos" of the Russian military structures, entities such as Rosgvargiya and the Wagner Group  are completely "out of control. In Russia, the defense minister is the commander-in-chief, while in Ukraine, General Zaluzhnyi is commander-in-chief. … The problems with management create more chaos. Dvornikov, according to rumors, saw this mess and that he cannot handle the tasks and influence from the Duma's deputies, and thus he refused to manage that rag-tag group" (YouTube, October 8).
Back in 2004, General Makhmud Gareyev spoke on Russian military management: "For 150 years, this country's political leadership has been putting the military, at the start of a war, in radically unfavorable and unbearable conditions, from which the military has to find its own way out" (Old.redstar.ru, accessed on November 12). Thus, it is fair to assume that Surovikin's C2 performance expectations cannot be predicted based on his record in past conflicts. And after the liberation of Kherson, it is clear that he and the Russian forces in Ukraine have been put in a dire position—and General Armageddon may not be able to find a way out of this one.