Will Georgians Watch Russian TV Channels Again?
Publication: Eurasia Daily Monitor Volume: 9 Issue: 222
By: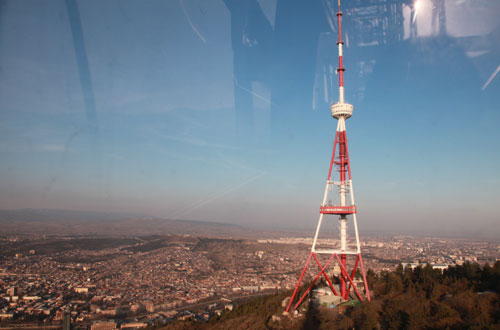 The new Georgian government's decision to resume broadcast of Russian television channels may be among the most important recent moves by the country's leadership (https://www.vestikavkaza.ru/articles/Vernutsya-li-rossiyskie-telekanaly-v-Gruziyu.html). The previous government suspended Russian television broadcasts in Georgia in August 2008. Now some cable companies in Georgia have again begun airing the most influential Russian TV channels that reflect Moscow's official views and are considered to be the mouthpieces of Kremlin propaganda. The process, however, has not gained much momentum yet, as the private Georgian companies that provide access to a variety of European and American TV channels closely watch the political confrontation between President Mikheil Saakashvili and Prime Minister Bidzina Ivanishvili. Full resumption of Russian TV broadcasting will likely depend on the outcome of this confrontation.
Channel Seven was the first TV-provider in Georgia to again offer a Russian TV package, including Channel One (aka ORT). Channel Seven services about 8–10 percent of Tbilisi's population in Saburtalo, a large middle-class district of the capital. The TV provider asked consumers to pay about four Georgian lari ($2.5) per month for the Russian TV package (https://top.rbc.ru/politics/06/11/2012/823664.shtml). Given the overall monthly cost of a television connection—about 15–20 lari ($9–$12)—four lari is a relatively high price tag on top of the existing rate, especially considering the low average incomes of the general population.
Yet, Channel Seven hopes its business will be profitable, as many Georgians who still fluently speak Russian are interested in the Russian-language TV channels. Despite all the effort President Saakashvili had put into popularizing English in Georgia (https://eastbook.eu/ru/2012/05/topic-ru/politics-ru/lingvisticheskaja-revolucija-v-gruzii/), English has not become massively spoken in the post-Soviet country. "We have scored a good result; many consumers signed contracts with us to get the new package of TV channels," Maia Nergadze of the Channel Seven company told Jamestown. Indeed, many residents of the Saburtalo district said that they find it interesting to watch Russian TV. "I am interested in what Putin thinks about us and what he is going to do. This does not mean that I believe everything they say," a resident of the district named Gocha told Jamestown.
Practically no one has doubts about ORT's bias, as well as that of other Russian TV channels. It is common knowledge that there are almost no TV companies left in Russia that are independent from the state or Gazprom-Media, the subsidiary of the energy monopoly Gazprom. Still, many Georgians think that interrupting TV broadcasts from the country that occupies part of Georgian territory was not the most prudent decision.
A quick survey carried out by the author of the Tbilisi residents who bought the Russian television package reveals that a vast majority of the consumers watch Russian TV not for the movies or entertainment shows, but for informational and political programs. This is not surprising. Georgian domestic TV channels offer fairly high quality entertainment programs, so the Georgian audience is interested in Russian channels as a source of news on Georgia, Russian politics and Russian-Georgian relations. Georgians are concerned with developments inside their vast northern neighbor, of which Georgia was a part for centuries. Yet, ORT is an unlikely source for an adequate representation of the processes going on inside Russia.
Russian television broadcasts were prohibited inside Georgia in August 2008, when ORT, NTV and RTR TV channels launched informational warfare against the Caucasian country, alongside the military operation by Russia's 58th army. Ex-Secretary of the National Security Council and one of the closest associates of President Saakashvili, Kakha Lomaia, was the primary person behind the decision to shut off Russian TV broadcasts in Georgia (https://www.nps-rodina.ru/politic_event/2607/). Lomaia's decision was certainly in accordance with President Saakashvili's views. After this move and until now, Georgians could watch Russian TV only on the Internet or via satellite dishes. However, few people in the country can afford satellite, and high speed internet service that allows for watching streaming TV is limited.
Until very recently, only one Russian-language TV channel aired in Georgia—PIK-TV, which was founded in 2009 by the Saakashvili administration as a tool to broadcast to Russia on events in Georgia and communicate an alternative view of the August 2008 war. However, this channel stopped operating soon after the parliamentary elections in Georgia in October 2012 (https://www.civil.ge/eng/article.php?id=25371). The management of the Public Broadcaster of Georgia suspected that part of the Russian-language journalists at PIK-TV secretly sympathized with Putin and the "pro-Russian behavior" of Prime Minister Ivanishvili (https://www.vestikavkaza.ru/articles/Pochemu-gruzinskie-vlasti-zakryli-PIK.html). Russian TV channels may, therefore, become an alternative to PIK-TV for Georgian audiences, if the government allows domestic television providers to resume broadcasting them. So far only several small providers have followed the example set by Channel Seven. These providers serve an insignificant number of consumers in Tbilisi, Batumi and Kutaisi. The biggest and most reputable providers of TV content, such as Silknet, Super TV and others, have so far refrained from making any moves on their own, evidently waiting for a signal from the authorities.
Prime Minister Ivanishvili as well as members of his cabinet and the Georgian Dream coalition are not in a hurry to announce their position on this issue. No official laws actually forbid broadcasting Russian TV channels in Georgia; formally, nothing prevents the TV content providers from resuming Russian broadcasts. However, there are political obstacles that are connected to alleged secret "pro-Russian sympathies" of the new Georgian government. Ivanishvili does not want to give his adversaries from the pro-presidential party United National Movement another reason to accuse him of "plotting with Putin."
It must be noted that the biggest Georgian TV content providers, including Silknet, Super TV and others, never stopped broadcasting Russian television channels Kultura (Culture) or Dozhd, which are both close to the Russian opposition. Thus, Saakashvili's administration tried to demonstrate that the Georgian government is not against Russian TV in principle, if it does not serve propagandist goals of the Russian government. Few people in Georgia have any illusions about Russian TV channels that are under the control of Moscow or Gazprom-Media. These TV companies implement informational policy toward Georgia that is orchestrated by the Kremlin. So turning these channels back on in Georgia will be an important political indicator.