Will Tajikistan Successfully Construct Rogun?
Publication: Eurasia Daily Monitor Volume: 7 Issue: 17
By: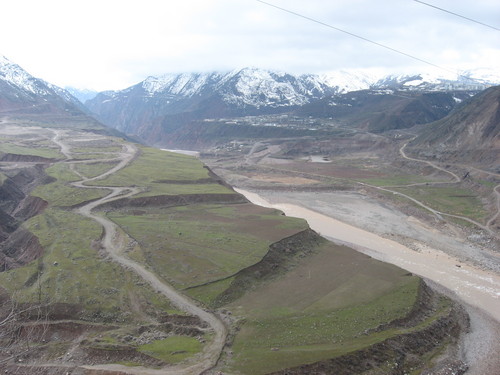 In his official address to Tajik citizens, President Emomali Rakhmon announced that 2010 will be the year "when great resources will be mobilized" to construct the 3,600 mw Rogun dam. "The construction of this site, important for our country, has turned into the arena of labor, bravery and generosity, trials of heroism, and, more so, our national idea," said Rakhmon (www.khovar.tj, January 5).
Yet, at this point it remains unclear whether Rakhmon's plan to build Rogun will be fulfilled. Problems associated with the Rogun project highlights the Tajik government's ineffective and corrupt management, as well as Central Asian leaders' failure to cooperate on mutually beneficial projects. Uzbekistan, in particular, has been seeking to block the construction of Rogun. Recently, Tashkent quit the Central Asia power system, interrupting electricity transmission in Tajikistan (EDM, December 3, 2009).
Construction of the Rogun dam was first proposed in 1959, with a technical scheme developed by 1965. But it took until 1990 to make a final decision to start fully-fledged construction work. Following the collapse of Soviet Union, Rogun's construction was terminated and Tajikistan sank into a civil war. As Rogun stood idle, its bedding washed away and the price tag ballooned to over $2 billion.
Meanwhile, the Tajik government has realized that the dam's power generation mode was of a far greater importance than irrigation mode. Rakhmon especially emphasized the strategic importance of the dam, following the devastating energy crisis in the winter of 2008-2009, when the country was forced to declare a humanitarian crisis. If completed, Rogun will be the highest dam in the world (350 meters tall), surpassing China's Three Gorges dam built in 2008.
According to some experts, Tajikistan's poor economy will not facilitate the construction of such expensive projects as Rogun (Nezavisimaya Gazeta, January 19). The construction might take over 50 percent of Tajikistan's GDP, and is therefore not attractive to international investors, including development organizations. "It is like buying a Mercedes for a homeless person," one international observer told Jamestown.
Furthermore, several reports have warned about the dam's potential environmental impact. High seismic activity in the region also poses potentially serious risks. Should any accidents occur during or after the construction of the Rogun dam, it could flood large areas of land as far afield as Afghanistan, Uzbekistan, and Turkmenistan.
Similarly, Rogun offers more effective management of water for irrigation and power generation purposes to Tajikistan, Uzbekistan and Turkmenistan. It would also greatly expand Tajikistan's electrical exports. According to international feasibility studies, the water level will initially drop, damaging the quality of drinking water and soil fertility in downstream countries. However, within a few years the upstream and downstream countries would be able to receive more water along with cheaper electricity.
Rakhmon's government has been seeking to collect funds for the construction of Rogun through various means. Last year, the Tajik government issued special Rogun stock and made it mandatory for citizens and businesses to purchase them. The stock price ranges 100, 500, 1000 and 5000 somoni ($23 to $1,150) (www.centrasia.ru, December 24, 2009).
The government expects each adult to buy at least $690 worth of stocks to collect the necessary $600 million for Rogun's construction. For most people in Tajikistan this sum exceeds their annual income. Meanwhile, local media reports that hundreds of millions of dollars are transferred each year to offshore accounts from Tajikistan. In 2007 alone $372 million were transferred by various government officials (www.asia-plus.tj, January 16).
As an alternative to Rogun, Tajikistan might construct a number of smaller hydropower plants (HPP) on its minor rivers, an initiative supported by the Islamic Development Bank. Smaller HPP's can be constructed on Zeravshan, Panj, and Gunt rivers. Along with the HPP's, the Tajik government is set to develop its coal industry with the assistance of the international community. Finally, Tajikistan has significant coal resources and two thermal power stations in Dushanbe and Yavan.
Yet, building Rogun has become a matter of national pride for Tajikistan since the 2008-2009 crisis. The government presents the prospective Rogun dam as well as other HPP's as a potential breakthrough in national development. "With Rogun, Tajikistan will live like Kuwait," said one representative of Tajikistan's government energy company Barki Tochik to Jamestown last year. Only time will tell.